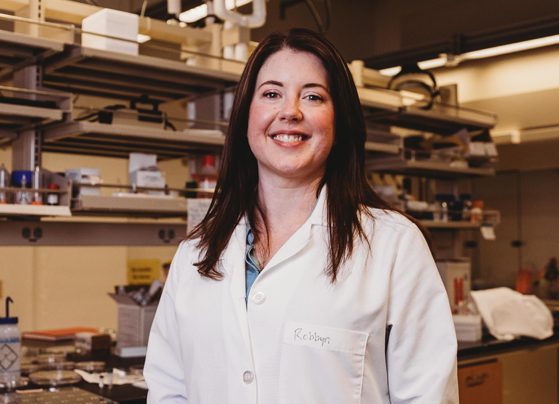 Robbyn Anand, assistant professor of chemistry at Iowa State University, has been selected as the Carlyle G. Caldwell Endowed Chair in Chemistry for her groundbreaking research and diagnostic platforms that improve outcomes for kidney disease and cancer patients. She's currently developing a rapid-antigen test to detect SARS-CoV-2, the virus that causes COVID-19.
Cutting-edge devices
In addition to advancing fundamental research in separation science and electrochemistry, Anand has developed novel microfluidic devices for clinical-diagnostic use. One device uses a small blood sample to detect and isolate circulating tumor cells. It then identifies and differentiates the molecular machinery of the captured cancer cells. These capabilities allow doctors to deliver tailored treatment plans, which can improve patient outcomes.
The Research Corporation for Scientific Advancement green-lighted funding to support Anand's off-the-shelf COVID-19 test. Currently in development, this device uses a low-voltage electric field and specialized paper to attract and detect COVID-19 antigens.
"The theme of my research is trying to make diagnostics very accessible," Anand said. "It's very motivating to think that people are struggling with cancer, COVID-19 or kidney disease and we can make solutions that give patients answers quicker or make treatments more accessible."
Anand also invented devices that improve dialysis treatments for patients who are experiencing kidney failure. Using electrically charged fluids, these wearable devices act as portable dialysis machines that filter impurities and waste from blood. This ongoing and promising research could someday lead to patients completing dialysis at home without traveling to a hospital or clinic.
Anand has earmarked the award funds to hire two postdoctoral researchers who specialize in electrochemical sensing and simulation of electrodynamics, areas of chemistry focused on the movement of fluids or particles within electric fields.
"Their expertise will allow the Anand Lab to advance our diagnostic platforms to detect a broader scope of clinically relevant molecules and to better understand fundamental processes that determine their performance," Anand said.
Award-winning research
Anand has won numerous awards for her research. This year she received the prestigious Analytical Chemistry Young Innovator Award which recognizes exemplary contributions in nanofluidics and microfluidics. In 2020, she made history by securing three awards at the Pittsburgh Conference on Analytical Chemistry and Applied Spectroscopy (PittCon) for her work on circulating tumor cells. A remarkable achievement, Anand was the first scientist to win more two PIttCon awards in one year.
In addition, Anand was named to the Top 40 Under 40 Power List by The Analytical Scientist magazine and tapped as a Cottrell Scholar, a national program recognizing the nation's most outstanding teacher-scholars. In 2021 she received the Suresh Faculty Fellowship as well as the Royce W. Murray Young Investigator Award from the Society of Electroanalytical Chemistry.
Anand's research has earned funding from the National Science Foundation and the National Institutes of Health. An outstanding scholar, Anand's research has been widely published in top scientific journals and cited by hundreds of scientists.
Anand joined Iowa State in 2015. She earned her Ph.D. in chemistry from the University of Texas, Austin.
The Carlyle G. Caldwell Endowed Chair in Chemistry fund was established to honor the many years Carlyle G. Caldwell dedicated to the field of chemistry. He made extraordinary contributions to industry, academics and students at Iowa State University. The fund was created to expand chemistry department programming in natural-systems chemistry, including areas of biotechnology.
"I am honored to be selected as the Carlyle G. Caldwell Endowed Chair," Anand said. "This award makes me confident that the department and college value the contributions of my research group."
Funded by the generous donations of private donors and the ISU Biotechnology Council, this award will support Anand's ongoing research and select projects through 2024.
Read about Anand's commitment to student success here.
Published: January 14, 2022