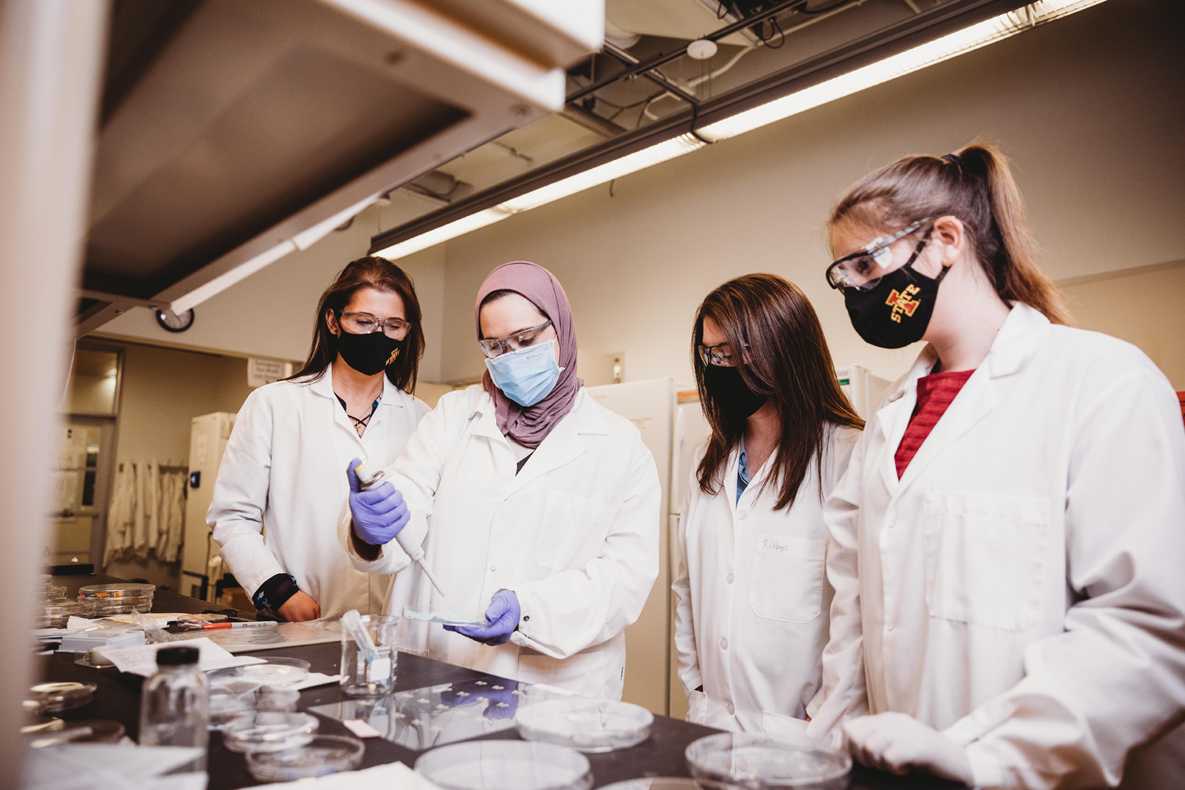 What's it like to be a student researcher on the Iowa State campus?
The 13 students who work in the Anand Lab will be quick to tell you that it is both challenging and rewarding, with Robbyn Anand, assistant professor in the Department of Chemistry, providing valuable research experiences and career-advancing opportunities in a state-of-the-art environment.
"I'm currently interviewing for jobs in Europe," said Beatrise Berzina ('20 Ph.D. chemistry). "I owe much of my success to the many things I learned during my time in Robbyn's lab."
While pursuing her Ph.D. at Iowa State, Berzina worked in the Anand Lab for five years. She made significant contributions to several high-profile research projects involving cancer, kidney disease and COVID-19.
After Berzina graduated last summer, Anand invited her to continue working in the lab, while Berzina prepared to launch her career and interview with several research institutes across the globe.
"Robbyn has been very supportive throughout my transition from a graduate student to a scientist. At ISU, I've been able to expand my knowledge, gain valuable research skills and apply them to tackle some of the challenges found in the healthcare industry," Berzina said. "It's been very exciting and rewarding."
Cutting-edge research
While the world endures a growing pandemic, Berzina is a part of history as she develops solutions. She's helping Anand produce an off-the-shelf COVID-19 diagnostic test, which is on track to release this spring. In addition to co-authoring the preliminary patent, Berzina designed some of the device's key components that detect COVID-19 RNA in saliva.
Berzina is most proud of her long-standing work on kidney disease research, one of her first projects in the Anand Lab. After brainstorming several ideas, Berzina created and developed a novel architecture for a specialized chip, which purifies and recycles dialysate fluid. This technology is at the core of Anand's effort to miniaturize hemodialysis devices, to make them wearable, leading ultimately to better management of kidney disease.
"For the kidney research, Beatrise had the idea to pack tiny beads into the chip to overcome challenges we met with scaling up the process, and I loved the idea," Anand said. "I just knew it would work, and it did."
Anand leads with steady guidance and a profound command of separation science and electrochemistry. But she also allows ample room for innovation—encouraging her students to experiment with novel approaches and explore out-of-the-box ideas.
Fostering success outside of the lab
In addition to helping students become successful scientists, Anand encourages them to strengthen their leadership abilities and communication skills—lessons that are often learned outside of a research lab.
"I make sure that they're presenting at national conferences, which may sound daunting at first, but I try to build up their confidence with plenty of experiences that lead them to that point," Anand said. "I think students can undersell themselves or they don't realize that they could give a major talk. But they absolutely can."
Anand offers interactive sessions where lab members present their research and provide each other with valuable feedback. These friendly research salons have been confidence boosters. Several of Anand's undergraduates and graduate students have won presentation contests, both locally and at national conferences.
"I care a lot about my students and it's wonderful to see early success translate into 'I can apply for fellowships and awards,'" Anand said. "Watching this incredible growth in and out of the lab is a very satisfying experience."
Berzina credits Anand's commitment to skill building with helping her secure an American Chemical Society summer fellowship as well as a Young Investigator Award from Baxter International, a multinational healthcare company. Berzina has also given seminar talks and attended an international chemistry conference in Italy.
"When I joined the Anand Lab I was not comfortable in my role as a scientist," Berzina said. "Now, Robbyn has helped me to realize that I can succeed, and that I deserve this success. It's been life-changing."
Published: November 20, 2020