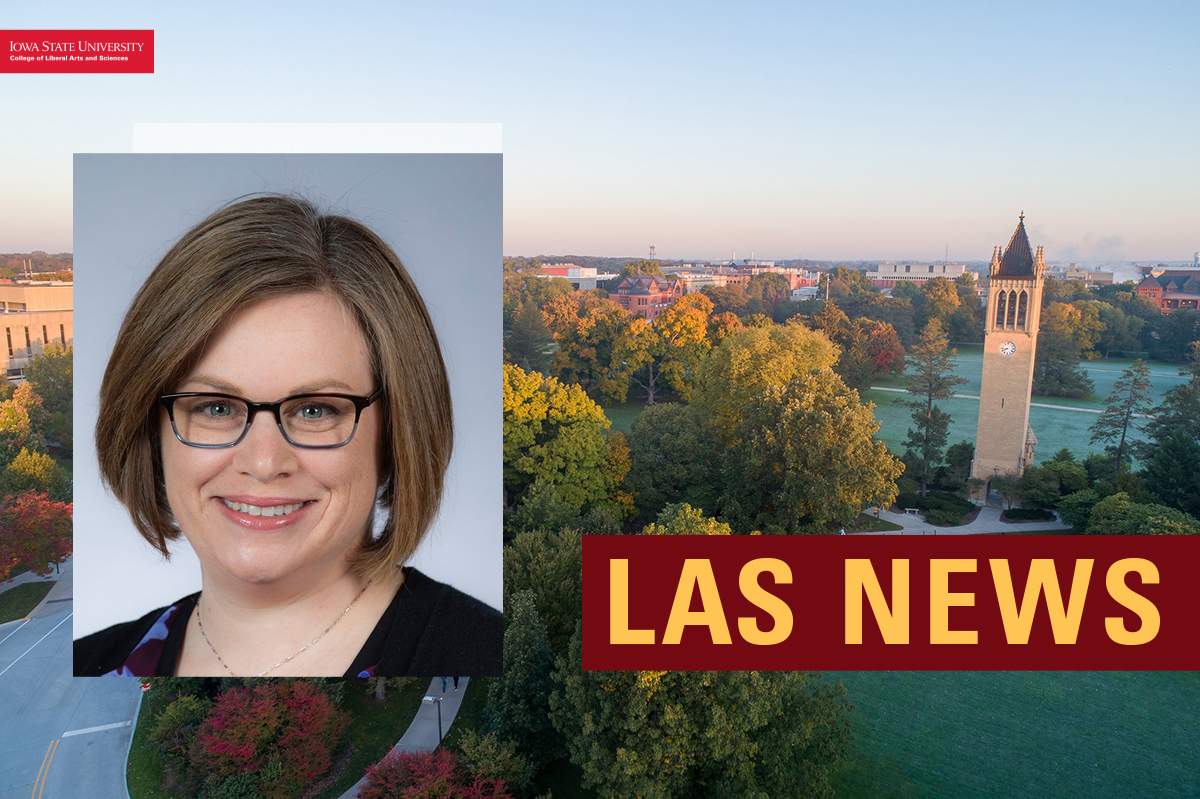 The College of Liberal Arts and Sciences (LAS) will launch a new academic year with the appointment of Amy Rutenberg, associate professor of history, as the new LAS Equity Advisor.
In her new role, Rutenberg will contribute to the college's strategic goals related to recruiting and retaining diverse faculty. She will be a resource for all LAS departments in the areas of recruiting, hiring, mentoring, professional development, promotion and leadership opportunities for faculty.
Rutenberg will represent LAS within Iowa State University's ISU ADVANCE program, an initiative administered by the Office of the Senior Vice President and Provost to integrate best practices and policies which support the equitable development and advancement of faculty. She will collaborate with other ISU ADVANCE equity advisors to provide training, workshops and consultation to LAS departments, and she will work with the LAS Representative Assembly on issues related to diversity and equity.
"The general role of the equity advisor is to help recruit and retain a diverse professoriate, broadly defined," Rutenberg said. "But my excitement for this position goes beyond the basic job description. From my experience teaching high school and observing student-teachers as well as my time as a college-level educator, I've seen over and over again how students grow intellectually and emotionally when they are taught by people with an array of different experiences and perspectives. So, for ISU, this means not only recruiting and hiring faculty with a variety of identities, backgrounds, types of training and practical experiences, but also creating a community where they feel academically and personally supported. As an educator and a community member, I am eager to contribute to that mission."
Rutenberg begins her tenure in this role as part of a newly established diversity, equity and inclusion (DEI) team, created with the appointment of Monic Behnken, associate professor of sociology, as the inaugural associate dean for diversity, equity and inclusion.
"Dr. Rutenberg is a great addition to this team because she has expertise and experiences that culminate into a unique skillset," Behnken said. "As a historian, Dr. Rutenberg has a deep, disciplinary understanding about how cultures of exclusion have operated historically in the United States. As the co-coordinator of the social studies education program, Dr. Rutenberg is connected to emerging education professionals, cutting-edge pedagogical approaches and experience teaching academic professionals. The combination of her disciplinary expertise, her work with emerging education professionals and her desire to work with her peers to advance the College's DEI-related goals make her the perfect person to serve as the college's equity advisor."
Rutenberg's research explores the relationships among war, gender, militarization and American society, specifically the second half of the 20th century. She earned a master's degree in education from the Harvard Graduate School of Education and a doctorate from the University of Maryland. Her work has been published in the journal Cold War History and her book, "Rough Draft: Cold War Military Manpower Policy and the Origins of Vietnam-Era Draft Resistance," was published in 2019. Her numerous research and excellence grants include the General and Mrs. Matthew B. Ridgway Military History Research Grant from the United States Army Military History Institute, the Professor Engagement Award from the Iowa State Chapter of Phi Alpha Theta, an Iowa State University Center for Excellence in the Arts and Humanities research grant and a Hugh Davis Graham Fellowship from the Institute for Political History.
Published: August 6, 2021