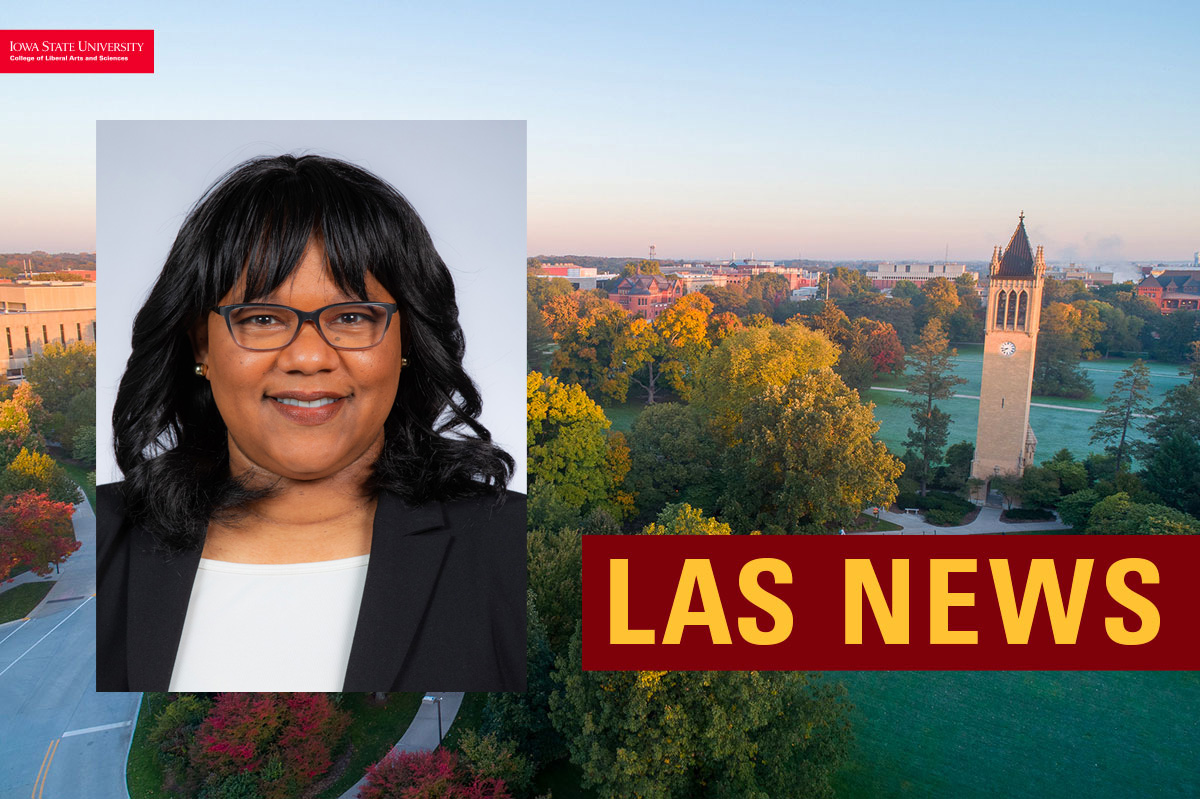 Monic Behnken, associate professor of sociology and director of the Leadership Studies Program at Iowa State University, has been selected as the College of Liberal Arts and Sciences' (LAS) first associate dean for diversity, equity and inclusion.
Behnken's appointment to the new position will begin July 1, 2021. The appointment specifies a five-year term with opportunity for renewal.
"I am thrilled that Dr. Monic Behnken, a leader at Iowa State in so many areas, will be the inaugural holder of this position," said Beate Schmittmann, dean of the College of Liberal Arts and Sciences. "Monic has advanced diversity, equity and inclusion initiatives at all levels of the university, as well as in the Ames community and across Iowa. Among her incredible strengths is her ability to engage people and partner organizations in this work. Her outstanding record as a faculty member, her commitment to excellence and her strategic vision for this role will have tremendous benefit for LAS students, faculty and staff."
As associate dean, Behnken will develop, lead, evaluate and support diversity, equity and inclusion (DEI) programs and initiatives throughout the college. She will help guide efforts to increase recruitment and retention of a diverse faculty and student body and also create a consistent approach to improving culture and climate.
"The nation's focus on creating more inclusive and welcoming universities has taken many forms over the past few years," Behnken said. "I believe the College of Liberal Arts and Sciences is in a unique position to lead in these efforts. I am looking forward to serving in this role because it offers a challenging but exciting opportunity to impact students, staff and faculty in new and meaningful ways."
Getting started 
Behnken said she plans to begin her work by connecting and collaborating with the college's departments and programs.
"I have a multi-tiered vision for this position," she said. "My plan is to start by assessing all departments and units in the college to identify where they are on their DEI goals. I will then shift to finding ways to collaborate and build on each other's work. Finally, I'll look to fill gaps in the college's DEI efforts to ensure we are able to produce long-term measurable, sustainable success."
Behnken joined the university and its sociology department in 2009. Her published research in the areas of criminal justice and mental health focuses on psychiatric risk factors for offending behavior, the effectiveness of alternative adjudication programs and racial and ethnic disparities in complex systems.
Since 2019, she also has served as director of Iowa State's Leadership Studies Program where she recently taught the program's first course in equitable leadership for first year female-identifying STEM majors.
Prior leadership and service
In addition to her leadership roles on campus, Behnken has an impressive record of furthering positive change and advocating for equitable practices through a variety of community partnerships.
On a state level, Behnken has recently led initiatives to advance diversity, equity and inclusion with the Iowa Association of School Boards, the Equity Working Group of the Governor's STEM Advisory Council and the Statewide Civics Education Planning Committee. Regionally, she has consulted with the Story County Attorneys Office, the Polk County Decategorization Unit and the Iowa Department of Human Services, among other entities.
She also has conducted numerous campus and community invited talks on diversity, equity and inclusion, as well as served on the local level in many ways, from spearheading a competitive grant to develop equitable responses to opioid use in Story County to presenting her research to a variety of area mental health providers. Since 2017, Behnken has served as an elected member of the board of directors for the Ames Community School District, where she established and leads the board's first equity committee.
Behnken is the recipient of the 2021 Martin Luther King Achievement Award from the Office on the Status of African Americans in the Iowa Department of Civil Rights; the 2019 Exemplary Mentor Award from ISU's Office of the Senior Vice President and Provost; the 2019 ISU Inclusive Excellence Award; and the 2019 YWCA Women of Achievement Award, among other honors.
Behnken earned a Ph.D. in clinical psychology from Pacific Graduate School of Psychology in Palo Alto, California. She also holds a J.D. from Golden Gate University of Law in San Francisco and is a licensed attorney.
Published: May 7, 2021