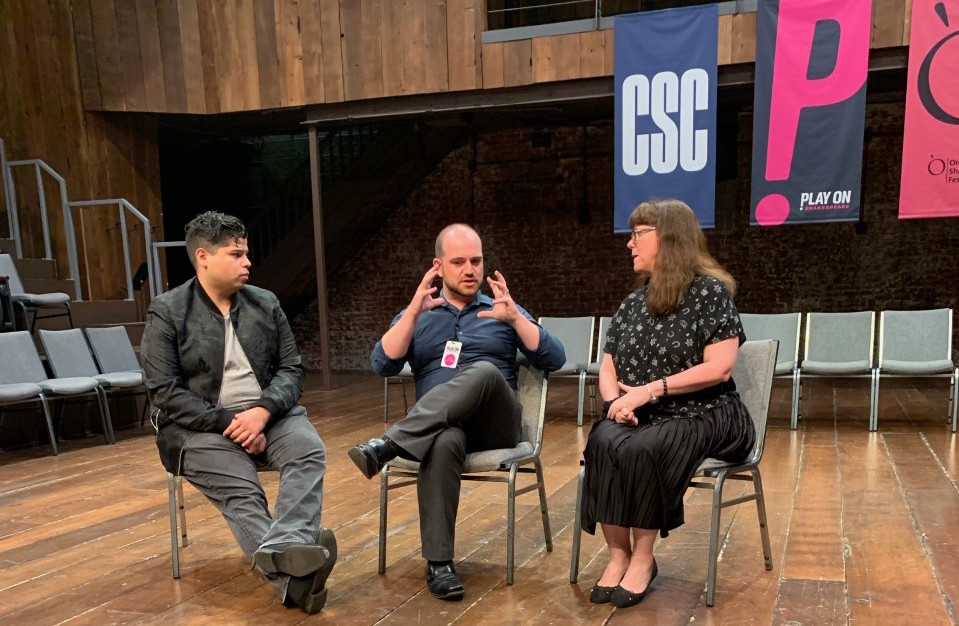 Cason Murphy, assistant professor of theatre, was recently published in two journals of note — Theatre Journal and the Aesthetique Journal for International Literary Enterprises (AJILE).
Theatre Journal has an international reputation as one of the most authoritative and useful publications of theatre studies, featuring social and historical studies, production reviews and theoretical inquiries that analyze dramatic texts and production. Murphy's performance review of the Rude Mechs' Not Every Mountain was included in the June 2019 volume of the journal.
The Rude Mechs — called one of three companies in the country "making theatre that matters" by the New York Times — are an Austin, Texas-based theater collective who have carved out a niche for themselves in the American theatrical landscape by generating edgy, contemporary theater. According to the company, Not Every Mountain is "a mellow meditation on change, permanence and our place in the natural world. It is a presentation of the life cycle of mountains and the processes by which they are born and eventually laid to rest, an invocation of tectonic force and geologic time."
ISU Theatre hosted Lana Lesley, one of the Rude Mechs' co-artistic producing directors, in March 2018 for a "Fixing Shakespeare" workshop with 18 students. This project —along with two other national initiatives — formed the basis of Murphy's essay "Changing True Rules for Odd Inventions: Three Attempts at Rewriting Shakespeare for Contemporary Audiences" published in AJILE's Special Volume on "Old Wine in New Bottles: Re-canonizing the Timeless Word."
AJILE is an international bi-annual, peer-reviewed open-access online journal designed to give wings to the scholarly and academic aspirations of the literary community around the world. Each featured issue aims at furthering research and fostering academic deliberations clustered around a distinctive thrust area of contemporary literary and/or linguistic relevance.
In his essay, Murphy charts three projects around the nation that are intent on the daunting task of rewriting the entire Shakespeare canon for contemporary American audiences — Play On! Shakespeare at Oregon Shakespeare Festival in Ashland, OR; Shakespeare's New Contemporaries at the American Shakespeare Center in Staunton, VA; and the Fixing Shakespeare series from the Rude Mechs in Austin, TX. Murphy presented a version of these findings at the national meeting of the Mid-America Theatre Conference in March 2019, as well as at the Lightning Talk presentations for ISU Research Day.
Murphy teaches courses in in acting, musical theatre, and intro to performing arts at Iowa State. His professional credits include work as an actor, director, producer and occasional sound designer in California, Arizona, Texas, Arkansas and New York—most notably working off-Broadway at the Bleecker Street and Acorn Theatre. His research agenda is in the field of "critical reinterpretation of the theatrical canon," with special focus on the works of William Shakespeare. He has presented his scholarship at national and international conferences, and published in prestigious journals including Theatre Topics, Shakespeare Bulletin, Theatre/Practice, Cinema Scandinavia, and the Journal of Film and Video.
As part of the HERoic 2019 – 2020 ISU Theatre season, Murphy is directing 9 to 5: The Musical with music and lyrics by Dolly Parton and a book by Patricia Resnick, which will run in Fisher Theater from April 3 – 11, 2020.
Published: July 16, 2019