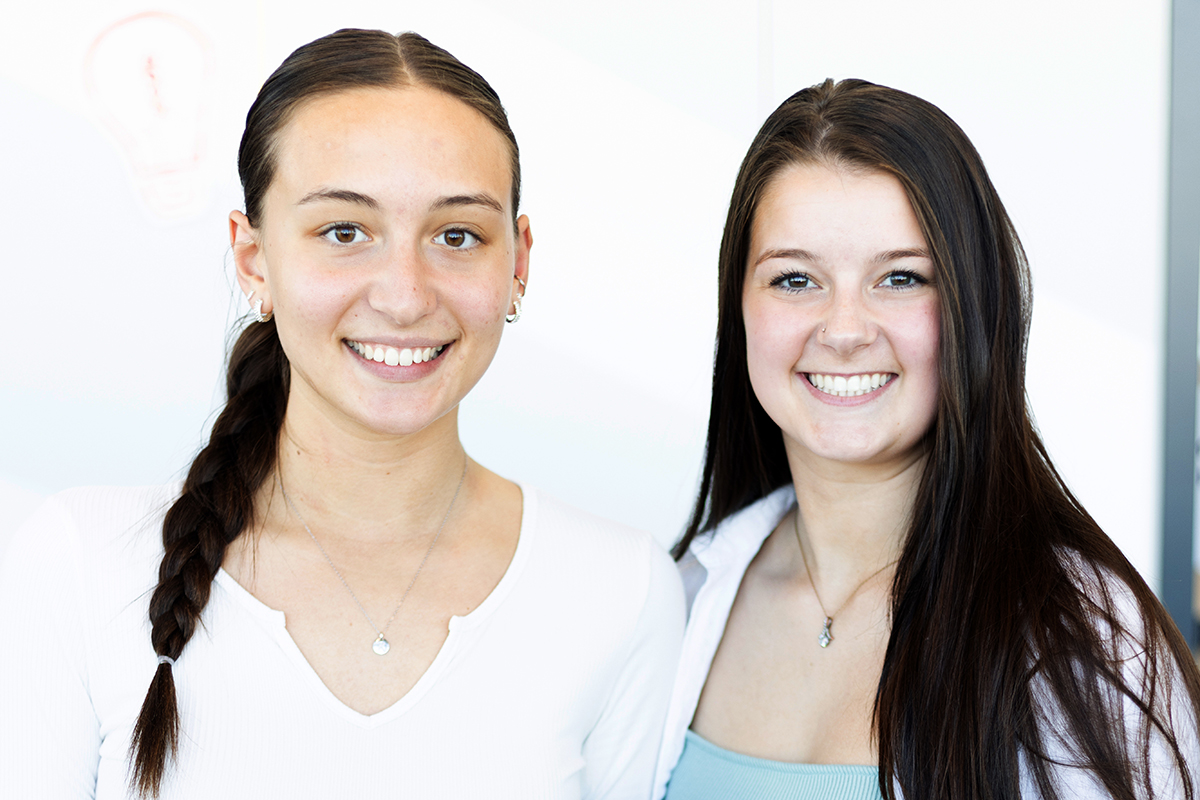 The LAS Innovation and Entrepreneurship (I+E) Academy has been known to connect students with the resources and connections that they require to succeed within the program. Luckily, for Chloe Lintvedt ('24 psychology) and Kailee Shroyer ('26 kinesiology), this meant a partnership that would give them the opportunity to both thrive.
How they came to know each other is a different story. Lintvedt and Shroyer were originally connected with academy director Rebecca Runyon. They were both encouraged to take the next step and bring their ideas to life within the academy.
During their first semester in the academy, they were put into groups based on a ranking system of different topics. They found that they both had familiar interests within mental health. From there, they put their heads together to think of different ideas that they both shared an interest in.
Bringing clarity and trust to the vitamin industry
Their project is to create a personalized vitamin for women that caters to different personal needs.
"Our goal is to narrow it down into one pill or one vitamin that's personalized to everyone, or to each individual," Lintvedt said. "If you lack vitamin D over the winter months, it would be tailored to your body type. It's meant to fulfill what your body is lacking."
The project focuses on vitamin deficiencies. Shroyer says that it's easier to put a singular vitamin on a shelf, rather than specific medicine for each deficiency. Together they want to create a vitamin that diminishes the need to take numerous pills in the morning or at night.
"Another one of our goals is to be clear and open with our ingredients. It's sort of a 'what you see is what you get' kind of thing. I think it'll bring clarity and trust to women in the vitamin industry," Lintvedt said.
Shroyer's internship experience piqued her interest in women's health and holistic health before she teamed up with Lintvedt in the academy.
"I interned at a chiropractic office that was also a functional medicine clinic and so we wanted to take a more holistic route, but still something that is personal to us and something we're passionate about too," Shroyer said.
The LAS I+E Academy is a two-year course created for students that want to bring their own ideas to life. Students are given the chance to sharpen their entrepreneurship skills and acquire other useful skills in the field along the way. The course meets every Tuesday and focuses on key concepts of entrepreneurship.
The course suggests that students use smart goals. This helps students participating in the course with organization and time management. Lintvedt says that having a timeline helps them narrow down their goals.
"If you say, for example, I want to start eating healthier. Most likely, you're not going to reach that goal. You have to say, 'I am going to eat healthier by having broccoli every week,'" Lintvedt said. "You have to make it specific, measurable, attainable, relevant, and under a time constraint."
Making strides
Lintvedt and Shroyer were recently accepted into the Okoboji Entrepreneurial Institute in Okoboji, Iowa, which is a five-day college credit course for students that want to participate in an advanced study of entrepreneurship. Participants are given the chance to network and connect with other successful entrepreneurs.
"It would be helpful to get connected with others that have experience within the vitamin industry production-wise. It's not going to be an easy process and we're only at the beginning of this process but that would be a good next step to take," Shroyer said.
They know that their project is not without its challenges. They've learned how to communicate with each other and solve problems efficiently.
"Our plan right now is to connect with holistic and functional medicine clinics and go through referral from them. So, we want to get connected with them and then hopefully they'll refer our product to their clients," Lintvedt said.
Lintvedt and Shroyer said that had it not been for the support and guidance of their mentors and faculty members within the academy, they wouldn't have landed in the position that they are in now.
"I feel like everyone Rebecca brings in she brings in for a purpose. I can always go to them and they're all willing to reach out to others that want to help us too," Shroyer said.
Published: July 6, 2023