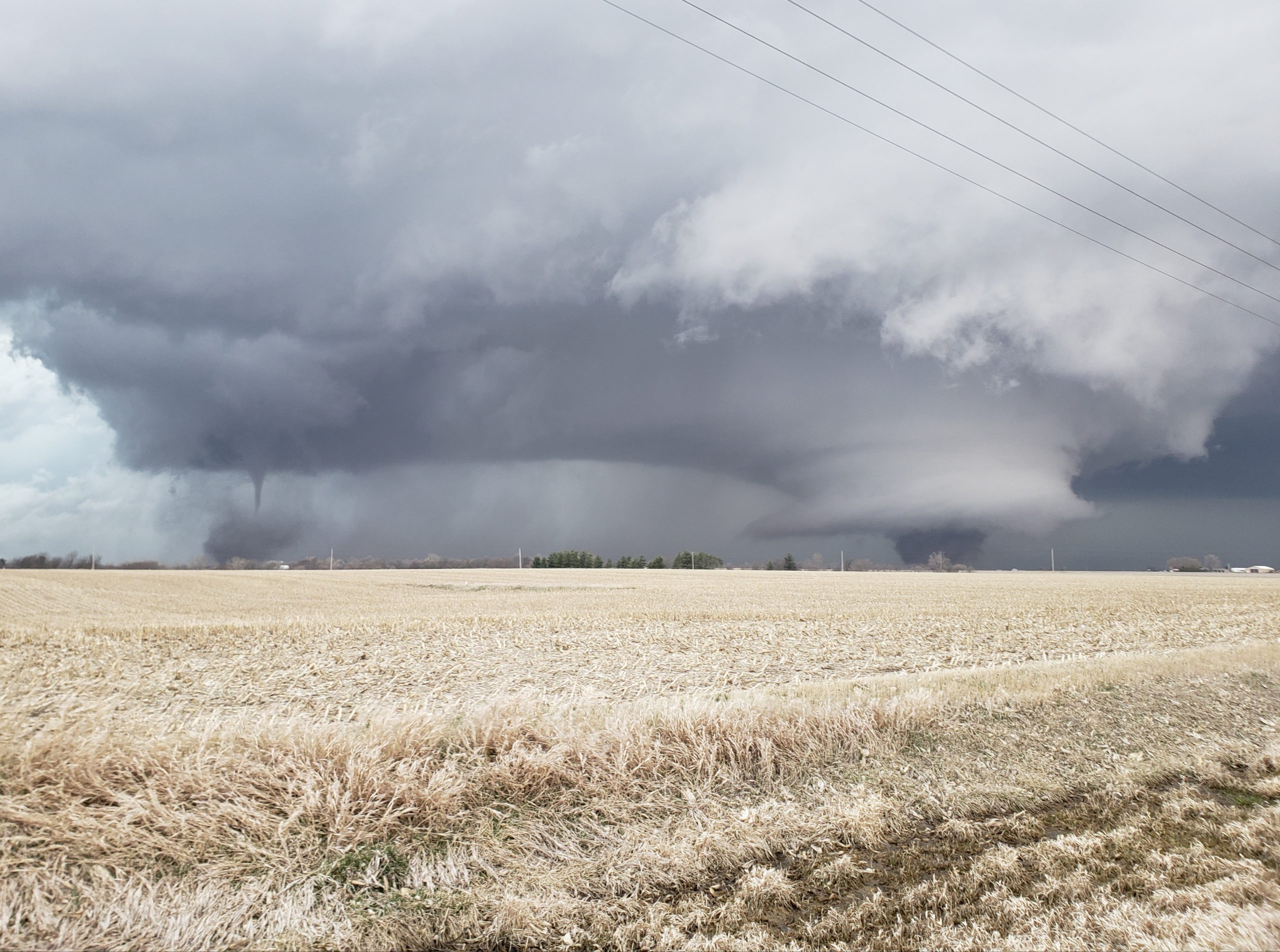 Earlier this spring, Iowa's average weather patterns turned unseasonably warm and humid, churning out several days of volatile atmospheric conditions that caused severe storms and tornadoes to break out across the state. According to the National Weather Service, 29 tornadoes touched down in Iowa on March 31, and another formed on April 4.
For some undergraduate students in Iowa State University's Mesoscale Forecasting Laboratory (MTEOR 417) course, the impeccable timing of the severe weather merged with their study of tornado formation to create a rare storm-chasing opportunity.
The perfect storms
Professor William Gallus has taught MTEOR 417, a required senior-level course for meteorology undergraduate majors in the Department of Geological and Atmospheric Sciences (GEAT), for the past 28 years. Offered each spring, the class first focuses on winter hazards and heavy snow bands before transitioning to severe thunderstorms and tornadoes.
A lab at the end of spring semester teaches students how to study weather maps, radar, and atmospheric conditions to determine when and where a tornado might form. Most years, the lab occurs in the confines of a building with students simulating a storm chase by assessing weather conditions online. But the unstable spring atmosphere between March 31 and April 4 presented an opportunity for Gallus to adjust his syllabus and give the students a chance to chase real storms, though no students were required to do so.
Gallus said the March 31 chase near Keota, Iowa, was the best he's experienced in his 36 years of storm chasing.
"I was able to see two of the largest, most violently rotating tornadoes that I had ever seen, and it was the first time I watched a violent tornado be born, and the first time I was able to see 'twins' ­– two very distinct strong tornadoes on the ground at the same time spaced less than a mile apart," Gallus said. "The development of the wall cloud was the fastest I've ever seen, and it became so beautiful and smooth. People commented that it looked like the tornado was descending from a woman's dress."
Several graduate students chased with Gallus on March 31, and they were equally mesmerized by the experience. Anna Duhachek is a meteorology graduate student who will receive her master's degree next spring. She has embarked on several storm chases in the past but said the March 31 event was exceptional.
"The March 31 chase was by far the most successful chase I've ever been on, as we saw an impressive set of twin tornadoes," Duhachek said. "Seeing a pair of good-looking twin tornadoes is quite lucky."
Tyreek Frazier, a graduate teaching assistant for MTEOR 417, also chased storms on March 31 with Gallus. This was his first time storm chasing and the experience did not disappoint.
"Seeing one EF4 (a tornado with wind gusts of 166 to 200 mph) is rare but seeing twin tornadoes and an EF4 in one day and on my first chase seems extremely rare," Frazier said. "It is really just awe-inspiring to see Mother Nature doing her work in person versus on YouTube videos or livestreams of storm chases."
For Frazier, who will earn a doctorate in spring 2026, this storm chase solidified his passion for meteorology.
"Tornadoes are an incredibly fascinating meteorological phenomena, and I am thoroughly excited to get to experience more of them as well as learn more about them and eventually be employed somewhere doing crucial research in order to improve our understanding and ability to predict them," Frazier said.
Weather repeat
Most of the MTEOR 417 undergraduate students, accompanied by Gallus, graduate students, and a teaching professor, participated in another storm chase on April 4. Marissa Osterloh ('23 meteorology) saw a tornado for the first time near Melcher-Dallas, Iowa, during the chase. It's an experience that confirmed her career choice.
"Seeing the evolution, development, and touchdown of the tornado was breathtaking," she said. "Being able to see the process of tornadogenesis in person allows you to learn and understand things on a greater level."
Jesse Castillo ('23 meteorology) also witnessed the April 4 tornado near Melcher-Dallas. He was surprised by how the funnel cloud quickly spiraled into a full-blown tornado.
"This experience reinforced how important meteorology is, and how important forecasting and warnings are, given that lives and property may be at stake during dangerous weather situations," Castillo said.
Safety first
Being able to predict the timing and location of severe weather is paramount to public safety, and the students in MTEOR 417 understand the importance of getting it right. Most students in in the class are members of Iowa State's student chapter of the American Meteorological Society (AMS), named the top student chapter in the nation five times.
Safety ­– both during storm chases and after tornadic events ­– is central to the students' learning. Club members attend severe weather week events, where they learn proper safety procedures for storm chasing. When a chase ensues, Gallus makes sure that undergraduate students are grouped with more experienced graduate students and faculty members.
"Those of us with prior experience, which does include a good number of the students in MTEOR 417, generally discuss our thoughts on what is happening and where to go, which ensures safety. For these class chases, no one is allowed to go off on their own," Gallus said.
Safety measures are not limited to the storm chasers themselves, however. Gallus said that while the students in the AMS club enjoy the power and beauty of tornadoes, they also recognize the devastation tornadoes can leave behind.
"There is a sad side to the story, and the students do many things to help those impacted by severe storms," Gallus said. "Several students arrived in Winterset right after the EF4 tornado in March 2022, and they were among the first there to try to provide aid to those injured in the tornado. And at least one group of students helped rescue a farm family whose residence was destroyed in the March 31 tornado this year."
Students in the AMS club hosted a bake sale earlier this year to raise money for the Red Cross, and they plan to facilitate CPR and first aid training next year for faculty and students in the GEAT department.
Future forecast
As exciting as the spring 2023 storm chases were, Gallus hopes that GEAT can soon enhance students' storm-chasing experience by launching a new course where faculty and students take about two weeks to drive across the country chasing storms.
"Students would have classroom training in the spring semester on severe thunderstorms and tornadoes, and then they would do the field trip probably in late May or early June," Gallus said.
This type of class, already available at some other universities, could help Iowa State compete for even more meteorological students from across the nation, though Gallus said about half of the majors already come from out of state.
"We do attract students from far away parts of the country just because it is well known that Iowa is a part of tornado alley," Gallus said. "But prospective students on visits often ask about such a course, and we believe it could be an important recruiting tool."
Published: June 2, 2023