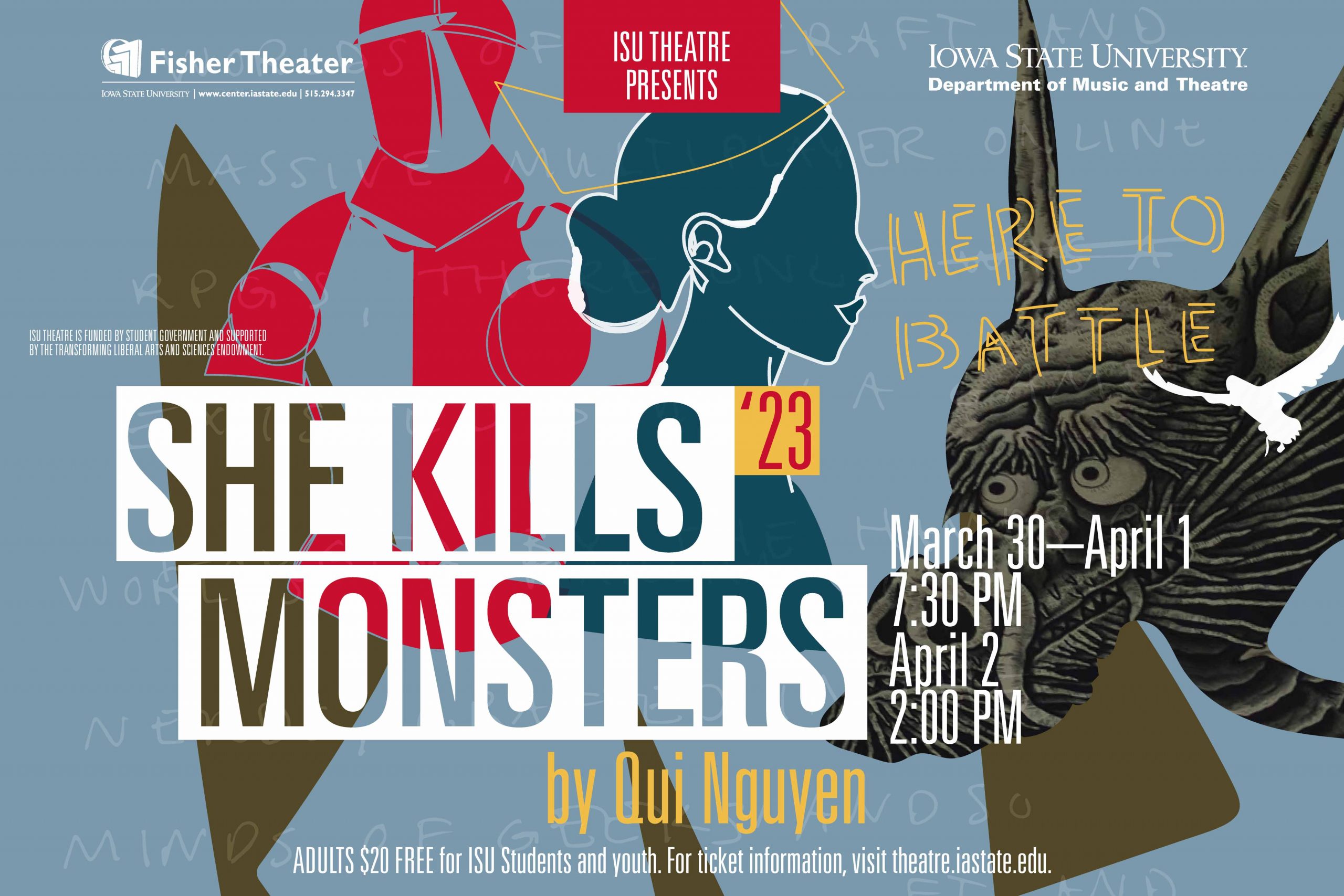 Dungeons & Dragons fans, this one's for you! ISU Theatre's high-octane dramatic comedy "She Kills Monsters" opens Thursday, March 30, at 7:30 p.m. With its dance battles, giant dragon puppets, 1990s pop culture, homicidal fairies, and nasty ogres, the play is described as "a heart-pounding homage to the geek and warrior within us all."
Penned by award-winning playwright, screenwriter, and director Qui Nguyen, "She Kills Monsters" has become one of the most produced plays in the United States, from high schools to professional companies. The story follows a young woman named Agnes Evans on a journey of grief and understanding as she begins to unlock mysteries about her deceased little sister Tilly. As Agnes pursues Tilly's secrets from their hometown of Athens, Ohio, into the thrilling world of Dungeons & Dragons, the show jumps between reality and action-packed fantasy.
Cason Murphy, assistant professor of theatre and the play's director, said theatre is a "delightfully perfect vehicle" for telling a story involving role-playing games.
"The play is a clever, joyous celebration of the act of getting together with others, imagining wild scenarios full of vibrant, unique characters, and collaborating to craft a compelling, meaningful story, all while hoping a random roll of the die doesn't completely derail the entire endeavor," Murphy said.
The magic behind a multi-headed dragon
A student puppeteer ensemble will create a fantastical game world on stage with large-scale puppetry designed by Amanda Petefish-Schrag, associate professor of theatre.
Mia Nollet, sophomore in environmental science, is the puppet captain leading the group. With such giant puppets, teamwork and safety are big priorities. For example, she said it takes a group of eight puppeteers to operate the fearsome, multi-headed dragon puppet, Tiamat.
"In rehearsal, we use breathing to help us connect with each other," Nollet said. "Onstage, the puppeteers use group breathing, sound cues, and our limited sight to operate our puppets, which has been a very fun challenge. I'm sure it's a very bizarre and entertaining sight to anyone who happened to catch us in the act."
Petefish-Schrag said it's been exciting to see the students collaborate to create a single, unified character on stage.
"This type of puppetry can be quite challenging technically and artistically, and this team of puppeteers has more than risen to that challenge in rehearsals and in their preparations," Petefish-Schrag said. "This includes extra time at the gym to develop the flexibility and muscle strength needed for large-scale puppetry work."
Empathy, resilience, and community
Kaitlyn Meylor, who plays the role of Agnes, said the cast has the best camaraderie of any show she's been part of — and she hopes that fun translates to the stage.
"I hope the audience laughs super hard at all the silly jokes we make, but I also hope to connect with them on an emotional level," she said. "This show means so much to me personally, and it has touched my heart in ways I can't begin to explain. I hope that it touches the hearts of the awesome people that come to see us as well."
While the show is sure to bring laughs – and you don't need to be a Dungeons & Dragons fan to enjoy it – Murphy said the play's themes of grief, queerness, and quiet heroism also offer profound insight for these times. The story creates healing spaces for people facing individual loss or trauma and opportunities to celebrate human dignity and inclusivity.
"In a moment when my queer students, colleagues, and friends are again under renewed attack, this play celebrates and champions their important presence at our collective table," Murphy said. "And in a moment when the world at large has shown us there are still seemingly unconquerable dragons out there, 'She Kills Monsters' teaches us empathy, resilience, and community continue to be the best weapons with which to slay them."
Performances are March 30, March 31, and April 1 at 7:30 p.m. and April 2 at 2:00 p.m. in Fisher Theater. Tickets are general admission; $20 for adults and free for Iowa State students and youth. This show contains adult language and content. For ticket information, visit theatre.iastate.edu.
Advisory: This production features haze and flashing lights and contains depictions and discussions involving adult language; sexual references; death and dying; fantasy violence; an able-bodied actor portraying a disabled character; and homophobic bullying.
Published: March 22, 2023