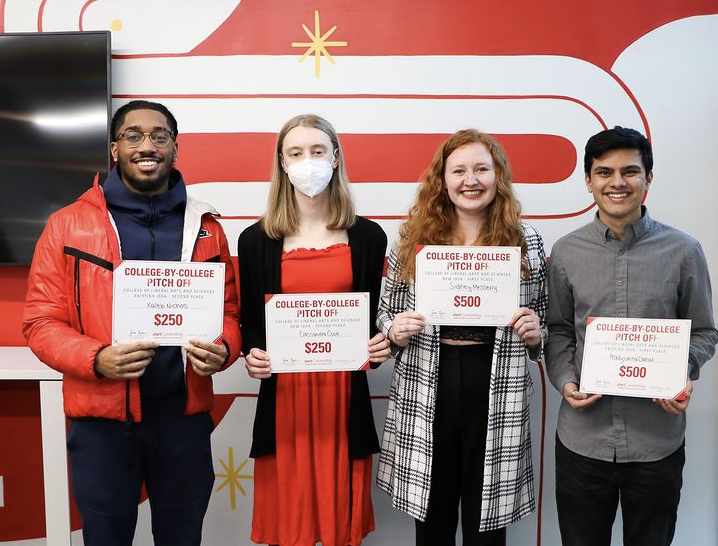 The Pappajohn Center for Entrepreneurship's sixth annual College-by-College Pitch Off is underway with the College of Liberal Arts and Sciences hosting its competition on Feb. 21.
The LAS College-by-College Pitch Off began with students competing against fellow classmates for first- and second-place prizes of $500 and $250, respectively. 
Students showcased their business plans within two categories: New ideas and existing business ideas, for those that have already moved past the concept stage. Each student was allotted 90 seconds to give their pitch, followed by two minutes of follow-up questions by the judges. 
Pradyumna Dahal, a senior in computer science, earned the first-place award for his existing business idea, Casmium. Casmium offers access to affordable and easy-to-use sports analytics for youth baseball teams. The runner-up for the existing business idea award was Kaleb Nichols, a junior in liberal studies, and his company AKYN. AKYN is committed to hosting events and improving the cultural environment for Black youth. 
The winner from the new idea pitches was Sidney Messerly, a senior in communication studies, whose business idea focuses on creating an eyebrow pencil for natural redheads to fill an existing gap in the cosmetics market. The runner-up in the new business pitch was Cassandra Cook, a freshman in computer science, who aims to create a video game studio that changes the way video games are perceived. Cook looks to stray away from current video game clichés while marketing video games to individuals who are neurodivergent. 
These students will move on to the finals of the Pitch-Off on Thursday, Feb. 23, where they will compete for the grand prize of $5,000 for each category (postponed). 
The College-by-College Pitch Off Finale will now be held on Thursday, March 2 from 2 – 5 p.m. in the SICTR Launch Pad.
Published: February 22, 2023