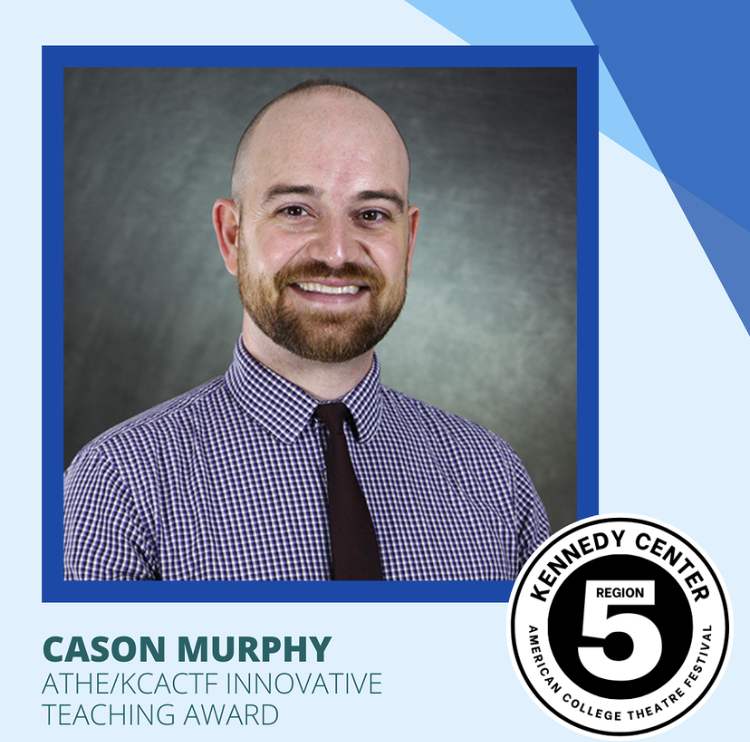 Assistant Professor of Theatre Cason Murphy was awarded the Prize for Innovative Teaching at the Region 5 gathering of the Kennedy Center American College Theatre Festival (KCACTF) in Des Moines on January 26, 2023. Murphy was nominated by Iowa State University's Department of Music and Theatre for the award, which is given by KCACTF in partnership with ATHE (Association for Theatre in Higher Education) to faculty who "demonstrate innovation in regard to student success in the area of theatre arts."
Murphy was recognized in part for his efforts to champion new opportunities for students to create, develop, perform, and explore new theatrical work. In spring 2022, Murphy piloted the THTRE 504A Musical Theatre Seminar course, which paired with ISU Theatre's mainstage workshop production of "BABA: A New Musical" via an innovative hybrid class and performance structure.
"Professor Murphy's work allowed our students to collaborate directly with a professional lyricist and composer, and transformed our rehearsal rooms into vibrant laboratories of research and exploration into the practices of producing theatre in a rapidly changing industry," wrote Brad Dell, chair of the Department of Music and Theatre.
KCACTF is a national theater program created through Washington D.C.'s prestigious John F. Kennedy Center for the Performing Arts, which aims to "encourage, recognize, and celebrate the finest and most diverse work produced in university and college theater programs."
Murphy teaches courses in musical theatre, acting for the camera, and introduction to performing arts. In 2021, Murphy received the ISU Early Achievement in Teaching Award and LAS Cassling Family Faculty Award for Early Achievement in Teaching, and recently was given the 2022 Arts Educator Award from the Ames Community Arts Council. For ISU Theatre's 2022-2023 season, he is directing "She Kills Monsters" by Qui Nguyen, which runs in Fisher Theater on March 30–April 2, 2023.
Published: February 7, 2023