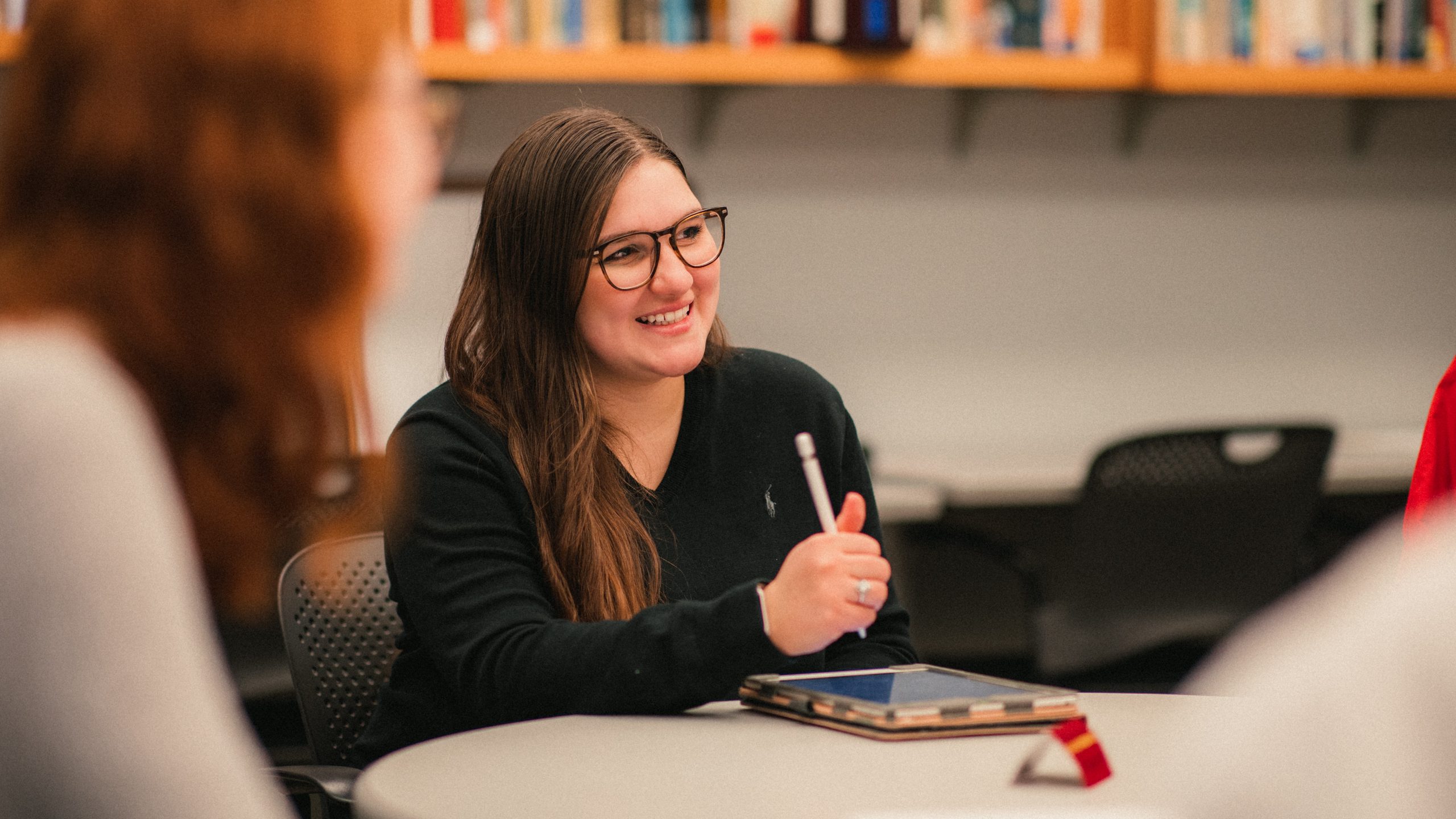 No one can accuse Natalia Rios Martinez of squandering her college experience. When she graduates from Iowa State in spring 2023, Rios Martinez will have completed three majors in political science, international studies, and public relations; studied abroad on three separate occasions; landed internships at the local, state, and federal government levels; and presented compelling research at a national conference.
Oh, and she was named a 2022 Truman Scholar, and she speaks fluent Spanish, English, and Italian.
"I feel like I suffer from FOMO [fear of missing out], and I want to do everything and be everywhere, but I have to realize that's not possible," Rios Martinez said.
Fortunately, Iowa State University has offered Rios Martinez opportunities at every turn, so she hasn't missed out on much. But she almost chose a completely different path.
"Plan Z"
A native of San Juan, Puerto Rico, Rios Martinez knew she wanted to attend college in the United States and major in political science. Her dream was to enroll in a university near Washington, D.C., where she could intimately study the American political system. But Rios Martinez's mother, who never interjected her opinion into her children's college choices, attended a college fair with her, heard Iowa State's presentation, and encouraged her daughter to apply.
"I said, 'OK, she never gets involved and she's telling me to apply so I should.' But that was my Plan Z," she said.
Not yet convinced that Iowa State was her destiny, Rios Martinez applied at another university in Washington, D.C., but was put on a waiting list. So, she decided to attend Iowa State – only for one year – and then transfer to the first university.
At the end of her freshman year, Rios Martinez was accepted into the Washington, D.C., university, but by that time Iowa State had captured her heart.
"I had already fallen in love with Ames and Iowa State University," she said.
 Forging her own academic path
Fully committed to Iowa State, Rios Martinez knew she wanted to pursue a career in public policy. For her, the best way to achieve that goal was to major in political science, international studies, and public relations.
"I want to work in public service in the future, so political science was a no-brainer for me," she said. "But the focus at Iowa State is on American government, which is totally fine, but I wanted an international perspective that wasn't in the curriculum when I was a freshman, so that's why I added the international studies."
She also chose to major public relations to enhance her communication skills.
"Honestly, I was a little bit concerned about my English because I had never lived in the U.S. In Puerto Rico, I spoke Spanish and English but not 24/7 like I do here," she said. "I was concerned about not being able to communicate well so I thought it was important that I add that communication aspect to my education."
Rios Martinez is pleased with how the three majors complement each other and provide a firm foundation for a future career in public policy. Political science and international studies have taught her about governments across the globe, but she says the public relations major is key in taking public policy from concept to implementation.
"If you're coming up with a policy you need to be able to sell it," Rios Martinez said. "You need to be able to talk to people and allow them to understand what you're proposing. You need to be able to write policy that everyone understands because you're writing it for everyone."
Experiential learning
Despite having a triple major, Rios Martinez has found time to enhance her Iowa State experience with several experiential learning opportunities, like study abroad and undergraduate research.
This spring, Rios Martinez will travel to Florence, Italy, where she will wrap up her international studies major and perfect her Italian. This is her second trip to the country.
"I went to Italy in 2020, but it was canceled due to COVID," she said. "I started learning Italian and I picked it up quick because of my background in Spanish, so it wasn't too hard to learn and it was fun."
During her sophomore year, Rios Martinez spent spring break in Costa Rica, where she engaged in an independent study about the country's biodiversity policy.
More recently, Rios Martinez has teamed up with David Peters, professor in the Department of Sociology and Criminal Justice, to study rural legal deserts in the United States. Rural legal deserts are locations where there are few, if any, affordable attorneys.
"What we found is yes, there are many legal deserts in the U.S. and their social composition is low-income communities that are often composed of marginalized groups, and they are mostly in rural areas," Rios Martinez said.
Rios Martinez compiled data for the study, which was funded by a National Science Foundation COVID-19 grant (Resiliency and Vulnerability to COVID-19 in Midwestern Rural Communities) and the Iowa Agricultural Experiment Station. Over the summer, she accompanied Peters to the annual meeting of the Rural Sociological Society where she presented their findings, quite a feat for an undergraduate student.
"Natalia hit a home run with her presentation," Peters said. "Her presentation and poise were so professional that many of my colleagues assumed she was finishing her Ph.D. and was soon to be on the job market. They were amazed to find out she was an undergraduate student."
While presenting research in front of rural sociology professionals was a little intimidating, Rios Martinez is grateful for the unique experience and credits Iowa State for offering undergraduate students meaningful research opportunities.
"I think I was the only undergrad there, which I'm so thankful for because that speaks to Iowa State's research and how well they prepare students to do research," she said. "I felt like Iowa State, through their funding of me, empowered me to have these experiences I wouldn't otherwise have."
Practical experience
Throughout her college career, Rios Martinez has understood the importance of adding work experiences to her resume, so she pursued several internships. Because she wishes to write public policy in the future, she chose internships in the public service sector, including with the Iowa Department of Transportation's civil rights bureau, with U.S. Congresswoman Gwen Moore, and with the U.S. Department of Justice.
Her advice for other college students seeking internships is to build momentum.
"I think it's important that you take time to build on your skills. I don't think I would have gotten an internship with the Department of Justice if I didn't have my first internship with a local representative, so I needed those small, unpaid internships in order to get the bigger ones."
She also recommends having a plan in place that will propel you into the career you are seeking.
"I think students need to give themselves grace and time, and also be very intentional about the experiences they are going for," Rios Martinez said. "If you look at my resume, I went from local government, to state government, to the federal government – I was building on them. I was taking skills from one internship and applying it to the next and that's when I got to the federal government, which is the highest internship you can get."
Future plans
Following graduation from Iowa State, Rios Martinez intends to take a much-needed gap year, or at least she's going to try. It won't be all rest and relaxation, however. She will be participating in the prestigious Truman Scholar program, the premier graduate fellowship in the U.S. for students seeking public service careers. She hopes that time will help solidify her career path.
"I want to work in the field before I commit to a master's program or Ph.D. or J.D. [juris doctor]. I want to make sure that's really what I'm passionate about. Then with that security in mind, I will apply to a master's or J.D. Hopefully, that year will clarify those plans."
No matter where she lands, Peters is confident Rios Martinez is destined to make a difference in the world.
"Natalia would make an excellent academic, or a senior executive running a government agency, or a lawyer advocating for social change, or an elected official representing her beloved Puerto Rico. She almost has too many options!" Peters said. "I suspect she will wear many hats – academic, administrator, lawyer, politician – over her long and successful career. It is great that our country, and ISU, produces such amazing young people like Natalia."
Published: December 5, 2022