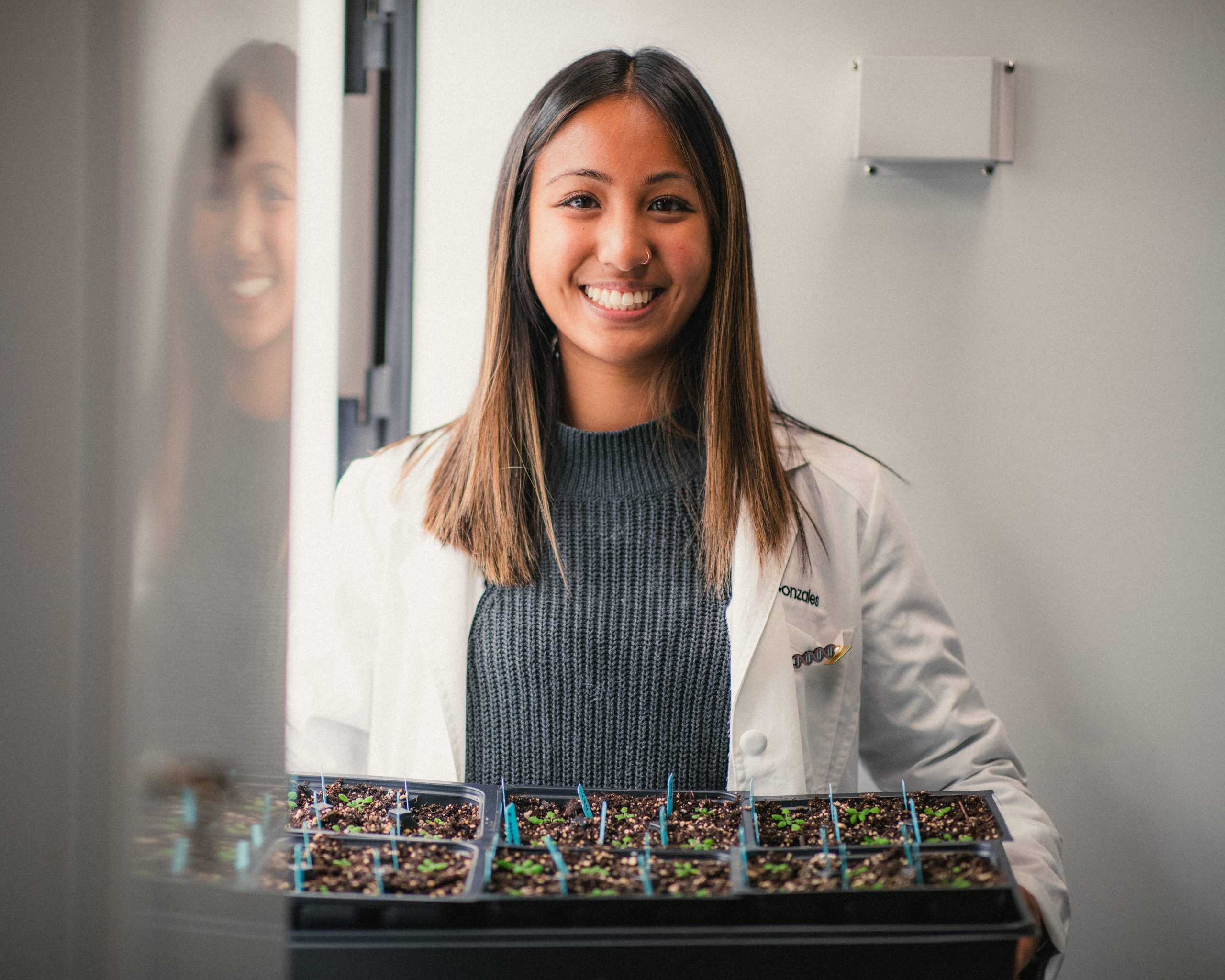 When Caitlin Gonzales ('23 genetics) enrolled as a genetics major at Iowa State in the fall of 2019, she was on track to become a physician assistant. She even became a certified nursing assistant while still in high school to get a jump start on her medical career. But the COVID-19 pandemic changed Gonzales' perspective, and she decided a profession in medicine was no longer for her. Now, she plans to use her genetics degree and undergraduate research experiences to inspire young minds through teaching.
A major decision
Gonzales, who hails from Schaumburg, Illinois, first considered attending Iowa State because it was far from home, "but not too far." However, it was Iowa State's undergraduate genetics major that sealed the deal.
"Because I'm getting a genetics major, I don't have to worry about taking that step of getting a biology degree and then going into a master's program to get a genetics degree, which is really, really nice," Gonzales said. "So, we're like one step ahead of everything. There are just so many options to do after a genetics major."
Those options proved beneficial for Gonzales once she changed her mind about pursuing a medical career.
"Once COVID happened, I stepped away from nursing and was like maybe this is not really what I want to do anymore. Then I started looking towards teaching," Gonzales said.
Inspiring minds
Gonzales reconnected with her high school biology teacher, and discussed the possibility of teaching high school science with him at length. He graduated with a degree in biology and was originally in a pre-medical program, so he and Gonzales had similar starts to their college careers. His experience convinced her that teaching was also the career path she should choose.
Following graduation from Iowa State this spring, Gonzales intends to get a teaching certificate, which will allow her to teach high school biology, chemistry and physics. She's eager to share her enthusiasm for science with her future students.
"Even though science may not make as big of an impact on all students as you may want it to, at least you can spread that light into them and make those connections," Gonzales said. "I think that's the best way they can learn and take those things from your class and take it with them in life, even if it's not science related."
The impact of research
Gonzales looks forward to incorporating what she's learned as an undergraduate researcher into her classroom curriculum. She was recently awarded the College of Liberal Arts and Sciences Dean's High Impact Award for Undergraduate Research and named a Fung Fund Summer Intern through the Department of Genetics, Development, and Cell Biology. Both opportunities allow Gonzales to conduct research in the Kelley Lab, where she focuses on ways to make the roots of the Arabidopsis plant longer and stronger.
"My role in the research project is linking GAUT10 function to root cell composition in auxin, which is a major plant hormone that plays a bunch of roles in plant biology," Gonzales said. "I use two different genes to see if I can make the cell walls and short roots of the plant grow longer."
Developing ways to strengthen and lengthen the roots of plants could help researchers develop new methods for growing nutrient-rich, durable crops.
"We're trying to find a way that we can make these plants live longer," Gonzales said. "Some people say mutations are bad, but it could be beneficial to figure out a plant's cell walls and development."
Dior Kelley, assistant professor of genetics, development, and cell biology and the Kelley Lab's principal investigator, is impressed with Gonzales' attention to detail, her willingness to perform replications, and her long-term planning skills. Kelley has no doubt that Gonzales will be an amazing teacher.
"Caitlin has contagious energy and a very approachable communication style, which will allow her to connect with students," Kelley said. "It is always inspiring to see a woman of color in the classroom, as many students value diverse educators."
Gonzales is grateful for the undergraduate research opportunities she's had at Iowa State. She believes those experiences will not only make her a better educator, but they will also help her students become better learners.
"I definitely think all the opportunities I'm getting now will give my future students better learning opportunities in the classroom," Gonzales said.
Published: November 10, 2022