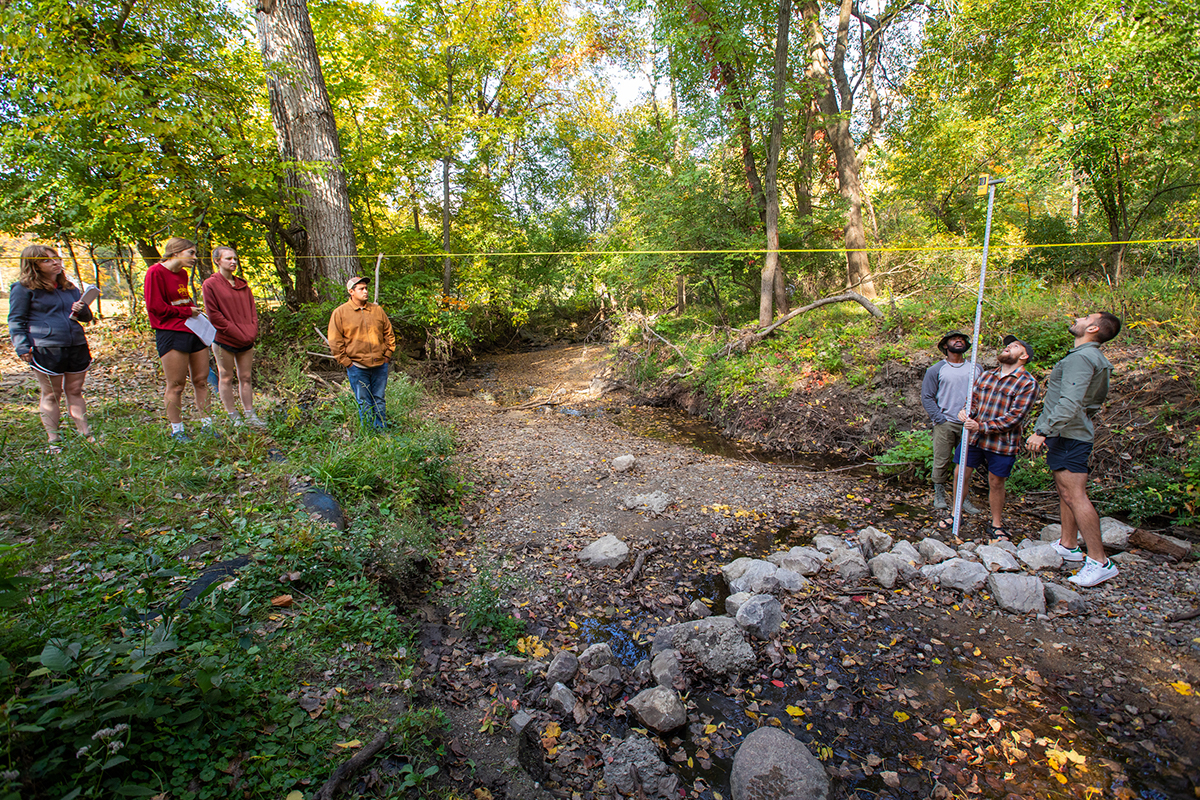 The College of Liberal Arts and Sciences (LAS) is midway through a rollout of new degree programs that meet the emerging demands of employers and the growing interests of incoming students. The first phase of new degrees includes a master's degree in artificial intelligence (AI), a Bachelor of Science degree in climate science, a Bachelor of Arts degree in computer science, and a certificate in science communication.
According to the "Future of Jobs Report 2020" from the World Economic Forum, as job markets evolve, "There will be a surge in demand for workers who can fill green economy jobs, roles at the forefront of the data and artificial intelligence economy, as well as new roles in engineering, cloud computing, and product development."
Iowa State University is at the forefront of this evolution with the creation of programs that will prepare students to work in these emerging fields.
Master's degree in AI
As faculty in the Department of Computer Science extended their research deeper into the innovative world of AI technology, they saw the need to educate and train future AI scientists and professionals. In fall 2021, Iowa State began offering a two-year Master of Science program in AI.
"AI professionals will be demanded not only in the tech industry but far beyond in healthcare, finance, personalized education, media and entertainment, more effective agriculture, more efficient manufacturing, safer transportation, and much more," said Jin Tian, associate professor of computer science.
Currently, no other Iowa universities or colleges offer an AI graduate program.
Bachelor of Science degree in climate science
Scientists are observing changes in the Earth's climate in every region and across the whole climate system, according to the latest Intergovernmental Panel on Climate Change (IPCC) Report released in August 2021. These changes will impact myriad industries, including finance, insurance, and agriculture as well as U.S. military and intelligence interests.
In fall 2022, Iowa State launched an undergraduate degree in climate science, which will be instrumental is educating skilled professionals who can address these challenges.
As a leading research university of science and technology, Iowa State is uniquely positioned to offer a climate science degree, thanks to its existing geology and meteorology programs as well as faculty who are conducting innovative research.
"But this is not just a simple repackaging of classes. Rather, it's a meaningful way that we're pulling together things we already have and creating this new area that really is relevant for society today and into the foreseeable future," said Kristie Franz, chair of the Department of Geological and Atmospheric Sciences.
She added that the curriculum can continually evolve to meet the needs of students and their educational and career goals.  Currently, no other public university in Iowa offers a program like the new climate science major at Iowa State.
Bachelor of Arts degree in computer science
There is an increasing demand for computing professionals in both the United States and internationally. The U.S. Bureau of Labor Statistics projects that the job outlook for software developers, quality assurance analysts, and testers will grow 22% from 2020 to 2030. In Iowa, the U.S. Bureau of Labor Statistics projects a growth of 5,652 jobs in computer occupations by 2030. Although U.S. universities graduate about 65,000 computer science students annually, there continues to be unmet demand.
Beginning spring of 2023, Iowa State University will meet this demand with an additional bachelor's degree in computer science.
Iowa State already has a robust computer science program in which students earn a Bachelor of Science degree; it is one of the largest , with 866 students enrolled this fall.  The addition of a Bachelor of Arts degree in computer science will enable students to take a wider variety of courses than the Bachelor of Science program allows.
"The program will offer a lot of encouragement to students who want to study computer science, not in isolation, but as part of a broader liberal education that they can design for themselves," said Jack Lutz, professor of computer science. "It will be good for the B.A. students and they will, in turn, improve the intellectual environment of all our undergraduate students."
"Enabling such broad-based education while preparing students for the 21st-century workforce is the core mission of LAS," said Beate Schmittmann, Dean of the College of Liberal Arts and Sciences.
Certificate in science communication
As science and technologies have gotten more complicated and innovation occurs faster, it has become harder for the scientific community to communicate effectively with the public.  There is often a gap between what scientists have learned and what people know.
Recognizing this need, in the fall of 2022 Iowa State University became the first public university in Iowa to offer a certificate in science communication.
This LAS-centered certificate prepares students to participate in collaborative and transdisciplinary communication that engages the public in scientific research.  It brings together courses on scientific reasoning, ethics, and multi-modal communication alongside opportunities to study community engagement, social justice, and public policy. This certificate is designed to encourage students who are interested in the intersection of science and society to pursue coursework that provides them with the skills to effectively engage the public around complex and sometimes controversial scientific topics. Students pursuing a career in science, engineering, math, and other technical fields can build a unique edge for themselves in the job market where successful communication with a large audience is essential.
Together, these four new programs open doors to the degrees of the future.
"These degrees reflect the educational paths that are in high demand by students and employers," Schmittmann said.
Published: October 18, 2022