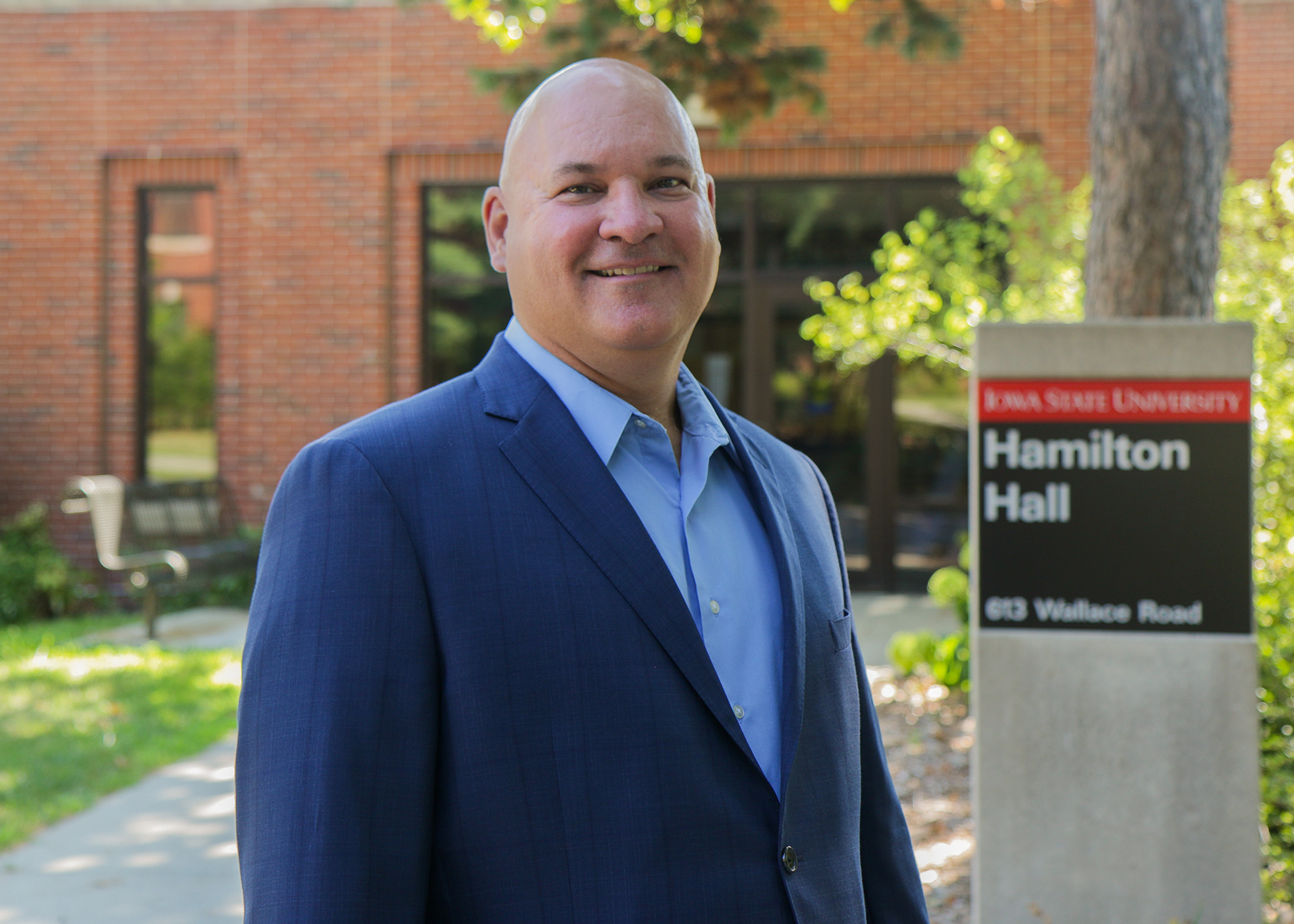 Michael Wigton, associate teaching professor in advertising, is the 2022 recipient of the Greenlee School's Allen Essman Faculty Fellowship.
Established in 2018, the Essman Faculty Fellowship recognizes excellence in advertising and/or public relations education. The award was made possible by Iowa State alumna Denise Essman ('73 marketing) in memory of her late husband, Allen K. Essman, an alumnus and distinguished advertising professional who was also an instructor in advertising and photography at the Greenlee School from 1969 through 1972. He passed away in 2010.
The fellowship provides support for a graduate assistant or postdoctoral stipend, secretarial or technical assistance, travel expenses, research support or other related purposes.
"Michael Wigton has a track record of incorporating real-world and leading-edge technology into his advertising courses. Through his teaching and mentorship, his students have consistently won state and national advertising awards for the past decade. I am thrilled to recognize his accomplishments and future success with the Essman Faculty Fellowship," said Michael Dahlstrom, director of the Greenlee School and LAS Dean's Professor.
Wigton is a 1990 Greenlee graduate and has been teaching at the school since 2012. Prior to his faculty appointment, he worked at various advertising and public relations agencies in Minneapolis and Washington, D.C., including Carmichael Lynch, VML and Arnold Worldwide.
With more than 20 years of experience in communications, Wigton brings a wealth of knowledge to students in the areas of comprehensive knowledge in planning of global strategic communications, advertising, public relations, media relations and planning, target audience analysis, identity/design, and implementation of campaigns across all media.
In 2012, Wigton earned his master's in strategic communications from Concordia University-St. Paul. He advises the Iowa State Advertising Club.
"I appreciate the support Allen Essman, former professor and advertising professional, provides to Greenlee's advertising students through me. With these funds, it is my mission to enhance the undergraduate experience by expanding their knowledge of digital research/promotion and how to apply that to benefit a company or organization," Wigton said.
A two-time Iowa State graduate, Allen Essman received his bachelor's degree in psychology in 1969 and his master's degree in journalism and mass communication in 1972. His career in advertising included stints as copywriter for the Meredith Corporation and creative director for Wesley Day Advertising.
In 1977, he and Denise Essman established Essman/Associates, an integrated marketing communications company, and Essman/Research, a qualitative and quantitative research firm in Des Moines, Iowa. Throughout his 40-year career, Allen was recipient of more than 55 regional, national and international awards and was included in the first edition of "Who's Who in Advertising."
Denise Essman is a member of the Greenlee School Honorary Advisory Council, an ISU Foundation Governor and a board member of the ISU Research Park. She continues to lead Essman/Associates. Essman/Research was purchased by the State Public Policy Group in 2017.
"We're an Iowa State family. Al loved his experience at ISU and attributed our good fortune in business and life to the education and the many opportunities he received via the Greenlee School. We want others to experience the same excellent education and to look back on their ISU days as the best ever," said Denise Essman. "The student scholarship we established several years ago, also in Al's name, is supporting students who might not otherwise have those opportunities."
Published: September 9, 2022