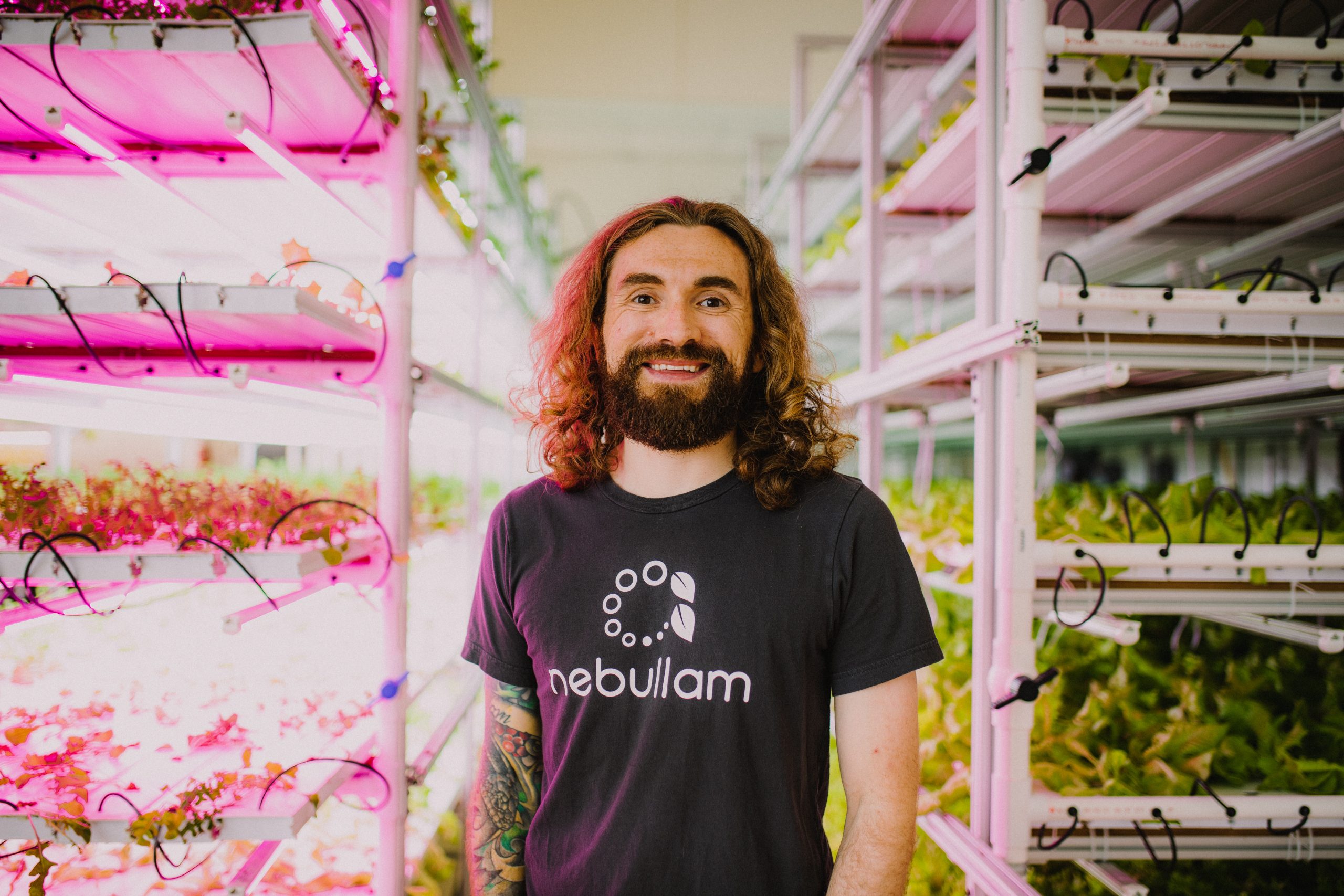 How does an Iowa farm kid who insisted he would never pursue a career in agriculture end up founding a high-tech, direct-to-consumer indoor farm? Well, as the Beatles said, it's a long and winding road.
Growing up as an only child on his family's farm near Blakesburg, Iowa, Clayton Mooney ('12 English) had his fill of physical farm labor by the time he left for college.
"I realized growing up on a traditional farm with row crops that there was always manual labor to be done," Mooney said. "So, when I left the family farm, I thought I'd never do anything ag related again."
He kept true to his word, for a while.
Mooney transferred to Iowa State in fall 2008 as a junior in business economics, which seemed like a solid, versatile major that would someday land him a steady job. But before long, the money he earned from his hobby-turned-passion, poker, steered him in a new direction.
Counting cards by the campfire
Mooney's poker career took root long before he ever stepped foot on Iowa State's campus. A self-proclaimed cowboy, Mooney spent much of his childhood riding horses. Each year, he and his family saddled up their trusty steeds and rode across southern Iowa to attend rodeo shows. Most evenings on the trail were spent playing Blackjack around the campfire. Gifted with a mathematically brilliant mind, Mooney had mastered counting cards during Blackjack matches by the time he was 9 years old. At 13, he turned his attention toward a new card game called Magic: The Gathering, a wizard-themed, trading-card game. He excelled in this game as well and competed in junior professional tournaments as a teenager before joining the regular pro tour by the time he was 20.
"I met a lot of friends who had made a living from playing Magic: The Gathering on pro tours but they transitioned over to poker because there was more money to be won, so I was drawn to that," Mooney said.
A passion for poker
Mooney began playing mid-stakes online poker in his early 20s while at Iowa State. Juggling the game with academics, however, proved difficult.
"I have an obsessive personality and when I started studying the mathematics behind the game, I was playing seven days a week," Mooney said. "I was skipping classes. I even skipped my accounting final because the night before I had won a big tournament that didn't end until 3:30 a.m. So, I was not a good student."
A couple of five-figure poker wins convinced Mooney to leave Iowa State behind and play cards full-time, which he did in the spring of 2009.
All was going well until the spring of 2011 when the federal government declared online poker illegal in most states, including Iowa. Mooney had come to another fork in his winding career path.
After some soul searching, Mooney decided to sharpen his writing skills to enhance the blogs he wrote about the math involved with poker. He returned to Iowa State in the fall of 2011 and began pursuing a degree in English with an emphasis on creative writing.
"I think writing is important for everybody because it drives communication," Mooney said. "I don't value much above communication."
After cramming 63 credits into three semesters, Mooney graduated from Iowa State with an English degree in the spring of 2012. He accepted a corporate communications job in Denver, which ended up turning into a dead end.
"About nine months in, I realized that I am not cut out for corporate America," Mooney said. Things just moved too slowly for me. I'd have ideas that my boss would approve, and then my boss' boss would approve, and the third boss in line would say no. I felt the company was too big and inefficient."
Again, not knowing exactly where to take his writing career, Mooney returned to what he excelled at — poker.
By 2013, Mooney moved to Dublin, Ireland, to try his hand at playing poker legally overseas. One week each month he traveled to other major European cities for live poker tournaments. The remainder of the month he stayed in Ireland and played poker online.
"I didn't want to leave Ireland. After my one-year holiday visa was up, I tried to extend it but they said no and asked me very nicely to leave the country in July 2014."
Back to his roots
Mooney returned home to the family farm to regroup in 2014. He intended to stay for only a short while and then compete in additional poker tournaments abroad, but health concerns with family members interrupted that plan. He decided to get back to Ames.
Also during this time, Mooney's professional focus began to shift toward building a technology startup company that benefitted society.
"Poker can be a very shallow career because your success is measured by money won and lost," he said. "While I made money every single year playing poker, at the end of the day, you could say I wasn't contributing to society."
Technology that made the world a better place was foremost in Mooney's mind, so he knew Ames and Iowa State University was the correct road for his new journey.
In the fall of 2014, Mooney hit the books again and enrolled in ECON 334, Entrepreneurship in Agriculture. He spent the semester developing a business concept and pitched the idea to a panel of judges, who were also investors.
KinoSol is launched
Mooney's first business — KinoSol —was spawned from this exercise. During the class, he connected with four other Iowa State students, all of whom worked together to devise the company's business concept — to manufacture solar food dehydrators and distribute them to remote locations around the globe. Eventually, Mooney and one other partner, Mikayla Sullivan, were the company's sole proprietors. That relationship turned into a life-long partnership; Mooney and Sullivan are now married.
As partners in life and business, the two quickly built KinoSol into a thriving startup that won national competitions and gained success in more than 40 countries. Though the COVID-19 pandemic eventually thwarted KinoSol's progression, another startup company that Mooney founded with partner Danen Pool in 2017 blossomed.
A glimpse into farming's future
The pair established Nebullam Farm in 2017 as a technology company to help other indoor farms. But as the pandemic ushered in the concept of food delivery to individuals' homes, Mooney changed the trajectory of the company to a direct-to-consumer indoor farm.
The name Nebullam Farm may conjure images of fertile farmland with rows and rows of leafy greens growing under bright, blue skies. But Nebullam Farm is no traditional farm, and Mooney is not your average farmer.
The company is housed in a 1,000-square-foot indoor facility at the ISU Research Park in Ames, where lavender-colored grow lights and channels replace the sunshine and rain showers normally needed to grow crops. Here, Mooney and his 11 team members raise a variety of leafy greens, sprouts and cherry tomatoes in automated vertical farms, powered by artificial intelligence and aeroponics, a cultivation technique that applies nutrients to plant roots while they are suspended in the air. Designed by Mooney, Pool and their team, the electronic "brain" of the operation resides in a small, gray box attached to each growing unit. It constantly monitors the plants and distributes water and light to them when needed.
Customers eat up business concept
Nebullam's produce is harvested and hand-delivered to subscribers' doors within three hours. The team currently makes more than 150 deliveries in the Ames area each week. Word is spreading about Nebullam and its fresh, healthy produce, which has led to planned future expansions in eastern Iowa and Minnesota. By the end of 2023, Mooney estimates Nebullam will have additional indoor farms near Cedar Rapids and Iowa City, as well as another in the Twin Cities.
Paying it forward
Mooney's entrepreneurial journey was sometimes difficult to navigate, with unexpected twists and turns, successes and failures. Launching a technology company is no easy task, and Mooney lauds the mentors he met along the way who took a chance on him. Today, Mooney is determined to bring his good fortune full circle by mentoring innovative Iowa State students who possess big ideas, but have access to few contacts and even less capital.
For the past five years, Mooney has mentored students in CYstarters, the ISU Startup Factory and, more recently, through a new program called Office Hours, where students and faculty can book 15-minute appointments with him to get answers to their entrepreneurial questions.
Rebecca Runyon, director of the College of Liberal Arts and Sciences' Innovation + Entrepreneurship (I+E) Academy, encourages students to meet with Mooney to discuss their innovative ideas.
"Clayton is the best, biggest supporter of student entrepreneurs because he was one!" Runyon said. "Clayton is a role model for me, and someone who inspires anyone who wants to make an impact. The students are fortunate to have the opportunity to meet and learn from him."
Jacob Schmieder ('21 biochemistry, MS '22 mechanical engineering) met Mooney while developing his business idea, Varsity Music, while in CYstarters. Schmieder said he appreciates Mooney's sound advice and direction, even if it's hard to hear.
"Clayton always treats you like a friend while giving the best and most transparent advice that he can," Schmieder said. "And, a lot of times, that's extremely valuable because when you are working on your business every day, you can get into the mindset that your idea is the best when in reality it may not be."
Isaac Bradford ('24 agricultural engineering) also met Mooney through CYstarters. In fact, Mooney volunteered to be Bradford's professional mentor since Bradford's business idea, Filtraponics, also relates to indoor farming. Bradford appreciates Mooney's willingness to give his time and advice to young entrepreneurs.
"It has been awesome to see how much Clayton has been giving back to the Iowa State entrepreneur community and all he has done for growing businesses," Bradford said. "Even though he is really busy, he still makes time to do Office Hours. He's helped steer me on the right path and I'm sure he's done the same for countless others."
Mooney estimates that he's connected with more than 100 aspiring Iowa State student entrepreneurs and faculty members so far this year. And while he's interested in their projects, Mooney is just as invested in the individuals coming up with the ideas.
"I like the idea that I bet on the jockey, not the horse. If I meet somebody and they tell me what they are working on and it is technology based, and I think it could make the world a better place, I will introduce them to Nebullam's investors, which is fun. It really completes the circle of life in a startup community."
Financial aid
Mooney knows from experience that funding startups is extremely difficult. That's why he has begun angel investing, providing small amounts of money to individuals with great ideas. By the end of 2023, he hopes to take his angel investing a step further by establishing a micro fund with the help of other investors. He would then use the money to inject more significant capital into a promising idea.
"I want to be the first check into a company," Mooney said. "That's my goal. I want to be the very first person who says, 'I believe in this vision,' and then write a check and hopefully support them however else I can along the way."
While Mooney obviously seeks to expand Nebullam Farm and develop new tech companies in the future, he is also laser focused on helping young entrepreneurs find their path, perhaps a bit quicker than he did.
"Hopefully, someday, I will be able to take a financial windfall of capital and start investing in the next crop of founders," he said. "That's what I'm trying to complete as a circle here."
Published: August 2, 2022