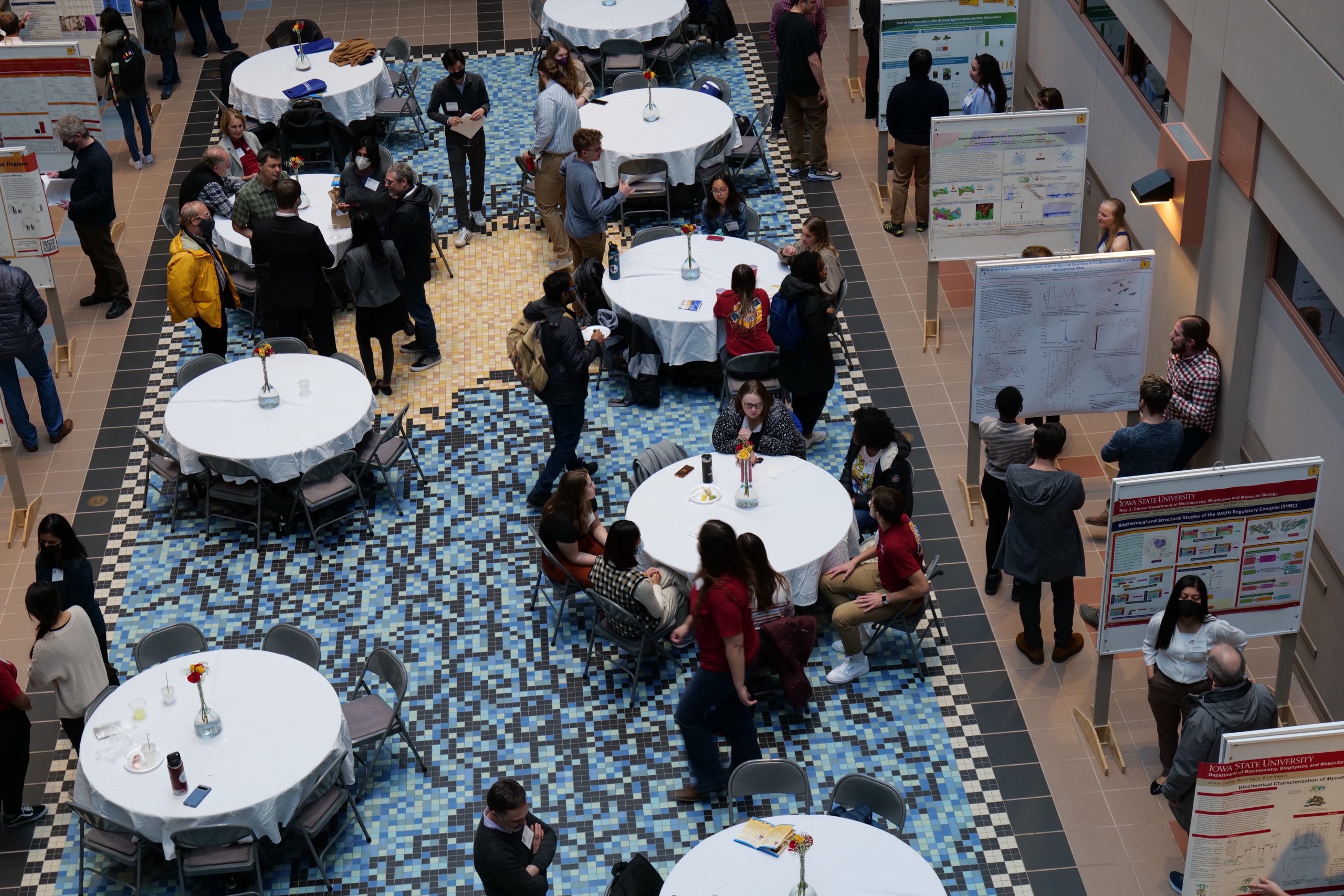 Tulika Sharan ('22 biochemistry) is wrapping up her undergraduate journey at Iowa State University. Her research in the Sashital Lab concludes this summer, her diploma is framed on the wall and she recently fulfilled her final duties as Stupka Symposium co-chair — a role she describes as "one of my most meaningful experiences at Iowa State."
A one-of-a-kind event, Stupka is the nation's only research symposium that is planned and managed entirely by undergraduates. Every year, hundreds of dedicated students, like Sharan, volunteer their time to organize this proud tradition in the Roy J. Carver Department of Biochemistry, Biophysics and Molecular Biology (BBMB).
This spring marked the 16th annual Stupka Symposium, which was held on April 7.
"Being a part of Stupka added so much to my undergraduate years and I strongly encourage incoming and current students to get involved," Sharan said. "I gained exposure to leadership experiences and scientific communications which strengthened my graduate school applications. I also learned a great deal about teamwork and I made some good friends."
Stupka drew more than 200 participants, including undergraduates, graduate students, faculty, alumni and guests.
"The department really comes to life with the energy and enthusiasm of our undergraduates who make Stupka a success," said Professor Kristen Johansen, chair of the BBMB department. "A lot of time, planning and resiliency went into this student-led event, and their hard work definitely showed."
Endless opportunities
Since its 2005 inception, thousands of undergraduates have contributed to Stupka's success. The planning committees are welcoming and getting involved is easy, by joining the Stupka Symposium Club. There is a place for every skill set and interest — from website development and fundraising — to project management, publicity, alumni outreach and so much more.
Although students drive the year-round organizing, the planning committee receives ongoing support from three advisors: Claire Kruesel, undergraduate program coordinator; Emily Boettger, teaching lab coordinator and Gustavo MacIntosh, LAS Dean's professor and professor in the BBMB department.
"When I meet with prospective students, I try to impress how unique Stupka is and how they're not going to get this experience at another university," Kruesel said. "Planning the symposium is fun and a great way to meet people — and it's also a cherished tradition in the BBMB department."
"Remembering Rob"
Part of what makes the symposium so special, is the inspirational legacy of Rob Stupka, the former Iowa State biochemistry student for whom the symposium is named.
In the fall of 2005, Rob led an effort to establish a research symposium in the BBMB department. Before the planning was complete, he died tragically in a pedestrian-automobile accident on the Iowa State campus. Each year, undergraduates in the department honor Rob's memory and passion for biochemistry research by fulfilling his initial vision.
The result is the Stupka Symposium, an event that is as much a showcase of science, as it is a tribute to Rob's belief in the power of research.
"Stupka has taken on important meaning because it fulfills Rob's hope of connecting students and faculty for the purpose of scientific investigation — and the event carries on his dreams and ambitions," Kruesel said. "That kind of homegrown, organic passion is special. It unites our BBMB community and drives students to improve Stupka each year."
Inside Stupka
This year's Stupka Symposium overflowed with activity. After a kick-off breakfast, more than 25 BBMB students presented their ongoing research during two poster sessions. Students answered questions about their findings and methods as faculty members evaluated the presentations. Breakout sessions and a luncheon provided opportunities for students to engage with alumni, faculty and event speakers.
"I remember attending Stupka as a freshman and thinking, 'Wow, this really is a celebration of science,'" Sharan said. "We had so many impressive professors, alumni and graduate students, and it was amazing and inspiring to witness the biochemistry community thrive. The energy was palpable and enthralling."
Keynote speakers included renowned biologist Elizabeth Haswell from Washington University in St. Louis, who spoke about plant adaptations; and Jason McLellan, a researcher from the University of Texas, Austin, who mapped the SARS-CoV-2 spike protein that was used to develop many of the coronavirus vaccines.
McLellan said, "Stupka was flawlessly executed, and I hope to one day create a similar event at the University of Texas. I came away extremely impressed, and these students should be very proud of themselves for organizing the symposium."
This year's event also included the 5th annual Adrienne Smith Alumni-Student Interaction Dinner. The dinner allows undergraduates to network with alumni, while honoring Adrienne Smith ('16 biochemistry), an active Stupka volunteer who passed away from Hodgkin's lymphoma in 2017.
"It's been an honor to be a part of so many special Stupka events through the years and to serve as co-chair with Paiton McDonald," Sharan said.
Sharan begins graduate school at the University of Wisconsin, Madison, this fall. She plans to join the Integrated Program in Biochemistry (IPiB), earn a Ph.D. and explore the possibilities of biomedical research.
"What a memorable way to end my senior year," Sharan said. "It's great to know that Stupka was successful and is in good hands for 2023, with the planning already underway."
Passing the torch
It takes a village to organize a symposium—and in the BBMB department, the organizing begins early. Nearly 18 months before the event.
In March, Kevin Beaghan ('23 biochemistry) and Michelle Morford ('23 biochemistry) were elected 2022-23 Stupka co-chairs by Stupka Symposium Club members. Beaghan has been a Stupka volunteer since his freshman year.
"I initially didn't want to take on a big role. But something in my brain clicked after I got involved, and I thought, 'I really care about this and I want to do more,'" Beaghan said. "Juniors and seniors immediately took me under their wings and now it's exciting to mentor younger students and serve as a co-chair."


Beaghan plans to attend medical school after graduation and become a pediatrician.
"Stupka helped me to define my leadership style and improve my communication skills, which will be helpful with medical school interviews," Beaghan said. "It's been great learning how to work with a wide variety of people and personalities to get things done."
The knowledge and personal growth that is gained as a Stupka volunteer often lingers beyond graduation. Just ask Sarah Zelle ('20 biochemistry, genetics) a former Stupka volunteer and committee chairperson, who participated in four symposium research poster competitions.
"Stupka showed me how valuable scientific communication is," Zelle said. "My first time presenting a poster was rough, but it became more natural and rewarding, and the symposium became a yearly opportunity for me to work on my presentation skills."
Zelle recently completed her second year in the chemical and physical biology Ph.D. program at Vanderbilt University. She's also a researcher in the Hassane Mchaourab and Kevin Schey labs, where she studies stress pathways in the eye.
"I enjoy presenting my research and I take every opportunity to do so," Zelle said. "Stupka got me to that point professionally, and I look forward to attending a future symposium as an alumna."
Mark your calendars
Students have secured keynote speakers for Stupka 2023, which will be held March 30. Preparations will continue this summer and ramp up when the fall semester begins.
Beaghan hopes to recruit many new BBMB and Stupka Symposium Club members in the coming year, to ensure that the Stupka torch is successfully passed to the next generation of student volunteers.
"I look back on how terrific Stupka was last year and I remember stepping back at the event and taking it all in for a moment to see everyone enjoying it," Beaghan said. "I'm excited about Stupka 2023 and bringing together everyone again, to celebrate the incredible research, students and faculty in the department."
Published: May 24, 2022