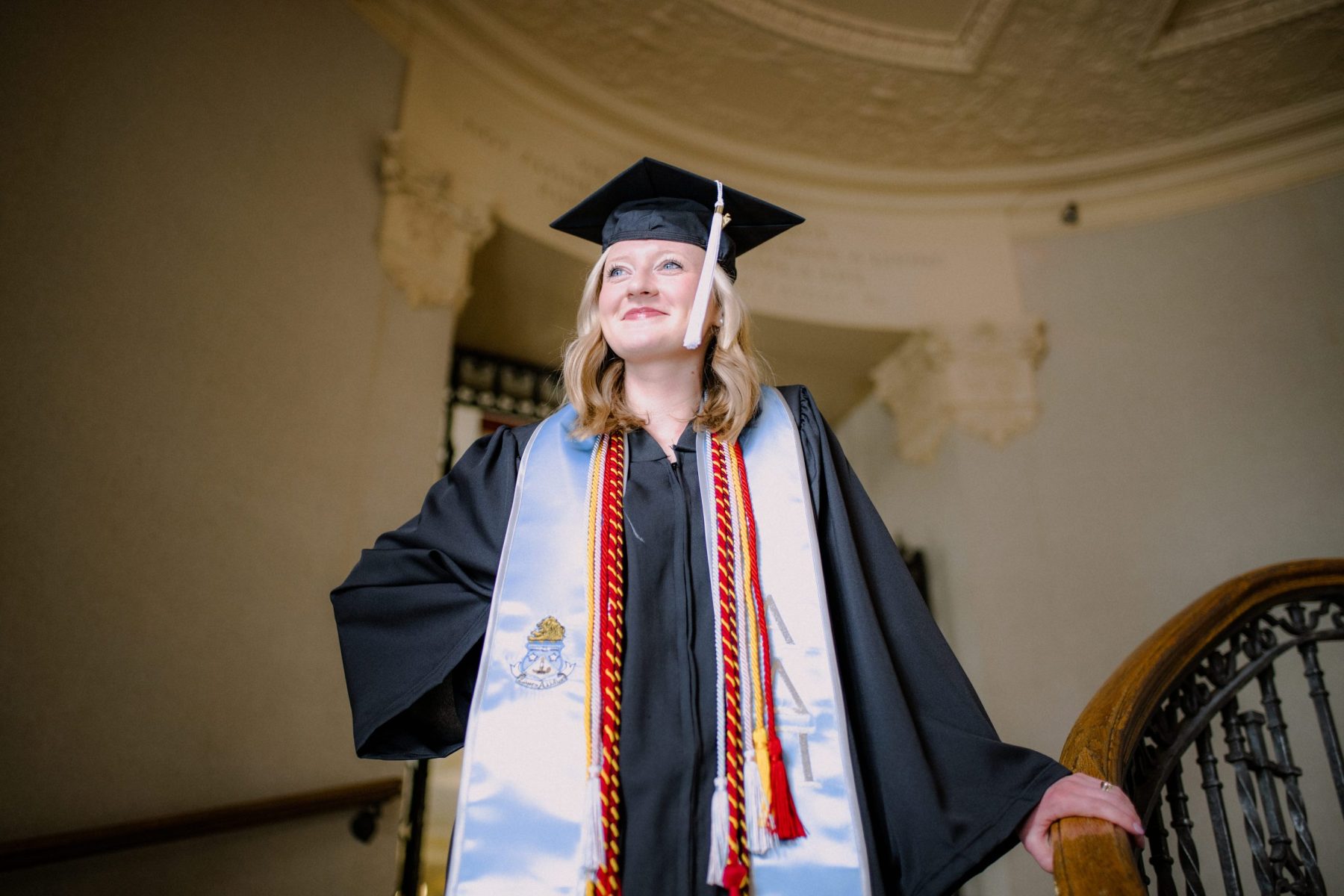 The College of Liberal Arts and Sciences (LAS) is pleased to announce that Morgan Fritz, a graduating senior from Lake Mills, Iowa, has been selected as the LAS student marshal for the spring 2022 Iowa State University commencement. Fritz is graduating summa cum laude with a bachelor's degree in political science.
Fritz has held countless university leadership positions. She has been a Cyclone Aide, the service co-chair of her sorority and a member of President Wintersteen's leadership class advisory program. Most notably, Fritz is known for her role as the president of the ISU Student Government during the 2020-21 academic year. As president, Fritz introduced an Income Share Program proposal to make college more accessible and affordable. She helped develop a parent-friendly study space in the library and created a paper towel composting pilot program. Fritz also served as the chief representative of the student voice on university committees and initiatives, including Iowa State's COVID-19 response. Her leadership and perseverance during the early pandemic response led her to be inducted into Rose Frantzen's "Faces of Iowa State" portrait collection in 2021.
Fritz was recently selected as a recipient of the Wallace E. Barron All-University Senior Award. This award was established by the Iowa State University Alumni Association to recognize outstanding seniors.
In the classroom, Fritz has achieved academic excellence. She is a member of Phi Beta Kappa and Cardinal Key Honor Society, and is in the top 2% of her class. Fritz's leadership expands beyond campus to the state of Iowa. Last summer, she was appointed by Governor Kim Reynolds to serve a three-year term on the State of Iowa Juvenile Justice Advisory Council. Her future plans are to continue public policy work in Iowa and eventually attend law school.
As the LAS student marshal, Fritz will give the student address at the LAS Convocation ceremony on Friday, May 13, in Hilton Coliseum. She will also be the first student in the college to walk across the graduation stage at the undergraduate university commencement ceremony on Saturday, May 14, and receive her degree. This honor is given to a graduating LAS student who is nominated by LAS faculty and staff, and selected by Dean Beate Schmittmann. This selection is based on a minimum 3.50 or higher GPA in addition to the student's accomplishments, achievements and involvement at Iowa State University.
Before she embarks on her next adventure, Fritz reflected on her experiences in LAS.
How have your LAS experiences prepared you for your future goals?
"My pursuits in college have all made me a more well-rounded graduate of Iowa State University. I have enjoyed taking part in a wealth of experiences, all of which have contributed to my ability to impact the world someday. I view variety in experience as such an integral part of a liberal arts education – because Iowa State and the College of Liberal Arts and Sciences have so many opportunities for students, we have the ability to leave this university as balanced individuals with a greater ability to solve the issues that our communities, state, country, and world face."
How have faculty and/or staff impacted your time at Iowa State?
"I have had several great professors and staff that have supported me during my time at Iowa State – at the top of that list is my academic advisor Dr. Jason Chrystal, who was the first person to believe in me at ISU."
What are your future goals?
"Following graduation, I plan on staying in Iowa to do public policy work, and will later attend law school. Outside of work, I have a lifelong goal of running a half marathon in every U.S. state, and I also hope to own a cardinal and gold tailgate bus someday. I hope to continue being involved at Iowa State in other capacities, as well – once a Cyclone, always a Cyclone!"
What is your favorite Iowa State memory?
"Getting painted all three years of doing Yell Like Hell!"
How have you grown personally at Iowa State?
"My education at Iowa State has left me with a greater appreciation of community and tradition – having experienced something so great at ISU, I understand what it means when a group of people commit themselves to each other and the place around them – a respect and sense of place that will carry through the rest of my life. Through my study of political science, I also leave Iowa State with a heightened commitment to our republic and political institutions – I feel grateful to live in a system where we are encouraged to ask questions, seek solutions, and act within a plurality of individuals to do so."
Advice for incoming ISU students
"Make the most of your Iowa State adventure – take part in experiences that interest you, even if they aren't something that you've ever considered yourself doing before. Having a wide variety of life experiences makes you a more well-rounded student and individual, and gives you an ability to interact with more people and think more deeply about the questions that face our world. Enjoy your education for the sake of it – part of the point of a liberal arts education is to make us more curious individuals and allow us to ask better questions about the world – in turn, we leave college more prepared to work together with others and act to solve issues that our community, state, country, and world face."
All are welcome to celebrate spring and summer 2022 graduates at the LAS Convocation ceremony on Friday, May 13, at 7 p.m. in Hilton Coliseum. More information, including the event livestream, can be found on the Iowa State University graduation website, graduation.iastate.edu.
Published: May 6, 2022