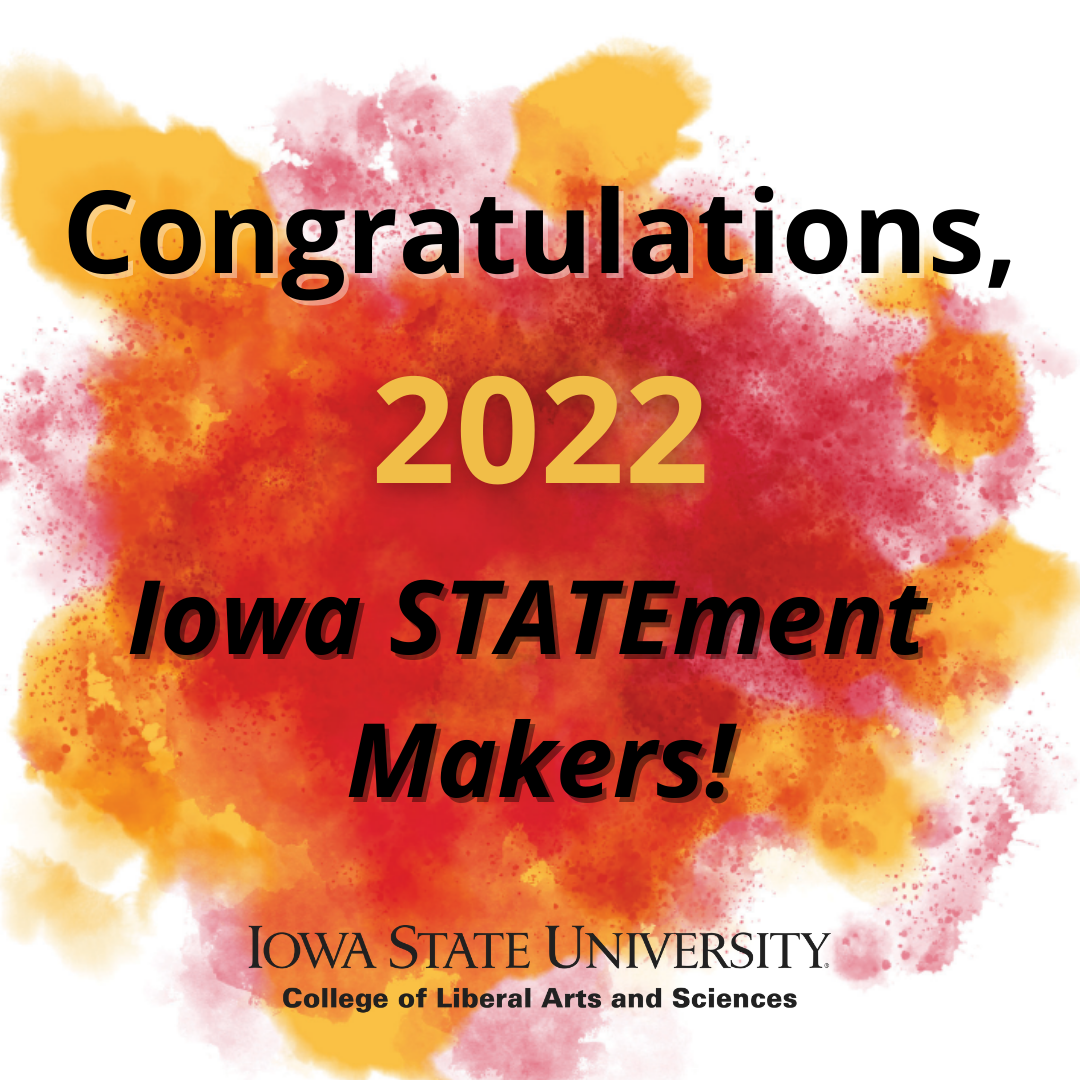 Five LAS alumni have been named 2022 Iowa STATEment Makers by the ISU Alumni Association for outstanding accomplishments early in their careers and personal lives.
Iowa STATEment Makers is an honor that recognizes the early personal and professional accomplishments and contributions to society of Iowa State University's young alumni (graduates 34 years old and younger). Nominations are sought annually for STATEment Makers who have made differences in their own lives, the lives of others, their communities, and/or their professions through ambitious efforts that reflect the scholarly, entrepreneurial or service-oriented spirit of an Iowa State University education.
Congratulations to this year's LAS recipients:
Megan Brandt
In her first job as a corporate communicator at Workiva, Megan Brandt ('12 journalism and mass communication) managed strategic communications for both internal and external stakeholders as the company's stock soared. Her diligent work caught the attention of Des Moines-based Global Insurance Accelerator, where today Brandt is a program manager responsible for the company's 100-day accelerator program for entrepreneurs seeking to launch their own insurance technology start-up businesses.
After five years at the helm of this project, Brandt has connected more than 200 company founders to millions of dollars in funding. Of the companies that have gone through Brandt's program since 2016, 90% are still operating and have collectively raised more than $25 million in additional capital. Her efforts have yielded strong economic development outcomes in job growth, economic prosperity and improved insurance coverage for global consumers.
Alex Connor
Alex Connor ('19 journalism and mass communication) is the editor of audience development for USA TODAY, a position she's held since graduating from Iowa State in 2019. She manages the company's social media platforms, including Twitter, Facebook and Instagram, where her work has been instrumental in the coverage of significant news events, such as the 2020 presidential election and the COVID-19 pandemic. Connor launched USA TODAY's TikTok account, one of the first major news organizations on the app. Today, the account has more than 1.1 million followers.
At Iowa State, Connor served as editor-in-chief for the Iowa State Daily's print publication and e-newsletter. In 2018, she was selected to participate in the highly competitive Hugh S. Sidey Experience in Political Journalism for outstanding student journalists.
Massah Massaquoi
As national implementation manager for the National LGBT Health Education Center, a division of Fenway Health, Massa Massaquoi ('12 psychology) is dedicated to uplifting and empowering communities disproportionally impacted by HIV. Through community-based research within a scientific framework, she provides technical assistance and support to implement evidence-based interventions across numerous community-based organizations and health care centers.
Prior to this position, Massaquoi worked at Fenway Institute as the research program coordinator with the adolescent trials network, where she conducted HIV clinical trials and provided sexual health educational resources for LGBTQ youth and families in the Boston area. Through her various roles at Fenway Health, Massaquoi has worked to create policies that better serve youth living with HIV.
Clayton Mooney
Born and raised on an Iowa farm, Clayton Mooney ('12 English) is passionate about using technology to improve food processes and supply chains. In 2014, he established his first company, KinoSol, which manufactures solar-food dehydrators for farmers in developing countries. More recently, he founded Nebullam, an indoor farming company based in Ames. Nebullam was the first Iowa company accepted into Y Combinator, the top-rated start-up accelerator program in the world. He also co-founded the Des Moines-based Young Entrepreneur Convention.
In addition to developing food-technology companies, Mooney competes in ultra-marathon trail races throughout the United States. Previously, he played competitive poker around the globe.
Beth Nervig
Following graduation from Iowa State, Beth Nervig ('10 journalism, Spanish, international studies) embarked on a four-year career with Meredith Corporation. But her undergraduate study abroad experiences in Peru and Argentina ignited an interest in global communications, economics and public policy she couldn't ignore. Nervig left Meredith and enrolled in graduate school at the London School of Economics and Politics, which led to an internship with the U.S. Department of State in London.
Today, Nervig is director of communications for Girls Up, an organization created by the United Nations Foundation that educates adolescent girls around the world about the importance of education, health, safety, gender equality and leadership. She recently joined forces with Disney to produce a series called "Dream Big, Princess," which chronicles the stories of international female trailblazers.
Published: March 22, 2022