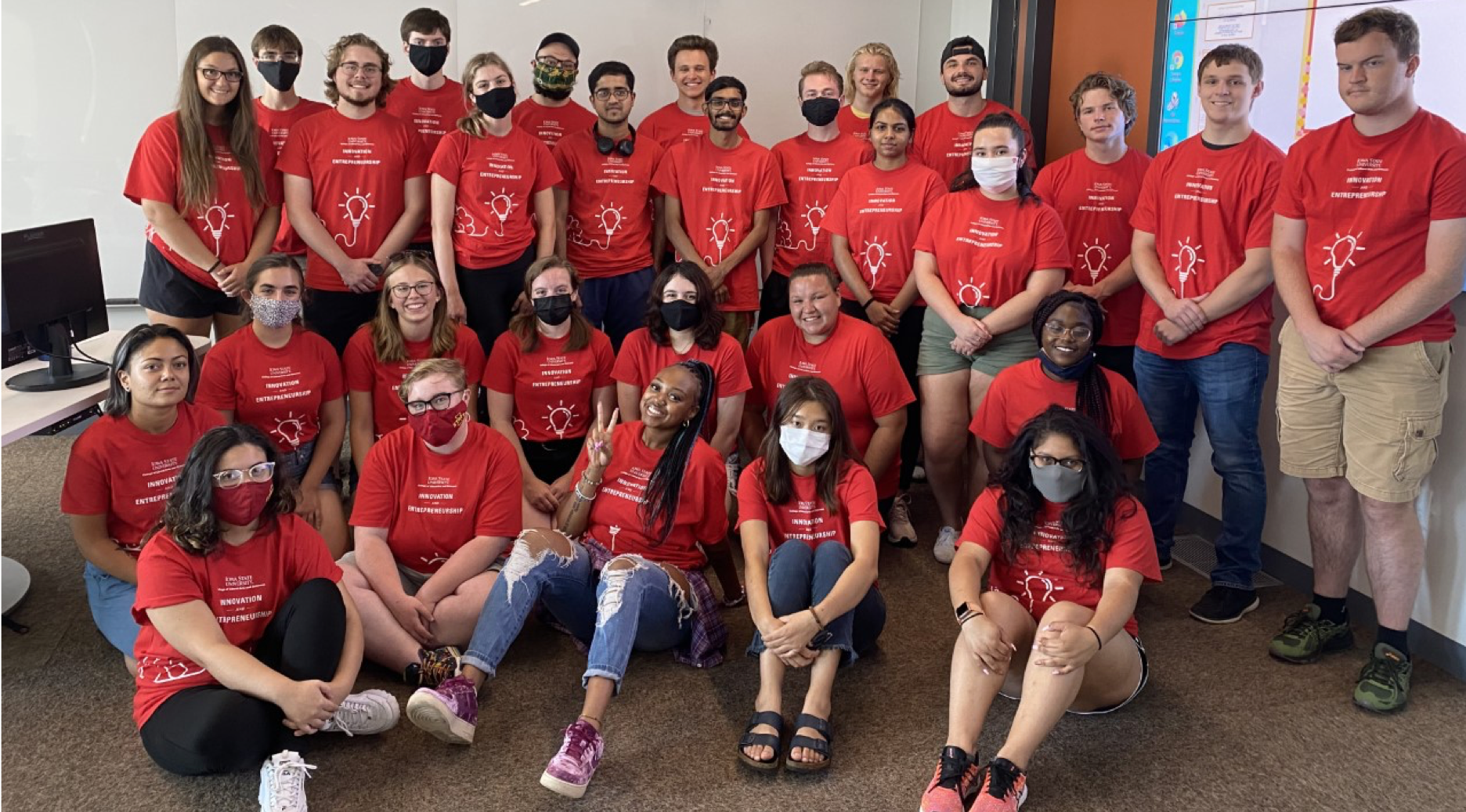 Have you ever wanted to launch a startup business, ignite social change or transform an organization?
The LAS Innovation + Entrepreneurship (I+E) Academy, a two-year, credit-based program, is helping students in the College of Liberal Arts and Sciences transform their bold ideas into real-world action. Since the program launched last fall semester, its first cohort of 30 students has been busy strengthening their entrepreneurial skills, connecting to supportive networks and learning the basics of business development.
"The I+E Academy is for any LAS student who wants to create meaningful change in the world," said Rebecca Runyon, director of the I+E Academy. "Whether they have an idea coming into the academy or not, we meet students where they are and we take them from concept stage all the way to creative innovation."
I+E Academy member Jassma'ray Johnson ('23 psychology, communication studies) recently made headlines after winning the College-by-College Pitch-Off in February. Competing with students from many Iowa State colleges, Johnson won first place in the existing business category for Simply Sámone, her web-based business which offers organic-based lip balms and vegan-based glosses in a variety of fun flavors and vibrant colors.
"The first time I entered a pitch competition, I didn't even place, but I won this time and no doubt it was because of everything I'm learning in the I+E Academy," Johnson said. "The professional growth I've experienced has been immense. I'm learning how to grow my business and now I feel comfortable pitching my business anywhere."
Thirty percent of I+E Academy students began the program, like Johnson, with an existing business. But the majority of students join because they're curious about innovation and entrepreneurship and they want to discover more. Some, like Carolyn Lake ('23 chemistry) have an early-stage concept or a big idea for changing the world that they hope to further develop.
A visionary idea
"I'm a chemistry major, and I knew very little about business, but I was convinced that there had to be a better way to dispose of contact lenses than just throwing them away," Lake said. "The I+E Academy is helping me to get my idea to the next steps and has provided amazing support."
The academy has been an ideal way for Lake to combine her natural strengths in chemistry with her concerns about the environment and reducing single-waste plastics. Every year, Americans throw away billions of contact lenses which adds microplastics to landfills and waterways. The academy is helping Lake to develop convenient and sustainable ways to recycle contact lenses. Her long-term goal is to formulate a contact solution that eventually breaks down the lenses.
"I've learned so much about behind-the-scenes processes, from customer delivery to developing a business plan, and I'm excited about working with a mentor to make my dream a reality," Lake said. "One of the coolest things about the academy is the diverse backgrounds of LAS members. Very few of my classmates are traditional business majors, so we are all learning together, giving each other feedback and helping each other."
Runyon plays a pivotal role in helping I+E Academy members unleash their inner entrepreneur. An entrepreneur herself, Runyon ('18 agricultural studies, '19 MS agricultural education) started a successful business during her undergraduate years at Iowa State. She offers plenty of one-on-one guidance and support while drawing out each student's unique strengths and talents.
"LAS students already have the critical thinking and problem-solving skills that successful entrepreneurs need," Runyon said. "It's natural to think that most businesses are started by students in the College of Business, but in reality, far more LAS alumni are business owners than the next three colleges combined."
Growing Simply Sámone
After Johnson launched Simply Sámone from her dorm room in 2020, sales were brisk. Customers were drawn to her inspiring brand, which is aimed at empowering black women and making them feel beautiful.
But something was missing.
"I felt very lonely. I was only 18 years old, and it was hard to get people to take my business seriously, other than my friends, and I wasn't a business major so I didn't have connections," Johnson said. "After joining the I+E Academy, I was instantly connected to other LAS students who supported me and made me feel like I belonged. The support from students in the academy, and also from Rebecca Runyon, has been very important to the growth of my business."
Simply Sámone sales jumped 15% after Johnson joined the I+E Academy. She also forged a partnership with fellow academy member Maddy Ladehoff ('23 entrepreneurship, Spanish). The two created Ballet Beauty, a line of make-up boxes geared toward young dancers.
Johnson says the I+E Academy taught her how to define her customer base, market her business and identify helpful resources. A social media workshop helped her to build excitement around her brand, while sessions on finance, accounting and legal issues shed light on the fundamentals of business development.
"This is truly a class that I'll remember for the rest of my life. I'll be 50 years old and I'll be telling my kids what I learned in the I+E Academy," Johnson said. "It's a great investment of my time and it has shown me that Iowa State really supports my dreams and is a great school for entrepreneurship."
Register for fall '23 I+E Academy
A new I+E Academy cohort begins each fall semester and spans four semesters. Students can enroll in the academy via the I+E Academy website. The program offers four pathways—traditional entrepreneurship, civic innovation, social entrepreneurship or intrapreneurship. The first year is focused on developing innovation skills. Students spend the second year implementing their ideas and connecting with industry mentors. The class meets for one hour on Thursdays, with students earning one credit per semester.
"I encourage any LAS student who is interested in exploring entrepreneurship or innovation to consider registering for the I+E Academy," Runyon said. "The program has become a valuable part of Iowa State's impressive portfolio of entrepreneurship opportunities."
In 2021, the Princeton Review and Entrepreneur magazine ranked Iowa State University 11 in its national ranking of Top Undergraduate Schools for Entrepreneurship Studies. Iowa State's high rank has been bolstered by innovative programs like CYstarters, ISU Startup Factory and CyBIZ Lab, and the I+E Academy helps students apply for and secure spots in these popular programs.
"My goal is that when students walk away from the academy, they've got this toolkit for successfully addressing real world issues," Runyon said. "If they can do that it's a win, whether they have something up and running upon leaving the academy or if they're storing the skills for something in the future."
For further information, please feel free to visit the LAS I+E Academy website. Students are welcome to fill out an interest form or attend one of the following information sessions in room 1118 in the Student Innovation Center:
March 22 – 5:15 p.m. – 6:15 p.m.
March 28 – 4:00 p.m. – 5:00 p.m.
April 11 – 12:00 p.m. – 1:00 p.m.
Published: March 15, 2022