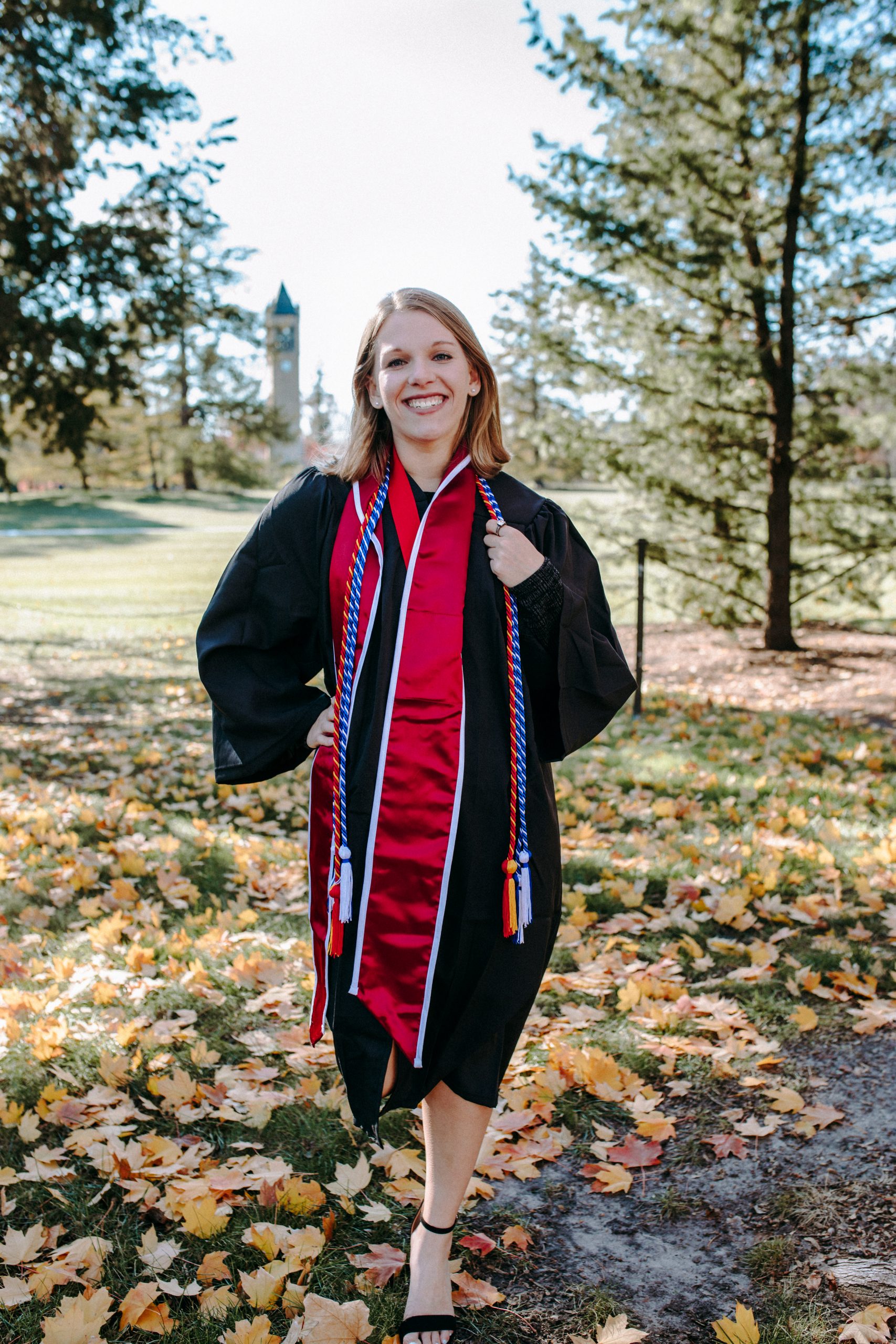 The College of Liberal Arts and Sciences (LAS) has selected Meg Grice as the Fall 2021 LAS student marshal.
Grice is from Humboldt, Iowa, and is graduating with honors with a degree in public relations, second major in international studies and minors in general business and French.
As a member of the Iowa State University Cyclone Football Varsity Marching Band, Kappa Kappa Psi honorary band fraternity, Cardinal Key honor society and University Honors Program, Grice has truly made her Iowa State adventure her own. She has held multiple leadership roles at Iowa State including serving as the Kappa Kappa Psi finance chair and editor-in-chief of "Cardinal Eats," an Iowa State student-run food publication.
Grice is a two-time Legacy of Heroines Scholar and was selected as one of ten seniors named to the 2021 Cardinal Court. She also is a 2020-2021 Media Genius Fellow and Advisory Group Member for Weber Shandwick, a global public relations firm. These achievements, in addition to graduating summa cum laude, are a testament to her success in scholarship, leadership and expansive involvement in the College of Liberal Arts and Sciences and at Iowa State University.
LAS faculty describe Grice as a born leader with an optimistic energy that inspires others.
As the LAS student marshal, she will give a speech at the LAS Fall 2021 Convocation ceremony on Friday, Dec. 17 in Stephens Auditorium. She will also be the first student to walk across the stage during the University undergraduate commencement ceremony on Saturday, Dec. 18 in Hilton Coliseum. This honor is given to a graduating LAS student who is nominated by LAS faculty and staff and selected by Dean Beate Schmittmann. This selection is based on a minimum 3.50 or higher GPA in addition to the student's accomplishments, achievements and involvement at Iowa State University.
Before she embarks on her next adventure, Grice reflected on her experiences in LAS.
What is your most memorable Iowa State experience so far?
Definitely being in the middle of fans rushing the field after we beat Oklahoma State at football this year. And afterward, having George Conditt (an ISU basketball player) conduct the marching band. Moments like these, you can't replicate them. Take everything in as it happens.
How do you plan to make a difference in the world?
I plan to make a difference by using my skills in communications, brand management, leadership and various other subject interests to help organizations share their diverse identities with the world and instigate positive change in global infrastructure.
How have you grown personally at Iowa State?
This past year has been instrumental for my self-identity journey. Iowa State challenged me academically for the better, showing me how far I have come in terms of my career preparedness and emotional intelligence. It's not enough to be a strong working professional; you have to understand the complexity of people's lives. I have never felt more self-assured in my life, and I'm grateful to say this university brought out the best in me.
What are your current goals following graduation? 
I plan on working at an international public relations firm for a few years. Then, I hope to receive a stipend through the US Fulbright Scholar program and obtain my graduate degree abroad in either France or Belgium.
Published: December 9, 2021