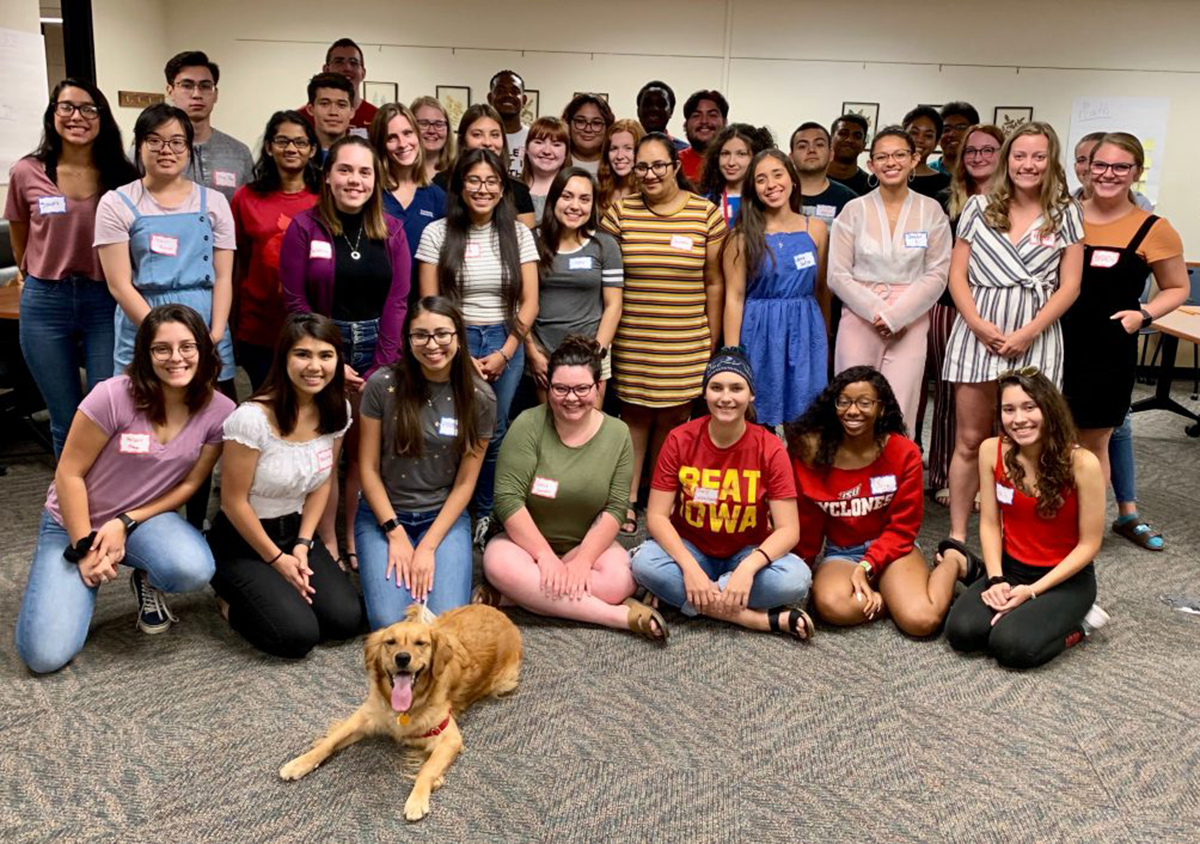 Corey Welch earned his undergraduate biology degree 30 years ago, but he vividly remembers the faculty who boosted his confidence, introduced him to research and encouraged him to pursue graduate school. Now, as director of the STEM Scholars program, Welch is on a mission to provide that same brand of life-changing support to underserved students at Iowa State University.
"I grew up fighting many battles as a 'trailer-park kid' and a proud member of the Northern Cheyenne Tribe, and I certainly didn't envision myself in a research lab or attending graduate school," Welch said. "Supportive faculty convinced me that I belonged in those spaces, and now I use those experiences to remind students about the importance of looking deeper and dreaming bigger."
Welch, who realized his dream of earning a Ph.D. in biology, modeled STEM Scholars after the University of California, Berkeley's Biology Scholars Program (BSP). He served as BSP's research coordinator for four years, before establishing STEM Scholars at Iowa State in 2016.
"My work with students—and also my personal experiences—were the ideal training ground for creating a program to help historically excluded populations pursue STEM opportunities in higher education," he said. "I know this experience because I've lived it myself."
In addition to understanding the rigors of pursuing a STEM degree, Welch is keenly aware of how resilient, determined and resourceful these students are.
"If these students are sitting in front of me, I already know they're creative problem solvers and strong leaders because of the structural inequities they've overcome to get here," Welch said. "And that's a doctor I want, that's a scientist that I want and that's a STEM professional I want leading the next generation."
How STEM Scholars operates
A supportive peer-to-peer network, STEM Scholars directly addresses the challenges faced by STEM students in traditionally excluded groups, including women, underrepresented minorities, students with disabilities, members of the LGBTQ+ community, first-generation students and low-income populations.
The program doesn't shy away from calling out society's inequities as it helps students apply their skills to overcoming these challenges.
"The uniqueness of STEM Scholars is that it's a strength-based program," Welch said. "We take students where they are, we develop their talents and provide them with resources to help them build successful STEM careers."
The program offers a steady stream of support, such as year-round professional development workshops, academic programming and a deep bench of resource referrals—from financial aid to tutoring services. Leads on scholarships, internships and paid summer research jobs provide career-building opportunities.
"Much of our programming is students organizing workshops where they share their experiences about amazing internships or research they conducted at another university," Welch said. "These students learn so much from each other."
Since the program's inception, student membership has increased each year. The group serves 166 undergraduates in a wide variety of STEM majors—from mathematics and animal science to chemistry and engineering. Most students hail from the College of Liberal Arts and Sciences and more than half are underrepresented minorities and students from low-income backgrounds. Women comprise 71% of membership. This diversity of backgrounds and academic interests creates an ideal and dynamic space for students to learn, grow and share experiences.
Of course, Welch's door is always open for guidance, as he refers students to essential services, empathizes with their concerns and shares his own STEM experiences and successes.
"The ethos of the program is to share what you know," Welch said.
For many students, the knowledge they've gleaned in STEM Scholars has been a supportive bridge to a career or graduate program that they've been dreaming about for years.
Empowering students
Kordell Schrock ('23 computer science), who joined STEM Scholars in 2018, has been tinkering with computers since middle school. He credits the program with advancing his computer programming career and pointing him toward the right resources at just the right moments.
"STEM Scholars helped me with the fundamentals, like creating a well-written resume, CV and personal statement," Schrock said. "I was able to use those tools to land incredible opportunities and internships."
Since joining STEM Scholars, Schrock has conducted summer research at Stanford University and Dartmouth College. Last spring, he interned full-time for the National Security Administration in Fort Meade, Maryland. The program has also helped him find scholarships and prepare for graduate school.
"I feel very fortunate that I discovered STEM Scholars and without the program I most likely wouldn't have discovered so many amazing experiences," he said.
Schrock has ties to Tama, Iowa and is a descendant of the Meskwaki Nation. With plans to earn a Ph.D. in computer science, he hopes to start a high-tech business that will help Native American communities retain wealth and provide opportunities to tribal communities.
Schrock hopes to remain active in STEM Scholars after graduating from Iowa State.
Giving back to STEM Scholars
"We have 31 alumni and many of them take the time to serve as inspirational role models to our undergraduates," Welch said. "It's powerful when alumni return to share their professional and personal stories."
Most of the STEM Scholar graduates are enrolled in master's and Ph.D. programs and many have built successful careers as physicians, marine biologists, microbiologists, occupational therapists and researchers.
"That's a great thing about STEM Scholars, is that everyone shares their wealth of knowledge with each other," Schrock said. "Upperclassman helped me, now I'm helping freshmen with their resumes and I'll return to help out after I leave Iowa State."
Moving forward: A vision of equality in science
"We've built a great foundation in STEM Scholars and now our goal is to scale up the program," Welch said. "With our new offices in the Student Innovation Center, we've got a terrific student-specific space for them to socialize and develop the community and culture of the program."
Welch's vision for STEM Scholars at Iowa State is the future he wants to see in the world.
"Since diverse teams produce better solutions, it's essential that we have equal representation for who does science, in academia and in our STEM workforce nationally," Welch said. "I'm proud to be part of a program that is creating community, support and opportunities for these incredible students.
For more information about joining STEM Scholars, please visit their website or email Corey Welch.
Published: September 29, 2021