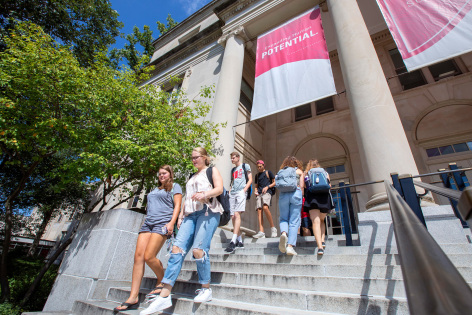 Several national publications have ranked or recognized Iowa State University of Science and Technology for its academic programs, value, commitment to public good and entrepreneurial spirit. Among the accolades is the U.S. News and World Report's 60th ranking (tied) of the undergraduate computer science program.
According to U.S. News and World Report, Iowa State's computer science program achieved a spot in its rankings after top academics and officials from computer science programs rated the overall quality of undergraduate programs with which they were familiar, on a 1-5 scale.
A school's undergraduate computer science rank is solely determined by the average of scores received from these surveys.
"It's an exciting time for the Department of Computer Science, as we build on strong foundations with our alumni, donors and world-class faculty who have allowed us to succeed," said Hridesh Rajan, Kingland Professor of Data Analytics and computer science department chair. "We're honored to be ranked by U.S. News and we will continue to provide undergraduate students with cutting-edge educational and research opportunities, as well as access to faculty who are recognized leaders in their fields."
In the 2022 U.S. News and World Report rankings released on Monday, Iowa State tied for 58th among top public schools and tied for 122nd in the overall national rankings. The university was also recognized as one of the Best Colleges for Veterans, Best Value Schools and multiple academic programs were ranked:
Undergraduate Engineering Programs (with a doctorate program): 45th (tied)
• Agricultural and biosystems: 2nd (tied)
• Civil, construction and environmental: 22nd (tied)
• Industrial and manufacturing systems: 20th
Undergraduate Computer Science Programs: 60th (tied)
Undergraduate Business Programs: 74th (tied)
• Supply chain management: 20th (tied)
• Entrepreneurship: 32nd (tied)
Methodology for the national rankings is based on student outcomes (graduation, retention rates), faculty resources (faculty salary, class size), academic reputation (judged by academics at peer institutions), financial resources (average spending per student), student excellence (SAT, ACT scores) and alumni giving. The U.S. News & World Report "Best Colleges 2022" rankings can be found on the magazine's website.
Additional rankings
In August, Washington Monthly released its 2021 National University Rankings, which measure university contributions to the public good in three categories (social mobility, research and promoting public service). Iowa State was the only public university in the state ranked in the top 30 for the overall rankings at 27th. The university was also listed in the following categories:
• Best Bang for the Buck (Midwest): 31st
• Best Colleges for Student Voting
Princeton Review also recently released its 2022 college guide, "The Best 387 Colleges," which features schools it recommends to students and parents as the best for undergraduate academics. Iowa State is included on the list. While the college guide is not a ranking, it does include other rankings by the Princeton Review.
Iowa State is ranked 11th among the top 50 undergraduate programs for entrepreneurship, and is the only Iowa university listed as a top 20 Best Schools for Financial Aid (Public Schools) at 15th. ISU also ranked among the top 50 Green Colleges at 37th.
Iowa State is a public, land-grant institution, committed to providing students with a high-quality education that is both accessible and affordable.
Published: September 14, 2021