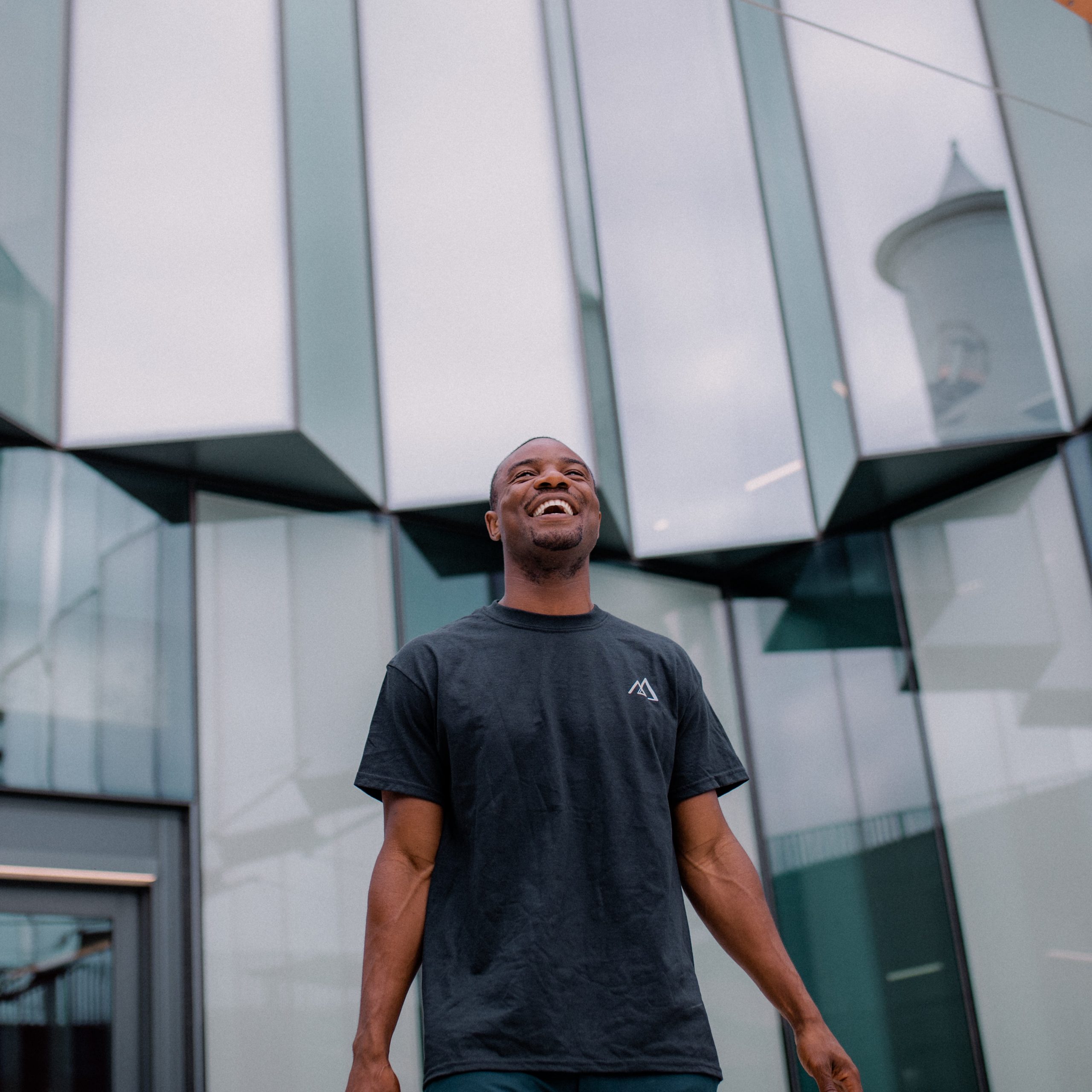 This is the last in a series of articles about recent LAS alumni who were part of the 2021 CYstarters cohort at the ISU Pappajohn Center for Entrepreneurship.
It was a long road to Iowa State University for Mason Weh ('21 liberal studies).
From the crowded streets of Liberia where he was born—to the disadvantaged neighborhoods of Philadelphia where he grew up—Weh endured plenty of twists, turns and detours that spanned two continents and 19 years. After arriving on the Iowa State campus, Weh discovered opportunities in entrepreneurship that shaped his career, inspired a new business and cleared the path to a brighter future.
"I came to Iowa State to figure out my purpose or my 'why?,'" Weh said. "I surely found my 'why?' through my classes, the track team and especially my involvement in CYstarters, which has helped me turn a bunch of ideas into a business."
What is CYstarters?
CYstarters is an 11-week summer accelerator program that allows Iowa State students and recent graduates to focus on their promising startup, business idea or project. Each CYstarter receives a $6,500 stipend, an office in the ISU Pappajohn Center for Entrepreneurship and access to meeting spaces.
It's a bit like being the CEO of a business for the summer, with a built-in support system.
Professors and experts in entrepreneurship provide support and advice. A steady stream of alumni with successful businesses hold workshops and Q&A sessions.
The support has enabled Weh to transform a flurry of ideas—and his life story—into Mentoring For Change.

The business of mentoring
Mentoring For Change connects local youth in the Ames area with volunteer mentors who are community leaders, business owners and coaches. These mentors inspire mentees with encouragement and positivity. Weh also serves as one of the primary mentors.
"I want to create a journey for young people to help them understand that anyone can write their own story," Weh said. "Mentorship has the power to redefine the next generation and I know that I would not be where I am today without my mentors."
For Weh, it's about re-creating the kinds of mentorship opportunities that are so beautifully woven into the fabric of his own life story.
A story of mentors
"I was born in Liberia into extreme poverty and my first mentor was my mother, a single mother who always found a way to provide," Weh said. "By watching her work hard to put food on the table, I learned at a very young age that hard work can make a difference and make life better for others."
Inspired by his mother's example, Weh sold oranges and bottles of cold water on the crowded the streets of his village, alongside his mother. It was a 5-year-old's way of making a difference and contributing to the household.
"As things continued to be difficult, my mother arranged for me to live with relatives and emigrate to the United States," Weh said. "She wanted me to have more opportunity and a better life."


The unfamiliar American culture and rough Philadelphia neighborhoods were tough adjustments for a first grader who didn't speak English. Friends were hard to come by, but compassionate mentors were there to smooth the rough patches.
"My first grade PE teacher saw me struggling and she would sit me down at recess and tell me to embrace my differences and believe in myself," Weh said. "Her words kept me going during very tough times and have always stuck with me."
Weh's middle school teachers and coaches nurtured his natural athletic talents, steering him into track and field. He excelled, claiming the Pennsylvania Indoor 60-meter state title in high school. Weh eventually earned a track scholarship to Iowa State, where he won a silver medal in the 100-meter hurdles at the Big 12 Championships in 2019.
"I learned a lot about perseverance and not giving up from my track coaches at Iowa State and back in Pennsylvania," Weh said. "I share my mentors' experiences to inspire others and to explain the vision behind Mentoring for Change."
It was Weh's story, after all, that first opened the door to CYstarters.
Starting with CYstarters
Some students earn a spot in CYstarters after participating in university-wide pitch competitions. Others are accepted after a product or business garners publicity. Weh took his ideas straight to Judi Eyles, director of the ISU Pappajohn Center for Entrepreneurship.
"Mason made an appointment with me and he arrived at my office with lots of energy and very elaborate plans and organizational charts," Eyles said. "It was quite remarkable. I knew he was on to something and I was so impressed with his life story and his leadership skills."
Weh secured one of the 19 spots in the summer 2021 CYstarters cohort, which included students and alumni with established companies, new web applications, promising startups and novel inventions.
Weh filled several community whiteboards in the Pappajohn Center with ideas and plans that would later become the foundation of Mentoring For Change. He further evolved the business after learning how to conduct market research, hone his public speaking skills and organize focus groups.

"Mason met so many people in the community through CYstarters," Eyles said. "He got connected all over the place in Ames and at Iowa State and he even met the principal of Ames High School. It helped him to focus his ideas and grow into a tremendous communicator. Everyone who met him was impressed."
Looking ahead
As a recent graduate of Iowa State, Weh looks to the future and continues to evolve and improve Mentoring For Change. He's currently focused on business community outreach.
"I'd like Mentoring For Change to offer career-development skills and job shadowing experiences with local businesses," Weh said. "I can't believe how far my initial ideas evolved since I had that first meeting with Judi in the Pappajohn Center and I can't wait to see where this all takes me."
Eyles is confident Weh will continue to inspire people and improve their lives.
"After six years of CYstarters cohorts, more than 50% of program graduates are still operating their businesses or continuing to make progress," Eyles said. "Mason is the epitome of social entrepreneurship and I know that whatever he does in life will involve helping others and connecting with others."
Published: September 13, 2021