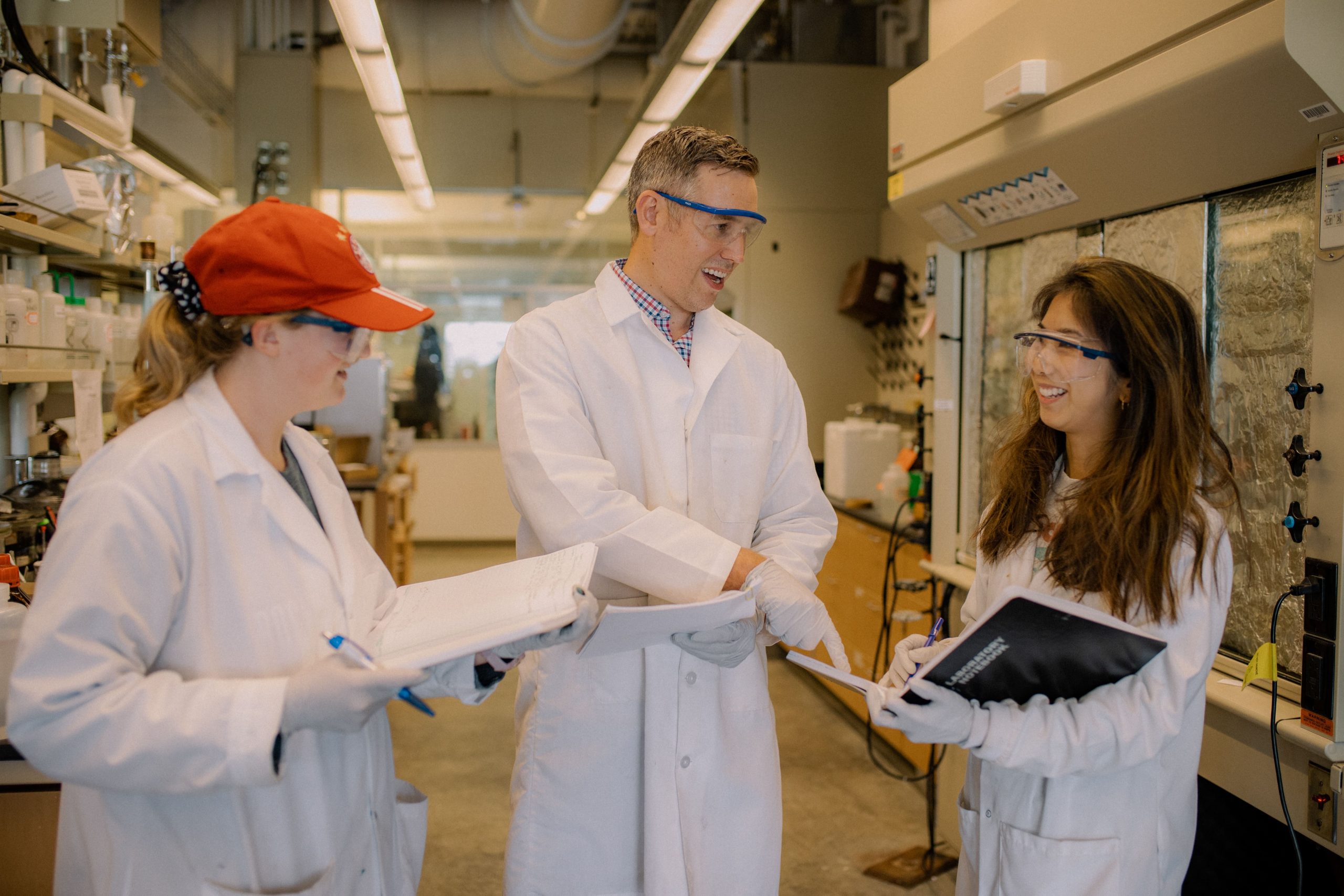 Arthur Winter, professor of chemistry at Iowa State University, is determined to understand how bonds between molecules can be broken with light. The promise and potential of this research has earned Winter a $460,000 National Science Foundation (NSF) grant which could help him illuminate important discoveries in the field of photochemistry, the branch of chemistry focused on the chemical effects of light.
The NSF grant also includes funding to engage undergraduate and graduate students in the Winter Lab, located on the Iowa State campus.
"We're trying to figure out what structures in organic molecules respond to light and ultimately break bonds between these molecules," Winter said. "We know a great deal about reactions involving heat, but there's very little understanding of what the rules are for light-initiated reactions."
Why break bonds with light?
Cracking the hidden code between molecular bonds and light has been a long-standing challenge in the field of photochemistry. The Winter Lab has been probing these molecular mysteries since 2013. Solving them would expand the fundamental understanding of how photoreactions work and could spark a slew of innovations in fields such as biology, environmental chemistry and materials science.
Researchers in the Winter Lab are zeroed in on innovations in cancer treatments. They hope to discover and develop strategies for delivering light-activated chemotherapies.
"Light-based chemotherapies are the long-term promise of photochemistry and ultimately what we're working toward with this NSF grant," Winter said. "This is why our research is biologically and medically relevant and we're honored that the NSF is supporting our research."
Bringing chemotherapy out of the dark
Light-based chemotherapies could revolutionize how some cancers are treated. Doctors would be able to administer chemotherapy drugs throughout the body—but activate them only where needed—like at the site of a tumor.
"Chemotherapy is typically dispersed throughout the body to kill cancer cells. But it is also toxic to healthy cells, causing sickness, immune system damage and hair loss," Winters said. "Delivering these drugs to specific areas, and in smaller doses, would minimize the side effects and pain of traditional chemotherapy and could lead to better patient outcomes."
Winter notes that light-based chemotherapies could be administered in the body where targeted pulses of light could be irradiated—such as on the skin or inside the colon, esophagus or mouth.
"Anywhere you could get a fiber optic cable," Winter said. "And these treatments could be applied to any drug that you wanted delivered locally, like antibiotics. If you have a contained infection, you can imagine that it would be better to treat it locally without wiping out your good gut bacteria."
Before light-based therapies become a reality in city hospitals and neighborhood clinics, several research hurdles must be cleared. The Winter Lab hopes to overcome these challenges using a scientific strategy called photocaging.
Breaking up is hard to do
Photocaging is the art and science of bonding a primary molecule—like a chemotherapy drug—to another molecule. This bonding "cages" the chemotherapy drug, rendering it inactive. When light is shined on the molecules, the bonds break and the drug is released from the confines of the photocage, where it is free to battle nearby cancer cells.
But triggering this complex cascade of photoreactions is no easy feat. Breaking molecular bonds is difficult.
"It's a long road to go from an idea, to researching and testing those ideas, and then developing an actual treatment in humans," Winter said. "But this NSF grant allows us to take our photocaging progress to the next level."
Building on successes
Winter has been toiling away at photocaging since 2013, a seven-year stretch punctuated by successes, plenty of trial and error, and a steady stream of graduate students who have made important contributions to this research.
In 2015, the Winter Lab broke new barriers by creating a class of photocages that absorbed ultraviolet (UV) light. Because UV light damages human cells and poorly penetrates tissues, it can't be used in medical applications. However, the accomplishment was significant and provided a bridge to a series of future successes.
In 2015, Winter landed his first NSF research grant. An NSF renewal grant followed in 2018. Later that year, the lab produced photocages that absorbed red light—a major research breakthrough.
According to Winter, red light is ideal for medical applications.
"Unlike UV light, red light is safe and it penetrates the surface layers of the skin, making it optimal for photocaged drug delivery," Winter said. "My graduate students actually led the way and were instrumental in developing the red-light photocages."
Involving students in research is a top priority for Winter. Two undergraduates and seven graduate students currently work in his busy lab. Winter is also involved with The Freshman Research Initiative, a student-focused program which receives a portion of the NSF grant.
Let's make some molecules
The Freshman Research Initiative exposes first-year chemistry majors to meaningful research. The program brings to life concepts from introductory chemistry courses and is facilitated by chemistry and microbiology faculty.
"The goal of the program is to give students the thrill of discovery by involving them in research that makes their coursework more interesting and relevant," Winter said.
The program transforms students into scientific entrepreneurs as they create novel molecules and develop assays that test those molecules for microbial activity. Students have the opportunity to present their findings during a formal research symposium at the end of the semester.
"Every student who participates in this program can say that they've made molecules that the universe has never seen before," Winter said.
Bright future
With support from the NSF, Winter looks forward to expanding awareness of the Freshman Research Initiative, which usually involves 10 students each semester. He's also focused on achieving new milestones in his photochemistry research.
"We've created photocages that absorb red light, so our next challenge is to develop red-light photocages that break bonds and release in response to that red light," Winter said. "That is the key problem that we'll be tackling going forward."
Winter also plans to continue attracting top undergraduate and graduate talent to his lab, with special attention paid to recruiting students from low-income and underserved populations.
"One of the advantages of studying at a major research institution like Iowa State is being able to conduct research in an active, cutting-edge lab," Winter said. "I look forward to providing these opportunities for a diverse group of students and I'm pleased that the NSF is supporting these efforts."
The NSF grant will fund Winter's research and student-engagement efforts until 2024.
Published: August 30, 2021