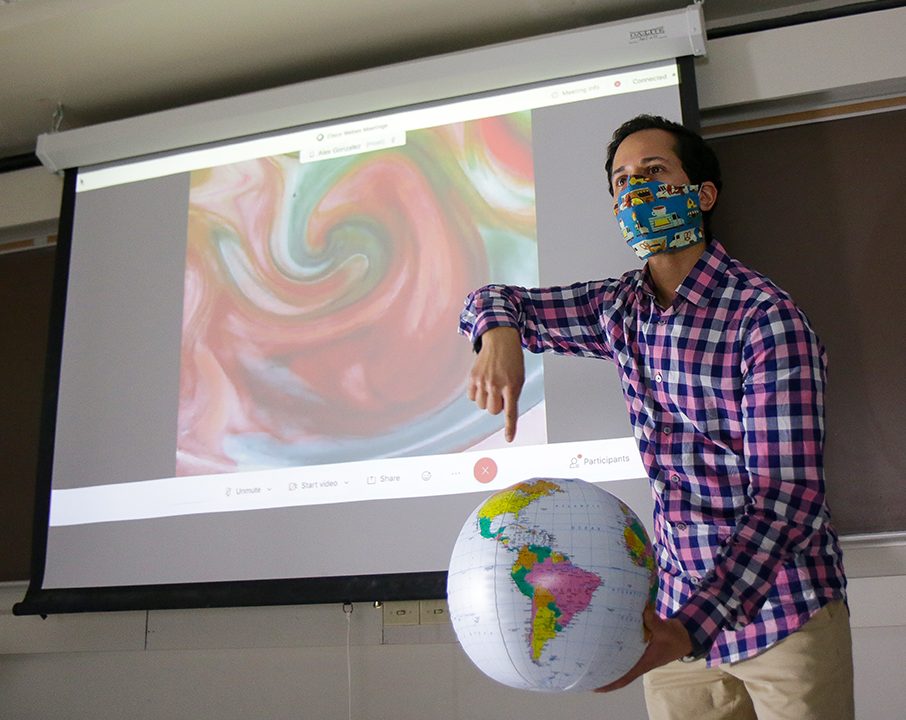 Alex Gonzalez, assistant professor of geological and atmospheric sciences, is studying the Intertropical Convergence Zone (ITCZ) with the help of a $316,000 grant from the National Science Foundation (NSF).
A highly active weather region, the ITCZ appears as a narrow band of clouds encircling the equator. It extends for thousands of miles in continuous and broken-line segments. This billowy formation impacts tropical wet and dry seasons, which seed a good portion of the Earth's rainfall and storms.
"The ITCZ is important for general science research because it is key to the Earth's hydrological cycle as well our planet's energy balance," Gonzalez said. "It also feeds energy that is distributed out of the tropics. It's an engine and a source of energy, creating tropical cyclones and the Earth's most intense rainfall bands."
Atmospheric conditions inside the ITCZ are like a busy on-ramp of action and instability.
The Northern and Southern trade winds converge here, into warm waters and intense sunlight. This convergence fuels rising motion and deep clouds. To scientists like Gonzalez the ITCZ is a sprawling outdoor lab of sorts—creating ideal conditions for conducting research, running mathematical models and analyzing weather patterns and trends.
Research with global impacts
"My research is focused on the ITCZ over the east Pacific Ocean during February and April, and investigating why the ITCZ doesn't follow the sun's migration as it does over the land," Gonzalez said. "Although the climate models show the ITCZ moving into the Southern Hemisphere during these months, our observations suggest that this isn't always the case on a day-to-day basis.
"We're trying to understand what is going on in the atmosphere so we can add new data and update the prevailing models," Gonzalez said.
For Gonzalez, it's all about improving current climate models.
Accurate climate models are foundational to the study of weather and climate. They enable scientists to provide seasonal weather outlooks, predict the likelihood of extreme weather events and understand the progression of climate change.
"The observational research that we're conducting over the Pacific could fill in the gaps and improve the models that we rely on to answer weather- and climate-related questions," Gonzalez said. "People want to know if there is risk of a drought this summer or what next winter's snowfall will be like, and they wonder about this spring's El Niño. Additional data helps us to better answer these questions and many others," Gonzalez said.
The promise and potential of this research earned Gonzalez NSF funding through 2023.
Bringing weather into the classroom
Gonzalez's grant was awarded through the NSF's competitive Division of Atmospheric and Geospace Sciences. The funds will support basic research, as well as the cost of outreach efforts that target high school science teachers and students.
When you live in Iowa, organizing school field trips to the equatorial atmosphere isn't feasible—so Gonzalez is bringing the weather into Iowa classrooms.
Designed to broaden the reach and impact of this research, Gonzalez and a team of scientists built portable rotating tanks that simulate the broad features of the Earth's wind and circulation dynamics. One of the tanks is quite large and holds 30 gallons of water.


"By placing two colors of dye in the clear tank and then spinning it, we can simulate the Earth's rotation and show how different types of cyclones form," Gonzalez said. "It's pretty cool to see colorful cyclones appear in the water. It's a great way to demonstrate meteorology, which kids don't get to learn about very often."
Gonzalez will also mentor middle and high school science teachers during the next two summers through Iowa State's Research Experiences for Teachers program. They'll conduct ITCZ research on the Iowa State campus alongside Gonzalez, who will help them incorporate their findings into science lesson plans. Beginning this fall, Gonzalez will visit their classrooms to speak with students about climate change and demonstrate the portable tanks.
A focus on underserved students
Gonzalez is especially passionate about sharing his research and knowledge of tropical weather with underrepresented students.
"It's been widely documented that vulnerable and underrepresented populations are more affected by extreme weather events and the effects of global climate change," Gonzalez said. "I'd like to help young students understand the science so they're better prepared for major and everyday weather events."
Gonzalez is hoping to inspire the next generation of atmospheric scientists and researchers.
"The NSF grant provides an opportunity for underrepresented scientists, like myself, to visit these communities and show them a face that they recognize," Gonzalez said. "I look forward to getting them interested in science and showing them how important it is to understand our atmosphere and how they can thrive in a changing climate."
Published: April 9, 2021