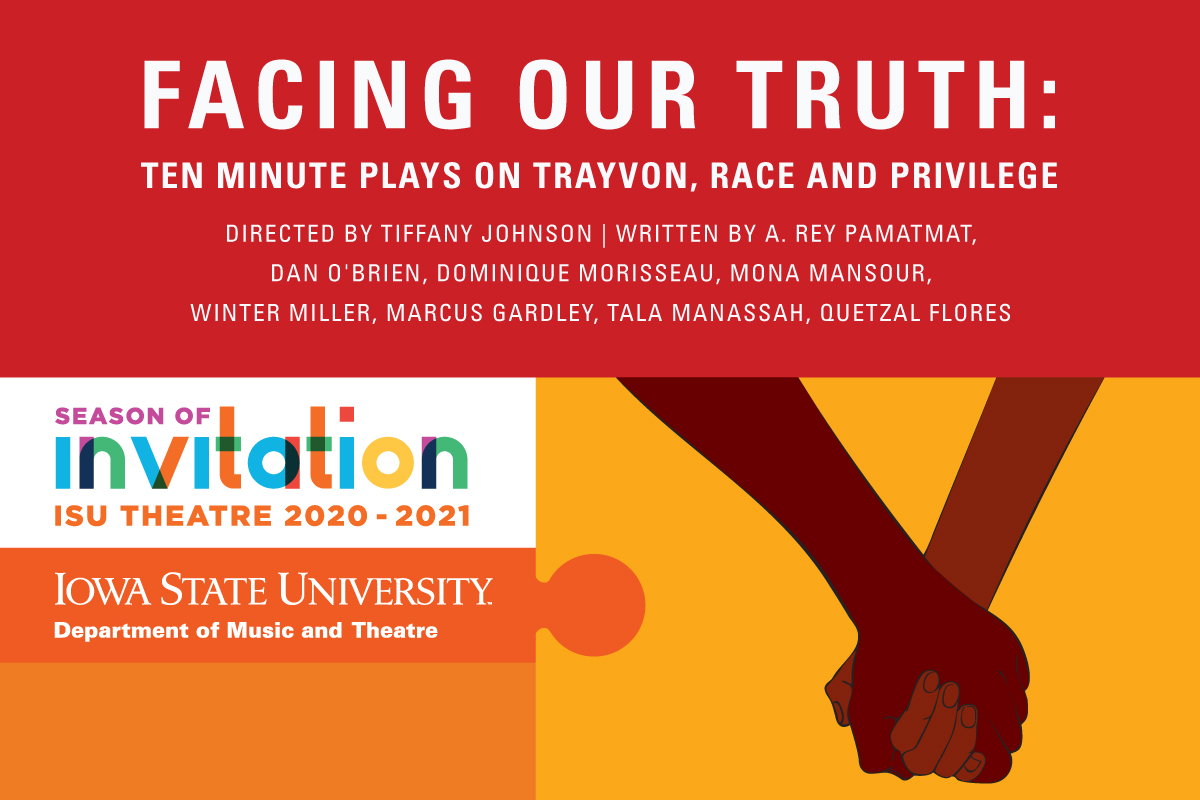 If watching ISU Theatre's "Facing Our Truth: Ten Minute Plays on Trayvon, Race and Privilege" makes people feel a little uncomfortable, cast member Benjamin Nuckolls believes that's a good thing.
"What I find inspiring about this production is the openness to make everyone just uncomfortable enough to start a conversation and the bravery to speak on issues that have been ignored and criticized by certain groups for so long," said Nuckolls, a junior in psychology.
"Facing Our Truth" opens Thursday, March 25, as a streamed performance. It is a series of short plays written by a diverse group of playwrights in response to the killing of Trayvon Martin and the acquittal of George Zimmerman.
Martin, an unarmed Black teenager, was walking home in 2012  in Sanford, Florida, when he was fatally shot by Zimmerman. The acquittal of Zimmerman prompted the use of the phrase and hashtag "Black Lives Matter," now the name of a global movement to combat anti-Black racism.
The plays, which revolve around racial biases, stereotypes, heartbreak, loss and enlightenment, are directed by LAS Dean's Artist-in-Residence Tiffany Johnson, the artistic director of the Des Moines-based Pyramid Theatre Company.
"It's been an incredible journey watching these students and this cast grow so quickly over a short period of time," she said. "They are learning that to be a good performer and storyteller you must first fully understand the story you are telling. That is the challenge to every performing artist as we strive to take the words of a script off the page and allow it to live in real time and space."
Mónica Toro Lebrón, a freshman in performing arts, said she was challenged to go beyond her comfort zone to bring these stories to life. She plays the character Purple in "Colored," a play in which a group of people on the subway navigate a dangerously escalating series of interactions.
"There are no filters in this play," Lebrón said. "It gives you the cold, hard truth of the world. After watching this play, I want people to understand that the world is not as black and white as they might think."
In another play, "Night Vision," two people witness a woman beaten in the street by a man in a hooded sweatshirt. Later, when their eyewitness accounts differ, they  both question what they saw. First-time performer Hannah Morrow, a junior in public relations, said the creative process for the play has been challenging and intriguing.
"It is fascinating to see how the conversation develops between the two characters and what they are more focused on and worried about based on their unique backgrounds and perspectives," she said.
Johnson hopes that when the audience is presented with the complex and powerful narratives in "Facing Our Truth" it will inspire them to reflect more deeply on their own perspectives.
"Our cast has learned that in order to pose the question of 'Facing Our Truth' to an audience, you must also face your own truths," she said. "I hope the audience can decide to see themselves in these stories, in ways that challenge them to have a powerful meeting with themselves on their personal perspectives, which may, in fact, be biased."
Tickets, streaming details
"Facing Our Truth," which contains adult language and content, streams Thursday, March 25, through Sunday, March 28. Admission is "pay what you will." Details on how to access the stream, along with the full list of play titles and cast members, are available on the show's production page.
This production is supported by the Ames Public Library and the Ames Branch of the NAACP. The plays are written by A. Rey Pamatmat, Dan O'Brien, Dominique Morisseau, Mona Mansour, Winter Miller, Marcus Gardley, Tala Manassah and Quetzal Flores.
For more information, visit www.theatre.iastate.edu, email isutheatre@iastate.edu or call 515-294-2624. ISU Theatre is funded by ISU Student Government and supported by the Transforming Liberal Arts and Sciences Endowment.
Published: March 16, 2021