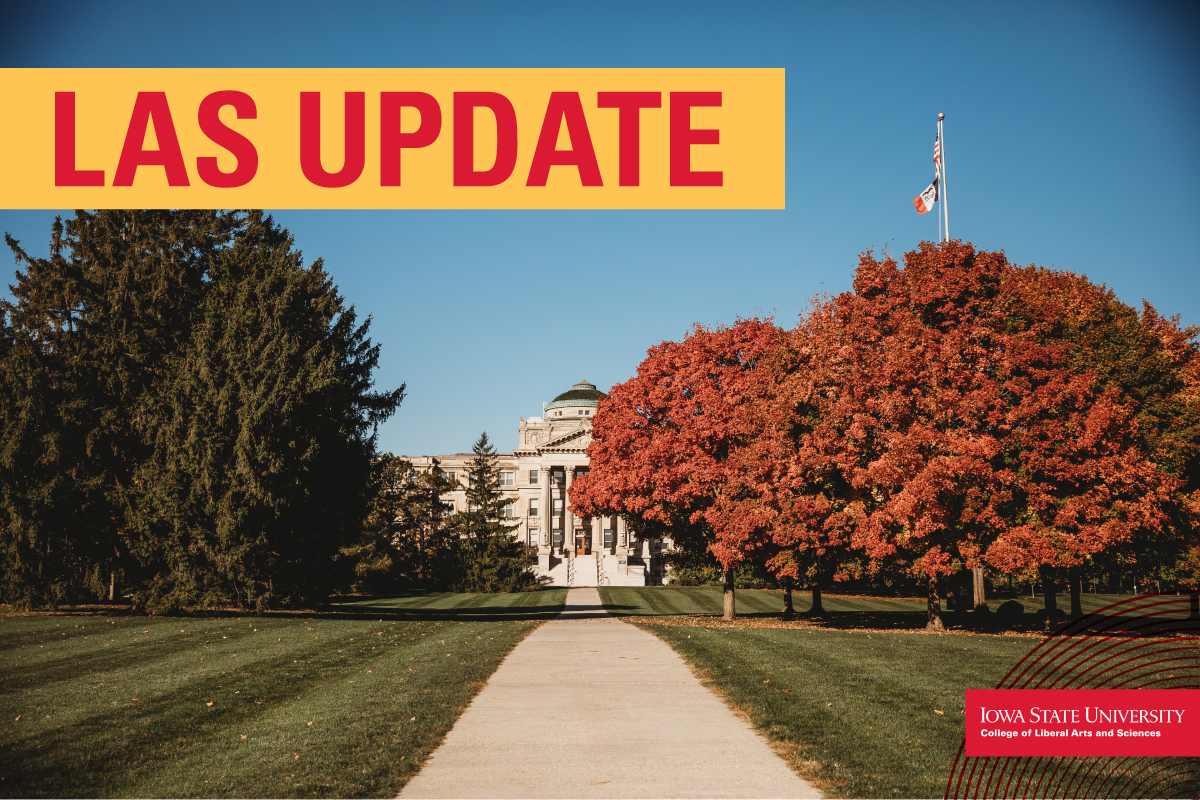 Three graduating seniors in the College of Liberal Arts and Sciences have been honored with the 2021 Wallace E. Barron All-University Senior Award by the ISU Alumni Association. Only seven Iowa State seniors earned the award which recognizes students who demonstrate high character, outstanding academic achievements and involvement in college and community activities.
Established in 1968, the award is named for Wallace E. "Red" Barron, who served as director of alumni affairs at Iowa State from 1937 to 1968. Award recipients receive special recognition as well as the official Iowa State University ring from the ISU Alumni Association. A minimum of two awards are granted annually.
This year's 2021 Wallace E. Barron All-University Senior Awards in the LAS College include:
Cameron Vannoy
Cameron Vannoy ('21 chemistry, genetics) is an active and engaged member of the ISU Pre-Medical Club and currently serves as its president. This is her second year leading the planning committee for the ISU Pre-Health Conference, a successful event that she started at Iowa State. More than 75 pre-health professional programs from across the United States participated in this year's conference.
Vannoy was an executive committee member for Be The Match On Campus, a student organization dedicated to organizing marrow donor drives. She also volunteers at Iowa Methodist Medical Center.
Vannoy conducts research for the Marit Nilsen-Hamilton Lab in the Roy J. Carver Department of Biochemistry, Biophysics and Molecular Biology. Her research focuses on biosensor development through the use of aptamers, which are short, single-stranded DNA or RNA molecules that bind to specific targets.
"This award reminds me of the wonderful faculty who have taken the time to inspire my adventure, in particular Marit Nilsen-Hamilton and Kent Kerby, who have been amazing mentors," Vannoy said. "In the College of Liberal Arts and Sciences, I've been able to participate in groundbreaking research and spearhead new projects while taking amazing and exciting classes. I am grateful for this award, excited for my future and proud to be a Cyclone."
Vannoy has applied to several medical schools. She hopes to become a physician and make impacts in rural health care and diagnostics.
Behnia Rezazadeh Shirazi
Behnia Rezazadeh Shirazi ('21 biology, biophysics, biochemistry) has taken full advantage of his Iowa State experience. He's served in several leadership roles, including president of the ISU UNICEF chapter, treasurer of the Liberal Arts and Sciences Council and residence hall advisor. Active in student government, Rezazadeh Shirazi was a member of the health and wellness committee and the diversity and inclusion committee.
Rezazadeh Shirazi is an accomplished researcher in the Department of Kinesiology who has published a first-authored paper and several abstracts on human microvascular function.
In 2020, he was named a Goldwater Scholar, the foremost undergraduate scholarship in mathematics, natural science and engineering. He also tutors undergraduate students in chemistry, organic chemistry and biology.
"This award is the acknowledgment of my cherished memories at Iowa State and the realization of goals that I set for myself when I began my adventure at Iowa State University four years ago," Rezazadeh Shirazi said. "I aspired to become the best version of myself and I thank my professors and mentors who inspired me along this journey."
After graduating, Rezazadeh Shirazi will serve as a research fellow at the U.S. National Institute of Health's Vaccine Research Center where he will work on HIV vaccine development. He plans to earn in a Ph.D. in biomedical engineering and an MBA. He aspires to start a biotechnology company that focuses on the environment and healthcare.
Ritika Agrawal
Ritika Agrawal ('21 advertising) has furthered her Iowa State education by landing competitive internships at E! News and NBC Entertainment. She is currently a business operations and strategy intern for NBCUniversal in New York City. Agrawal is also an alumna of the Advertising Educational Foundation's MADE internship program.
Agrawal founded the Young Media Professionals Foundation, which connects young talent in media, marketing and advertising with top employers. She also hosted the Women of 2021 Summit, a virtual event featuring speakers from LinkedIn, Huda Beauty and other high-profile companies.
Agrawal was a national finalist at the Washington Media Scholars Case Competition in Washington, D.C.
Active in campus organizations, Agrawal was the student advertising manager for the Iowa State Daily Media Group. She held leadership positions at two Iowa State publications—editor-in-chief of Cardinal Eats magazine and advertising director for Trend magazine.
"I am humbled to receive this award, which I owe to professor Jay Newell, and I thank him for investing his time in me and pushing me to do my best," Agrawal said. "Receiving this honor reminds me to continue working hard and saying yes to opportunities while giving back to my ISU community."
Agrawal plans to continue advocating for students with her Young Media Professionals Foundation. She hopes to bridge the gap between students and industry leaders while advocating for diversity in the workplace.
Published: March 8, 2021