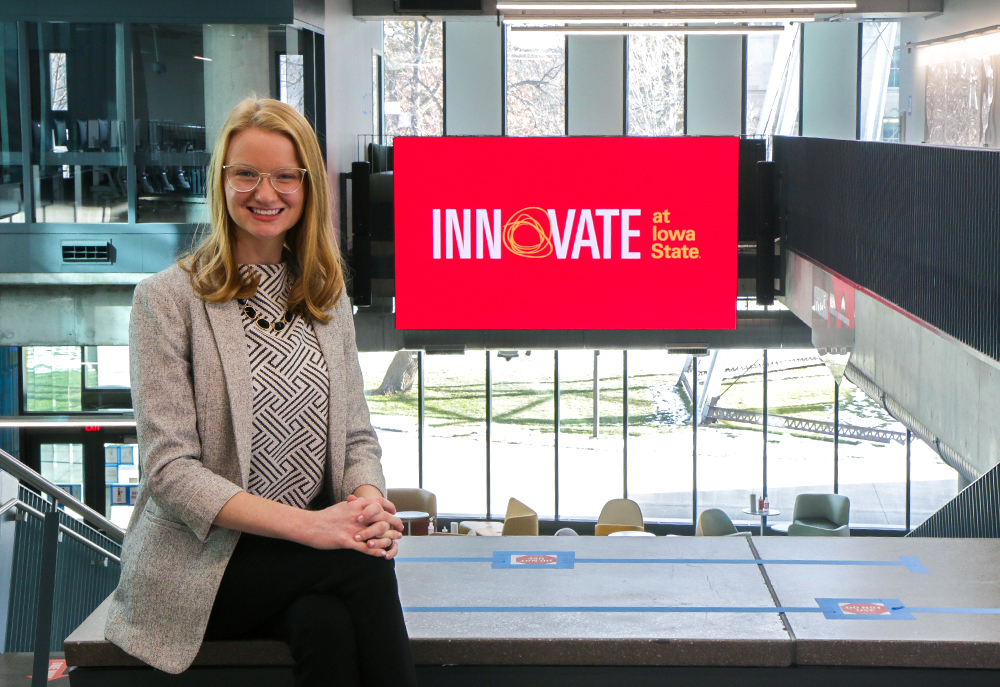 Iowa State University's College of Liberal Arts and Sciences has hired Rebecca Runyon ('18 agricultural studies, '19 MS agricultural education) to lead and develop its new Innovation + Entrepreneurship (I+E) Academy, a two-year program for LAS majors and minors who seek to experience and develop an innovative and entrepreneurial mindset.
As the program's inaugural director, Runyon's initial focus is to share information across campus about the I+E Academy and what it has to offer LAS students with a penchant for innovation.
"I see three different categories for my first-year goals," Runyon said. "I see it as marketing and getting the word out about the program. I see it as relationship building with students, faculty and alumni, and then the actual building of the program so we can enhance the course offerings and build the modules."
Two-year program
I+E Academy offers LAS students opportunities to engage in face-to-face, online and interactive activities to foster their entrepreneurial drive. During the first year, students will gain greater insight into what it means to be an entrepreneur through readings, reflections, case studies and guest speakers. They will also learn about community and state resources that can assist them with developing their ideas. In the second year, students will be matched with university and local mentors, who will help guide them as they advance their projects forward.
"Students will receive training and access to activities related to traditional product- and service-based startups, intrapreneurship, civic innovation, leadership and social entrepreneurship," said Kent Kerby, LAS assistant dean.
Delayed launch
The I+E Academy was originally set to launch in March 2020, but the coronavirus pandemic delayed its rollout for a year. The new rollout date is planned for early March and the first cohort of students will enroll in fall 2021. Runyon's focus this spring is student recruitment.
"Any LAS student should consider being a part of the LAS I+E Academy because every student has ideas of how to leave their mark on the world. This academy is a way to harness those ideas and transform them into real-world change," Runyon said.
The first cohort will comprise about 30 students with room for more as the program grows and develops.
Familiar path
Runyon knows a thing or two about entrepreneurship. As an Iowa State undergrad, she founded two businesses – Lunchsox and Bessie's Parlor – and participated in other start-up ventures, primarily working in marketing and education roles. She is excited to share her knowledge and experiences with the I+E Academy students.
"I was in those students' shoes not long ago, so I can really relate to the needs of student entrepreneurs," Runyon said.
Runyon is eager to collaborate with LAS students who, like herself, desire to positively impact the world.
"As a student I was surrounded by other student entrepreneurs so I'm excited to continue working with students whose day-to-day lives don't consist of just going to classes," Runyon said. "These are people who are change makers, who are going to go on and have careers that have a lasting impact on our whole society. That's exciting to think about."
If you know any LAS students who may be interested in the I+E Academy, please contact Runyon at runyon@iastate.edu or 515-294-1944.
Published: January 13, 2021