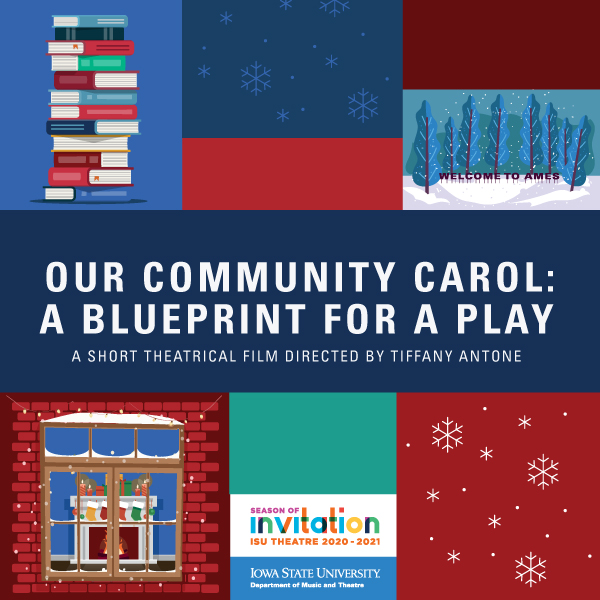 The cast and crew of ISU Theatre's upcoming short film, "Our Community Carol: A Blueprint for a Play," is teaming up to raise money for the Food Bank of Iowa's Hunger Free Holidays campaign with a festive online reading of Charles Dickens' holiday classic, "A Christmas Carol" on Friday, Dec. 4 from 7:00-10:00 p.m. via Zoom.
"In 'Our Community Carol,' the main character's family relies on help from Iowa Food Bank and other local very relief programs," said Tiffany Antone, assistant teaching professor and the film's director. "In addition to raising awareness about Iowa Food Bank in the movie, we wanted to do something as a cast to help make a difference for families in need.  And since our script was inspired by Dickens' book, it seems only fitting that we read his classic tale in order to raise money for this important cause."
Iowa Food Bank's Hunger Free Holidays program's goal is to ensure all families have food on their table this holiday season.
"Our production team thought it was extra important to support and give back to the Ames community this year," said Stephanie McClelland, a freshman performing arts major who serves as the play's community outreach coordinator. "We are very excited to be raising money for Hunger Free Holidays this Friday and we wish you a safe and warm happy holiday season!"
On Dec. 4, cast and crew will perform a marathon reading of Charles Dickens' 'A Christmas Carol.' Throughout the reading, audiences will be able to donate to the ISU Theatre Hunger Free Holiday's team to help reach a goal of raising $250.
Visit ISU Theatre's website to get more information about the reading and to donate to the Food Bank of Iowa.
The short film "Our Community Carol: A Blueprint for a Play" will stream Dec. 11-30.
For more information, visit www.theatre.iastate.edu or email isutheatre@iastate.edu. ISU Theatre is funded by ISU Student Government and supported by the Transforming Liberal Arts and Sciences Endowment.
Published: November 29, 2020