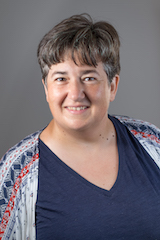 Heike Hofmann, professor in the Department of Statistics in Iowa State University's College of Liberal Arts and Sciences, has been named a Kingland Data Analytics Faculty Fellow.
Hofmann is an internationally recognized expert on data visualization. Her research on visual inference provides a framework to evaluate the statistical significance of a graphical finding, thereby establishing a p-value for charts. Hofmann's research also focuses on statistical graphics, statistical computing and multivariate methods, particularly categorical data.
Most recently, Hofmann has dedicated her research expertise to the Center for Statistics and Applications for Forensic Evidence (CSAFE), housed at Iowa State, where she is developing and refining techniques for matching striae—the ridges and grooves on spent bullets—for use in forensic investigations. Hofmann was a key contributor to research developed by CSAFE in collaboration with the National Institute of Standards and Technology (NIST) to improve the statistics and science behind the analysis and interpretation of forensic evidence and to provide statistical training for forensic practitioners and legal professionals. For this work, CSAFE and NIST received the prestigious American Statistical Association (ASA) Statistical Partnerships Among Academe, Industry and Government (SPAIG) award in 2018.
Hofmann has also earned numerous individual awards, most notably ASA Fellow designation in 2015. She has received several LAS honors as well, including awards for Outstanding Achievement in Teaching, Mid-Career Excellence in Research/Artistic Creativity and Early Excellence in Research/Artistic Creativity.
Hofmann is grateful to Kingland for the named fellowship, and she intends to use the funding to advance her data science research.
"The award will allow me to build infrastructure in support of transparent data science pipelines consisting of open data, open results and open algorithmic routines," Hofmann said. "The Fellowship will also allow me to recruit and support an undergraduate with a minority background in the data science research experience program."
This award is part of a $1.5 million donation to Iowa State's College of Liberal Arts and Sciences, the Ivy College of Business and the College of Engineering by Kingland, a global leader in data quality control, development and risk management, and from a personal donation by its owners, David and Deb Kingland, to support data science. The donation also established the Kingland Data Analytics Scholarship Fund, which helps attract students to the opportunities offered by data science programs.
Published: November 2, 2020