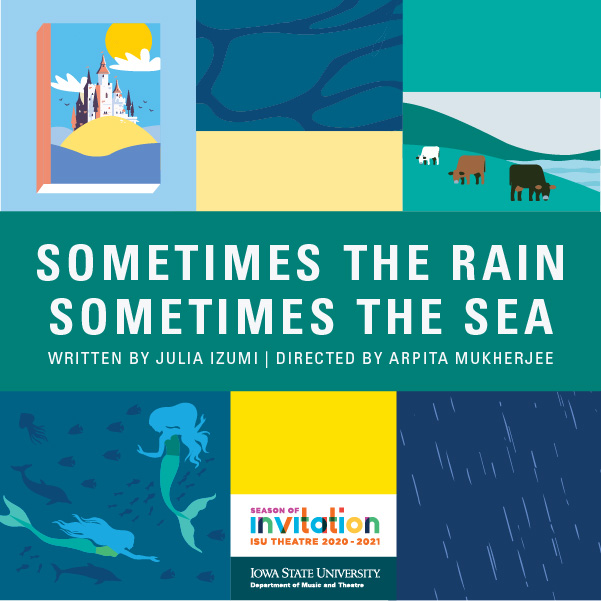 What happens when a little rain cloud falls in love with a human? Find out during ISU Theatre's "Sometimes the Rain, Sometimes the Sea," a fast-moving, funny, whimsical play that grapples with what it means to be young, fall in love and believe in fairy tales. Enjoy a live Zoom performance of the play Nov. 6 and 7 at 7:30 p.m., or a pre-recorded stream that will be available Nov. 13-19.
"This play is like that book you read as a kid and can't put down," said Mackenzie Bodell, freshman in performing arts. "It's complex and entertaining, filled with deeper themes and so many opportunities for critical thinking. It's such a creative play that bringing it to life is a rewarding experience."
Cast members said the play, written by Julia Izumi and directed by guest artist Arpita Mukherjee, evokes the warm feelings of a bedtime story or the coziness of sitting next to a window on a rainy day.
"This play is like walking down an unknown path and not knowing quite what is in store for you, and then being pleasantly surprised about what you find," said Kaitlyn Meylor, sophomore in performing arts. "It's truly unlike any other play I have been a part of or seen, and that excites me. I hope it inspires audiences to think about the vastness of their own imaginations."
ISU Theatre students are also studying the play this fall as part of their course curriculum. Along with the live and recorded performances, students will share a curated virtual celebration of their in-class projects. The play and collaborations are part of ISU Theatre's 2020-21 "Season of Invitation," which seeks to create new and innovative pathways of performance during the COVID-19 pandemic.
Tickets, cast and creative team
Details on how to access the live Zoom performances and recorded stream will be posted soon on the show's production page. Admission is "pay what you will."
Cast members include:
Rain Cloud – Zoey Lazere
Bessie – Heaven Booker
Ralmond – Maxfield Coenen
Midi – Lena Menefee-Cook
Edvard – Scyler Torrey
Ina – Annika Baker
Little One – Kaitlyn Meylor
Dolan – Kaushik Raghavan
Creative team members include:
Director – Arpita Mukherjee
Stage Manager – Roger Rivera
Imagination Team – Isabelle Anderson
Imagination Team – George Poll
Imagination Team – Mali Bilstad
Imagination Team – Samuel Huhn
Imagination Team – Zoey Lazere
Imagination Team – Mackenzie Bodell
Imagination Team – Sean Witte
Imagination Team – Alexis Murdock
Imagination Team – Heather Schulte
Production Manager – Will Coeur
Technical Director – Natalie Hining
Costume Shop Supervisor – Doris Nash
For more information, visit www.theatre.iastate.edu, email isutheatre@iastate.edu or call 515-294-2624. ISU Theatre is funded by ISU Student Government and supported by the Transforming Liberal Arts and Sciences Endowment.
Published: November 2, 2020