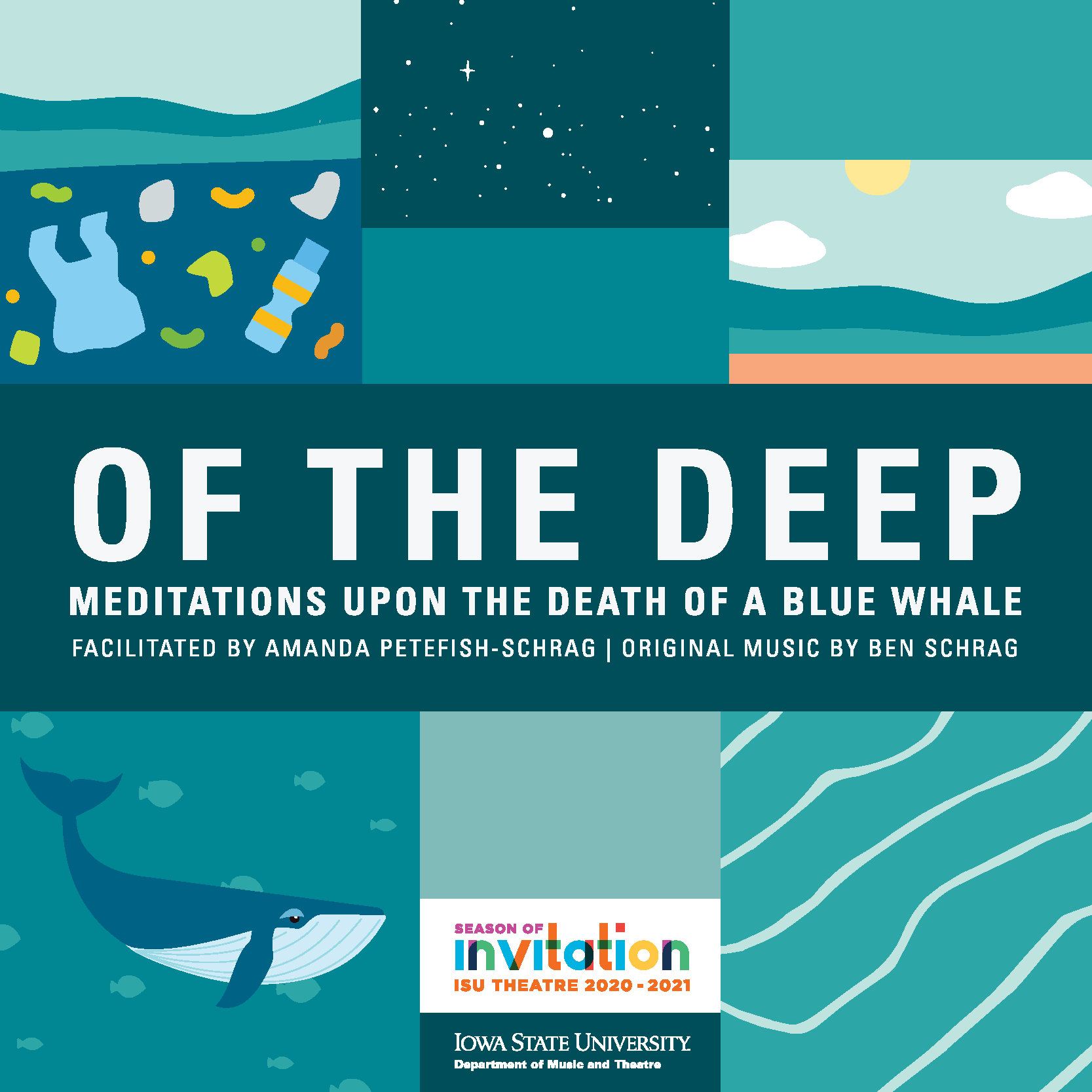 ISU Theatre's "Of the Deep: Meditations on the Death of a Blue Whale" invites audiences to dive into deep waters, and ponder the consequences and complexities of environmental crisis through a thought-provoking series of short shadow-puppet films that will stream online Oct. 23 – Nov. 1.
The films are loosely based on the true experiences of a coastal town that had to confront enormous challenges when a massive whale carcass washed up on its shores. Originally conceived as a play written by Associate Professor of Theatre Amanda Petefish-Schrag, "Of the Deep" was set to debut last spring on the Fisher Theater stage. Then the show was postponed due to the COVID-19 pandemic.
ISU Theatre is giving the story new life for its 2020-21 season—and teaching students how to go with the flow in the process. This fall, students worked virtually in collaborative teams to adapt and devise new stories based on the source material. Using shadow puppets designed from trash—like the discarded plastic that might be found in a whale's belly—they then performed and recorded their stories to be presented as short films.
"It's been really exciting to see how each of the student teams has built a slightly different approach to creating their stories," Petefish-Schrag said. "It's also been a great opportunity to learn alongside them as we all venture into new territory artistically and technically as we combine shadow puppetry and film."
Lena Menefee-Cook, performing arts senior and the project's assistant facilitator, helped create puppets that the cast could easily manipulate by themselves during socially-distanced rehearsals.
"Two of my favorite puppets that I worked on are a ship that echoes the sharp and imposing historical whaling ships, and a whale eye with a moveable eyelid that aims to communicate an emotional journey for the whale that humans might recognize and connect with," she said. "Both were designed to be easy to puppeteer while still creating interesting visual dynamics."
Storytelling as a mirror
April Tan, a Department of English graduate student, was cast as a puppeteer in the original spring play. This fall, she contributed writing for the revised project, submitting a poem that was developed into a shadow puppet script.
"I was initially disappointed that we weren't able to do the original production, but I am truly impressed by ISU Theatre's emphasis on citizen artistry, and how despite the circumstances, we have still come together to make art about, for and as a community," Tan said.
Tan looked to puppeteers on YouTube for storytelling ideas, working to reimagine the material as a smooth visual sequence for the puppeteers, and include realistic action that could be achieved by a small team with limited resources. She said reading about whales and humans has made her think more critically about how people respond to environmental crises.
"Whenever a new environmental issue is brought to our attention, we tend to make a big show of doing things that don't require much of us, like buying a T-shirt or using a hashtag," she said. "This story is meant to be a mirror that we hold up to ourselves. We follow a group's response to a beached whale, how they attempt to erase their guilt and how this results in no real change for the environment."
The interplay of light and shadow created by shadow puppetry will help convey the underwater environment, evoking a sense of enormity, wonder and connectedness for the audience.
"Whales are enormous, and these stories also focus on the enormity of the crisis we face when humanity begins to lose its connection with the natural world and the environment," Petefish-Schrag said.
Tickets, cast and creative team 
"Of the Deep: Meditations on the Death of a Blue Whale," with original music by Ben Schrag, is part of ISU Theatre's 2020-21 "Season of Invitation." The production will stream online Oct. 23 – Nov. 1, with "pay what you will" admission. Tickets available at www.showtix4u.com.
The project is partially funded by the Iowa State University Center for Excellence in the Arts and Humanities.
The cast of puppeteers includes Vivian Cook, Taylor Sklenar, Lena Menefee-Cook, Bethmari Márquez-Barreto, Scyler Torrey, Jonathan O'Neill Rojas, Samuel Elliott-Rude, Jonathan Smith, Alex Brown, Trace Griffin, Zachary Ty Riedemann, Jacob Jones, Anika Slowing Romero, Mali Bilstad, April Tan, Brittny Rebhuhn and Katie Tobie.
The creative team includes Amanda Petefish-Schrag, facilitator; Lena Menefee-Cook, assistant facilitator; Natalie Hining, scenic designer; Kelly Marie Schaefer, costume designer; Will Coeur, lighting designer; Tiffany Liechty, stage manager; and Trace Griffin, assistant stage manager.
For more information, visit www.theatre.iastate.edu, email isutheatre@iastate.edu or call 515-294-2624. ISU Theatre is funded by ISU Student Government and supported by the Transforming Liberal Arts and Sciences Endowment.
About ISU Theatre
As a part of the Iowa State University Department of Music and Theatre, ISU Theatre seeks to empower citizen artistry by engaging students and the community in transformative theatre and performing arts experiences which examine the human condition, encourage lifelong learning, teach artistic skills, prepare professionals, inspire empathy, explore creativity, build relationships and embrace diversity. ISU Theatre administers a major and minor in performing arts and produces multiple theatre and performing arts productions throughout the year featuring performers, designers and technicians from throughout the university.
The ISU Theatre CoLab Initiative seeks to foster collaboration and engagement between ISU Theatre and other groups both within ISU's campus and throughout the broader community to create citizen artistry, inspire and be inspired by meaningful public discourse and expand opportunities for ISU students, faculty and staff.
Individuals with disabilities are encouraged to participate in ISU Theatre events. If you require a reasonable accommodation to do so, please contact ISU Theatre at least one week prior to the event at isutheatre@iastate.edu or 515.294.2624.
For more information, visit www.music.iastate.edu/how-get-involved-theatre-and-performing-arts.
Published: October 19, 2020