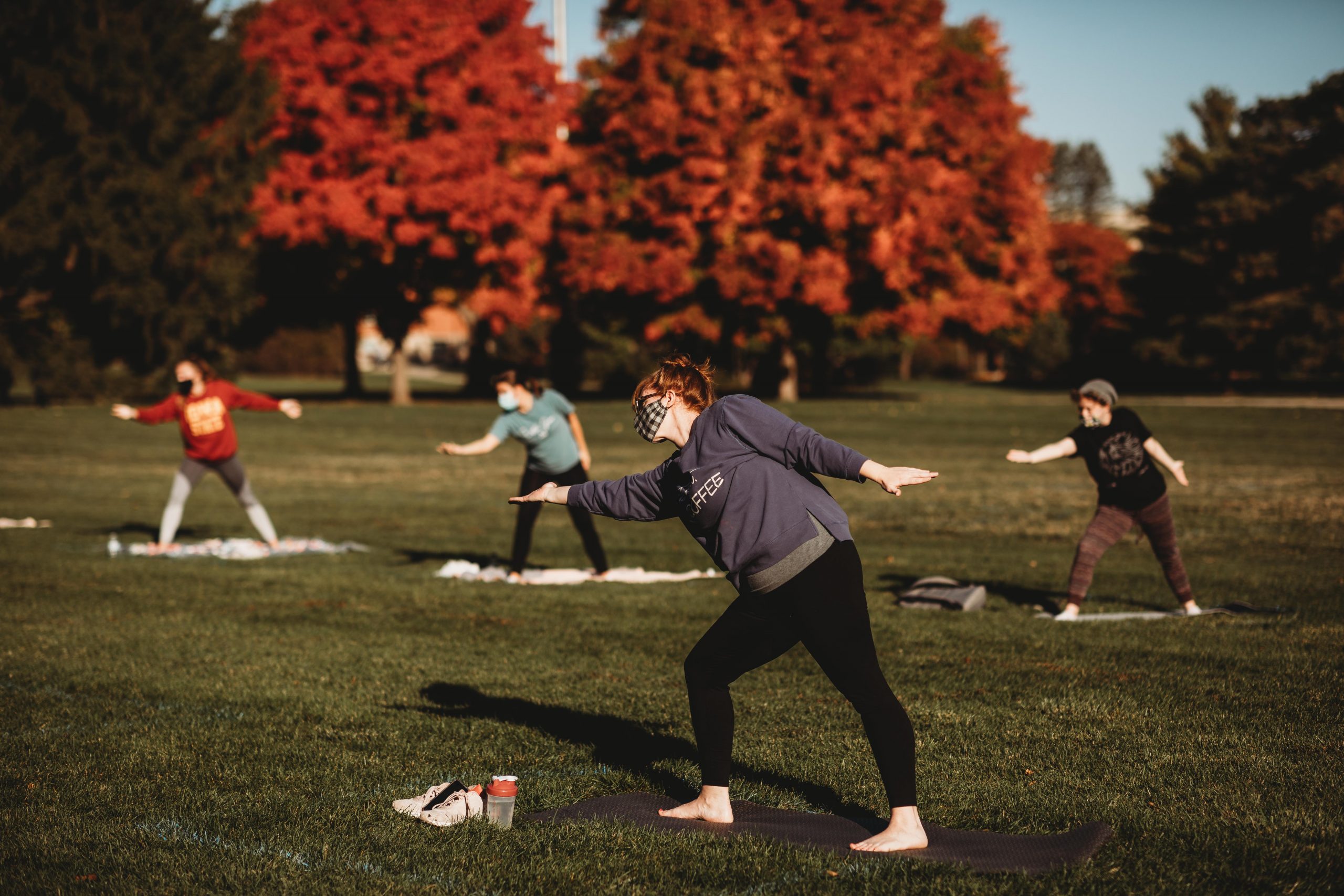 Educating students during the COVID-19 pandemic presents numerous challenges. But perhaps the greatest hurdle is keeping students connected—academically and socially—to others while simultaneously protecting them from coronavirus.
Some classes and student organizations in Iowa State University's College of Liberal Arts and Sciences (LAS) are combatting this challenge with creative, safe activities that encourage students to don their masks and leave their residence halls for some much-needed, in-person interaction. LAS leaders said coordinating face-to-face activities takes planning and preparation, but the outcome for students is well worth the effort.
Following are just a few examples of how LAS is striving to keep students connected during COVID-19.
No place like HOME
Autumn Cartagena, open option coordinator and pre-law program adviser, wanted the 450 students in her LAS 101 (Orientation for Open Option and Preprofessional Students) course to participate in fun, informative events during Iowa State's recent homecoming week. She worked with her staff and the class's peer mentors to come up with "Celebrate HOME," a week of free, face-to-face and virtual events with a host of HOME-related themes.
"We wanted to take a week to draw positive attention to campus as home. We've got wonderful resources and experiences that are still safe in a COVID-19 world," Cartagena said.
The week's events included:
HOME Run – A group run on the trails at Brookside Park.
HOME Work – A virtual meeting featuring several professionals who discussed their career journeys. Break-out sessions gave students a chance to ask the presenters questions.
HOME Grown – An in-person event at Reiman Gardens, complete with locally sourced food items courtesy of ISU Dining.
HOME Made – A virtual craft night featuring an Art-to-Go project from The Workspace. Online break-out sessions during the activity helped students get to know each other better by answering simple questions like, "If you could learn a new talent, what would it be?"
HOME Stretch – An outdoor yoga session on central campus.
Now that homecoming is over, the LAS 101 teaching team will continue to plan future HOME-related events.
In addition to the "Celebrate HOME" event, Cartagena regularly reserves group spaces for students in Science I. This option offers the students a chance to work on assignments while also interacting with others in a safe environment.
"Some folks study best in uninterrupted, quiet spaces for long stretches of time," Cartagena said. "Our space is to study for a bit, then have a chat, a snack and a break."
Preparation key for Pre-Medical Club
Iowa State's Pre-Medical Club comprises more than 300 students who aspire to be physicians. Because of the pandemic, the club holds hybrid meetings to accommodate students who wish to attend virtually and meet in person. Senior chemistry major Cameron Vannoy, president of the club, said she and the club's other officers devised a strategy to create a safe environment for the in-person meetings, including requiring face coverings, enforcing social distancing and holding meetings in large classrooms. Outside presenters speak to the students virtually.
Vannoy said planning in-person activities during a pandemic requires extensive preparation, but she believes it is well worth the effort.
"The high time commitment in preparing to be a medical student can cause many to lose social connections and become isolated," Vannoy said. "Being physically together reminds us that we are not alone, and encourages us to remember that we are not the only ones facing the struggles associated with our goals."
Feedback from students who have attended the in-person club meetings is positive, and numbers are increasing at each meeting.
"The connections are clear. You can see it in their eyes as they look around the classroom," said Kent Kerby, a club adviser and assistant dean in LAS. "They are having normal conversations with a number of individuals."
Vannoy has also heard kudos from club members about the in-person meeting options.
"When they attend in person, they say that they feel safe and that it's nice to see other people after being alone or with only their family for so long," she said. "They are missing the human connection and are willing to be safe to have it."
Vannoy encourages other student organizations to plan in-person events, despite the work that's involved up front. Her advice is to commit to a safe event and to plan ahead.
"Our students are struggling and they need us to be our best more than ever. Encourage them to be safe at—and outside—your events. If they are only safe in the club meeting, that is not enough to stop the spread of COVID-19," Vannoy said. "Also, give them resources for mental health and self-care."
Students helping each other
The Department of World Languages and Cultures (WLC) recently enlisted the help of its WLC Student Ambassadors, a group of students who plan special activities for the department, to come up with some fun, uplifting events for other WLC students. The move was prompted by comments from first-year students, who said they were struggling with feelings of isolation due to remote learning.
"Our WLC Student Ambassadors confirmed that this is what even older students were feeling, too," said Susan McNicholl, WLC communications specialist. "They missed the camaraderie of being among fellow students and particularly fellow majors. We wanted to come up with a way to stay socially distant but also build community."
The student ambassadors developed four virtual events, which kicked off earlier this week. They include a movie discussion, chatting about the anthropology major while carving pumpkins, a cooking class and a Kahoot! trivia challenge.
Besides the typical technological issues that go along with planning virtual events, McNicholl said one of the biggest challenges the department faced was spreading the word to students about the activities.
"We're experimenting with how to make sure students know about the events. We find that some students are feeling overwhelmed by messaging—both within their coursework and outside of it—so it's hard to stand out," McNicholl said.
Once the first four events are wrapped up later this fall, WLC will re-evaluate and plan new activities for spring semester, hopefully incorporating some safe, in-person elements. But what won't change is getting students involved with the planning.
"I advise definitely involving students in the planning and hosting," McNicholl said. "They have a good sense of what would and would not attract fellow students to an online event."
Published: October 16, 2020