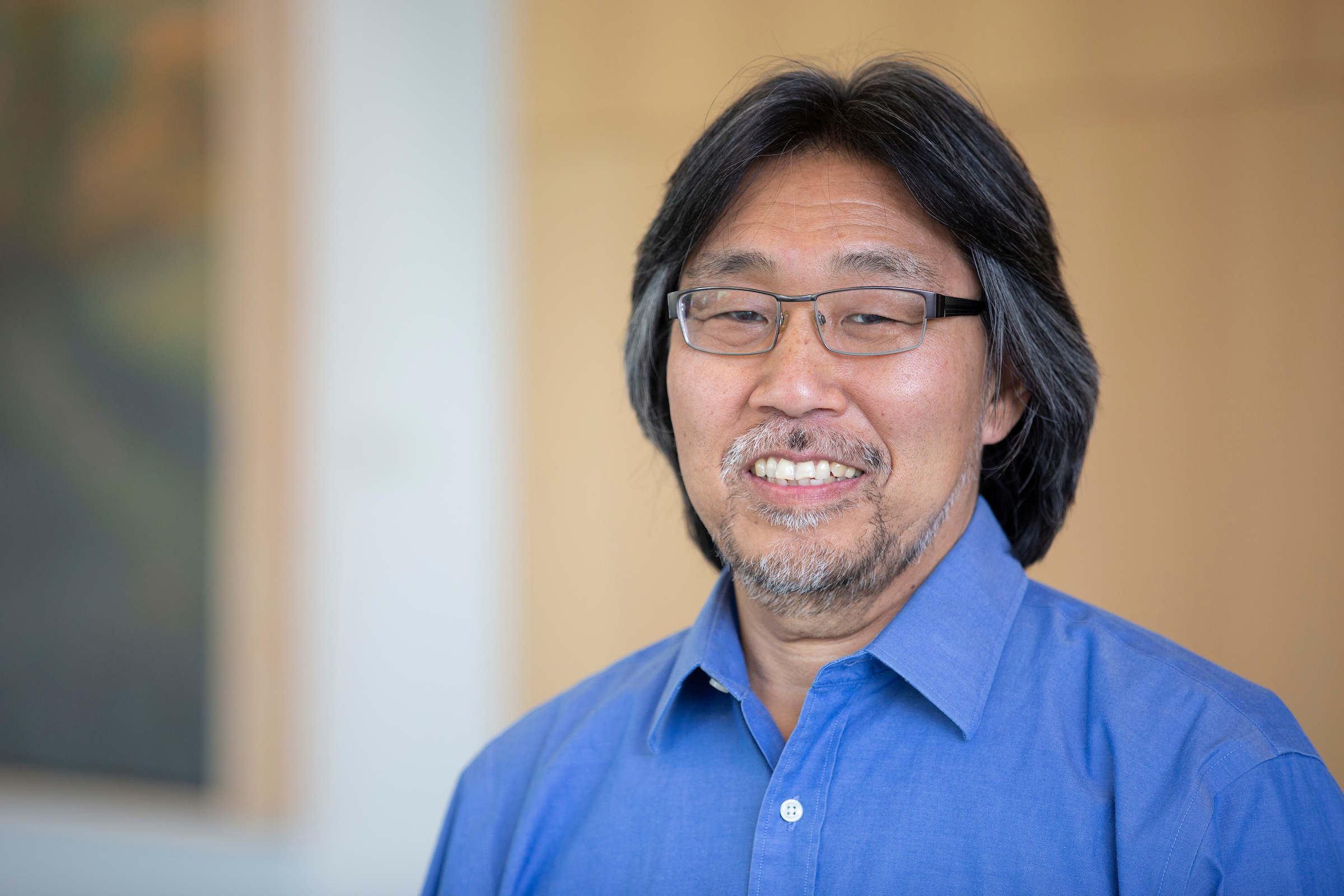 by Ann Y. Robinson
The new director for Iowa State University's Biology and Genetics Undergraduate Programs, Donald "Don" Sakaguchi, Morrill Professor of genetics, development and cell biology, is a widely respected scientist in neurobiology whose lab studies transplantable cells for their potential to replace and repair degenerating nervous system cells and help patients with neurological diseases and brain injuries.
A member of the interdisciplinary Nanovaccine Institute at Iowa State University, he teaches undergraduate and graduate courses that range from Principles of Biology II to a Frontiers of the Discipline seminar in Stem Cells and Cellular Engineering. He has served as faculty adviser for the Biological Sciences Club, Iowa State's Beta, Beta, Beta chapter (the national honor society for student in the biological sciences), and the Ames, Iowa, chapter of the Society for Neuroscience. He has also been an invited instructor for advanced neuroscience courses at Portugal's University of Coimbra and Ege University in Izmir, Turkey.
This year, the busy scientist and teacher takes on new challenges to lead the programs that support students in biology and genetics. The interdepartmental majors are jointly offered by two departments: genetics, development, and cell biology; and ecology, evolution, and organismal biology. Both are administered through the College of Agriculture and Life Sciences and the College of Liberal Arts and Sciences. In this role, Sakaguchi will supervise the program's student services staff and work with departmental chairs to help coordinate the two interdepartmental majors that attract about 900 total undergraduates.
His duties include helping with recruitment, retention and success activities, representing the programs to internal and external stakeholders, providing leadership to assistant directors for science literacy and foundation courses, and assisting with opportunities related to diversity and inclusion, innovation and extracurricular activities.
An important goal of the programs is to provide career experiences for undergraduates through research and internships at Iowa State and elsewhere. Sakaguchi appreciates the impact such opportunities can have.
"When I was an undergraduate biology major, working in a lab where I studied insect sensory neurobiology (using crickets) really influenced my career path," he said.
That lab was at the State University of New York. He went on to get his Ph.D. there and completed post-doctoral work at the University of California, San Diego, in developmental neurobiology before coming to Iowa State in 1991.
As a graduate student, he had the chance to get involved with research at Stanford's Hopkins Marine Station. He learned to love oceans and gained a keen interest in neurophysiology while studying a marine snail, which he calls "a squishy creature with a unique 'brain' characterized by huge nerve cells." His passion for the marine environment continued and led him to become an advanced open-water scuba diving instructor. At ISU, Sakaguchi shares aspects of these interests with undergraduate students who take the Caribbean Marine Biology class he helped create and still leads every other year.
Jeanne Serb, director of the Office of Biotechnology at Iowa State and associate professor in ecology, evolution and organismal biology, has helped teach the marine study course in Roatan, Honduras for several years.
"The course gives students an incredible opportunity to spend seven days on a boat exploring environments most have never seen before, and he makes it a supportive community for learning. It often has life-changing impacts on them," she said.
"First and foremost, Dr. Sakaguchi is an outstanding neurobiologist who has had considerable impact on his field," Serb said. "Don has very high standards, but he's kind and approachable. He leads by example. As director of the program, I'm sure he will have a similar way of working with the faculty from multiple departments to further the study of life."
Divyesh (Dibu) Kumar, a senior in chemical engineering and a Spring 2020 Goldwater Scholarship recipient, considers Sakaguchi an important mentor.
"Dr. Sakaguchi has been an amazing role model. He has implemented a 'vertically integrated program' in his lab that allows students to join as underclassmen and gradually gain greater responsibilities as they learn and grow as researchers. I first joined the lab as a freshman, having no idea how to conduct sound, reputable research. Now, I play an important role in designing and executing entire experiments. This has only been possible due to Don's mentorship and positive influence."
Even though he has a very busy schedule, he always makes time for his students, Kumar said.
"On many occasions, he has made it a point to personally teach me and others important experimental procedures — something that in my experience, not many research group leaders do. This truly highlights his commitment to students."
Sakaguchi has earned multiple honors for teaching and leadership, including the LAS Award for Outstanding Achievement in Teaching in 2018 and McNair Program Faculty Mentor of the Year in 2015.
As he reflected recently on his different roles as a teacher and leader for Iowa State's undergraduate science students, he offered them the following advice: "It's important to be proactive and seek out opportunities. Be open to new experiences, including studying abroad. I know that advice is not new," he said, "but it's as valuable as ever. Not just to succeed as a student, but to make your time in college memorable and rewarding."
The Department of Genetics, Development and Cell Biology at Iowa State University is jointly administered by the College of Liberal Arts and Sciences and the College of Agriculture and Life Sciences.
Published: October 7, 2020