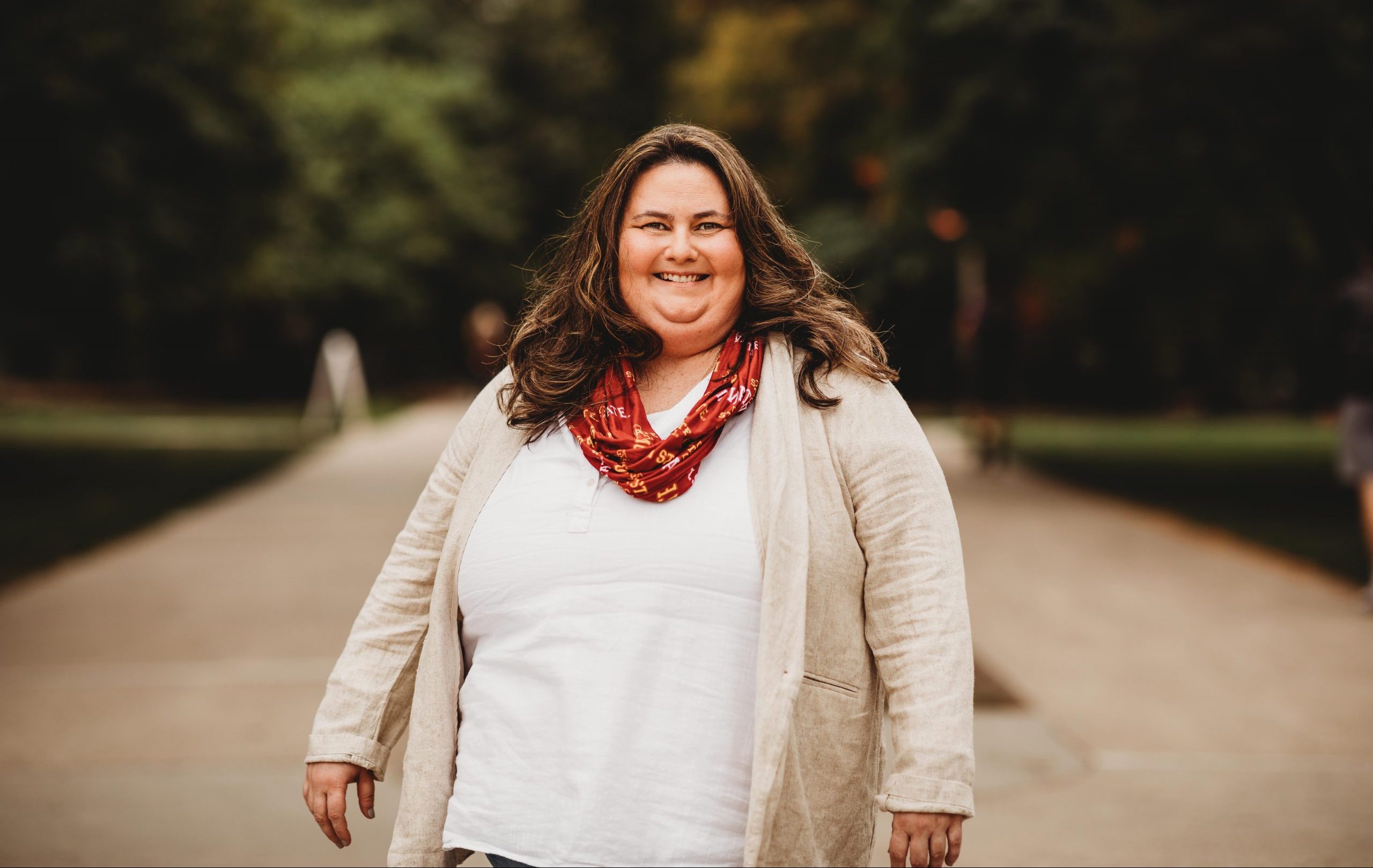 When Jessie Bustin ('22 data science, statistics) decided to go back to school after a career in the restaurant industry, she had a good idea of what she wanted to do next – but not necessarily how to describe it.
"I've always loved numbers," she said. "I've always been an analytical thinker. I also love thinking about what it means to be human. I wanted to see how we can better bridge these skill sets in data science. How can we use these skills to make the world around us a better place?"
Then she heard about the Data Science for Public Good Young Scholars program, an immersive summer program in which students apply their skills in statistics, computation and social sciences to researching government challenges and critical social issues in ways that can impact quality of life and public policy. The program is led by a coalition of five land-grant universities, including Iowa State.
"We have a program at Iowa State that is exactly what I wanted to go back to school for," she said. "I was so excited."
This summer, Bustin interned as a Young Scholar with the program, collaborating virtually on data science research with undergraduate and graduate students in disciplines ranging from statistics to political science.
Designing real-world data science dashboards
The program gave Bustin a real-life look at how data science teams operate, from how to balance multiple research projects to how to build positive team camaraderie online during a pandemic. Netflix watch parties were a hit, she said.
One of Bustin's projects focused on mapping Iowa's substance abuse recovery resources into an interactive online dashboard so Iowans can easily find local support options. The team later presented their work to the Iowa Department of Public Health for feedback.
Her other project studied how to measure community capital in Iowa's smaller cities and counties, in areas from financial capital to certificate training. The project will eventually be shared on the Bill and Melinda Gates Foundation website.
"We need to show a way that we can build upward economic mobility, no matter the size of the community," Bustin said. "We also focused on gender equality, which was a lot of fun. We looked at female-to-male pay ratios, access to family planning and access to childcare and how parents can foster upward economic mobility through generations if women have the ability to learn and earn."
Bustin said this was her first time building a product to be used outside of the classroom. Both projects are in the pilot phase and will continue to be developed by students and faculty.
"Instead of writing a research paper at the end of a class, I built a product that Iowans could use," she said. "I now have this summer experience in my back pocket, and it gives me more confidence. I get to pull that dashboard up, and say, 'I made that. That will help people.'"
Bustin is grateful that Iowa State faculty quickly transitioned the program online so that it could continue despite the COVID-19 pandemic.
"The faculty put a ton of time into online team science and how to do community building and relationship building online," she said. "They set that structure up while they were wrapping up their spring semester online as well. I'm so grateful for the time and dedication it took to make it a meaningful experience for students."
'An amazing tool for people'
Prior to returning to school as a nontraditional student, Bustin worked as a bartender and sommelier and later pivoted to installing point-of-sales systems and software for restaurants. Several years ago, she started thinking about a career change.
"I wanted to take skills that I had and help people," she said. "I wanted to leave the people around me and the community around me a better place. What I like is that data science is not just a set of skills. It's about what the data is telling us. You get to dig in and understand how it interacts with people, what it shows about them, how we use it and how we handle it going forward. It's not about being able to plug and chug numbers. It's an amazing tool for people."
Giving back
Now she is also helping other students with their Cyclone adventures. Bustin is a peer mentor for the Data Science Learning Community and a supplemental instruction (SI) student leader for STAT 226: Introduction to Business Statistics.
Bustin wasn't sure how she would relate to business students, but it turns out that her past career in the restaurant industry has proven to be a great connection point.
"Whether it's end-of-month inventory or projecting labor forecasts, we can use some of that information because it applies to their business field," she said.
Bustin said she likes how SI focuses on students working together, and she takes a team approach to helping her group prepare for exams. She also works to make statistics fun, drawing upon entertaining examples such as her dog's daily habits.
"It's a blast," she said. "It's fun because I have to challenge myself to take something that I love and present it to people who don't necessarily like it yet. If I can win them over and make them appreciative of statistics by the end, have fun and learn a little about how we study, then it's a big win."
She also appreciates being able to mentor new students in data science.
"When I came to Iowa State, I had a peer mentor in the statistics program. Now that data science has a learning community, it's super exciting to give back," she said. "In the peer mentor program, everyone has a different experience and perspective. Our diversity is our strength, and if we can use that to build a team, then we are so much more powerful together. If I can help facilitate that, I will feel I can give back to Iowa State a little bit of what they have done for me."
'Everyone wants a data scientist'
Bustin, who plans to attend graduate school in an interdisciplinary program that bridges data science, humanities and statistics, said Iowa State is a great place to prepare for her new career goals.
"One thing I've learned is that almost every research team on campus wants a data scientist on their team," she said. "So, if you're willing to learn the context and learn more about the way they are applying our data science skills – everyone wants a data scientist."
Published: October 2, 2020