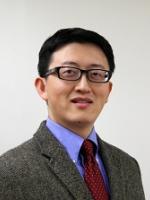 Wenyu Huang, associate professor of chemistry and faculty scientist at Ames Lab, received the Trapp Innovation Award for his groundbreaking research that fosters the development of inventive catalytic systems. These processes involve catalysts—substances that trigger chemical reactions without altering the catalyst itself. Huang's research could improve the efficiency of catalytic processes in renewable, energy-related sectors.
The promise of this research is far-reaching. Huang uses catalysts to develop a high-performance process which converts plastic waste into reusable products, such as fuels, solvents and lubricants. This innovative upcycling could significantly reduce the amount of plastic waste that pollutes our world's oceans, lakes, rivers and landfills.
"The accumulation of waste plastics in the ecosystem has become a global catastrophe," Huang said. "Our work will address this critical environmental challenge."
More than 300 million tons of new plastic is produced annually and less than 10% of plastics are recycled. Some plastics can take up to 1,000 years to decompose.
"Plastic molecules are extremely stable and durable. Our research methods repurpose plastic polymers into useful products with high value," said Huang. "These high-performance, catalytic processes motivate industries and societies to reduce plastic waste. Ultimately, if we want transformational change in this area, scientists and researchers must drive and incentivize that change."
Funded through a generous donation from Onnolee U. Trapp and Orlin D. Trapp, the Trapp Innovation Award recognizes a faculty member who is pursuing new or unique research in the fields of chemistry or the physical sciences.
"We are honored and excited to receive this very generous award that means a great deal to our group," said Huang. "The Trapp Innovation Award is an important recognition of the work that we are doing and the change that we are trying to foster. It is wonderful to receive this validation for our research."
Huang will use the award funds to support research activities in developing new catalytic materials. In particular, Huang's group is interested in understanding what makes catalysts active and how to improve their performance. These systematic activities include the synthesis, characterization and evaluation of catalysts.
Huang received a bachelor of science from Nanjing University, China and his Ph.D. from the Georgia Institute of Technology in Atlanta. He was also a postdoctoral fellow at the University of California, Berkeley and Lawrence Berkeley National Laboratory. Huang joined the Iowa State faculty in 2011 as an assistant professor. Huang's areas of interest include nanomaterials, catalysis and renewable energy.
Published: September 30, 2020