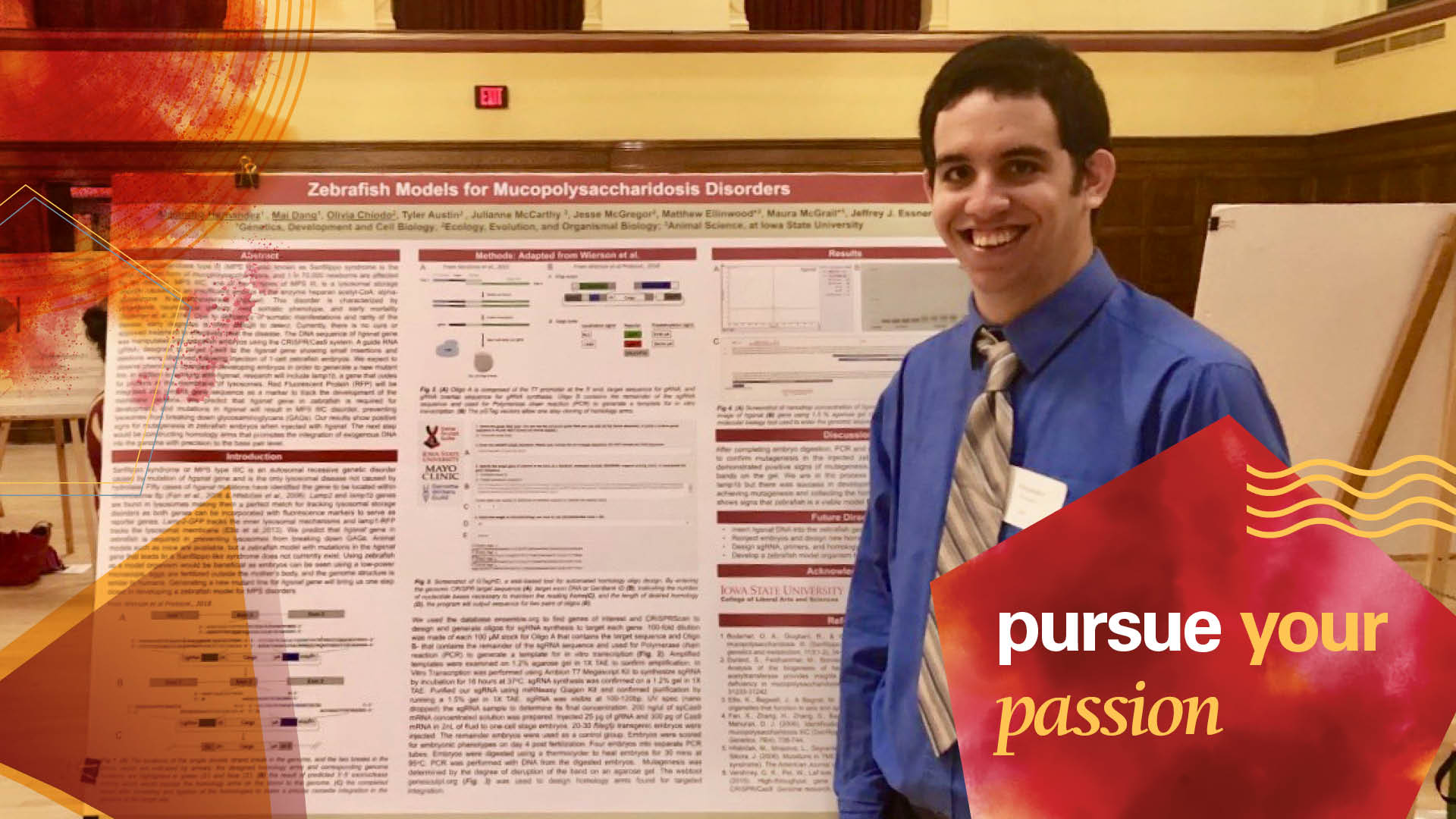 Alejandro Hernandez ('21 genetics) came to Iowa State with a goal to become a medical doctor. Medicine is still his dream, but now his ambitions are even broader.
"I have discovered another world here at ISU that I can see myself doing for the rest of my life and that would be M.D./Ph.D. combined degrees," he said. "ISU is one of the largest research institutions in the world, and I was lucky to find two amazing principal investigators who let me work in collaboration on research."
Research makes a difference
Hernandez chose Iowa State for its many research opportunities, challenging yet manageable academic setting and as a place where he could practice his English. He came to the United States from Cuba when he was 14 years old.
Research is making a difference in Hernandez's preparation for graduate studies and allowing him to impact lives through science.
Hernandez's faculty mentors are Jeffrey Essner, professor of genetics, development and cell biology, and Matthew Ellinwood, professor emeritus of animal science. In spring 2019, Hernandez started a research project about MPS IIIC, the most common mucopolysaccharidosis. One in 70,000 newborns are affected by the disorder, Hernandez said, which can cause neurological defects and early mortality.
"My research is trying to create a zebrafish model for the disorder that could be used to efficiently screen the thousands of FDA-approved compounds to quickly identify gene therapies and therapeutic pharmacoperone targets," he said. "What I like the most about my research is presenting and giving kids and parents hope."
Hernandez said undergraduate research is preparing him to enter a combined-degree graduate program and to focus his Ph.D. on neuroscience. He has presented at the summer REU (Research Experience for Undergraduates) symposium at Iowa State and has also been supported by two LAS Dean's High Impact Undergraduate Research Awards.
"My two research mentors Dr. Essner and Dr. Ellinwood have both always helped me when I need help deciding what to do for the rest of my life," he said. "They both have given me the best advice I could ever ask for since they know I am not the traditional medical school applicant."
Learning to lead
 Along with pursuing his academic passions, Hernandez has learned to lead on campus. He has been a vice president for four campus student organizations: LAS Student Council, Doctors Without Borders, the Minority Association of Pre-Health Students and UNICEF. In addition, he has served as a residence hall community adviser.
"I have gained public speaking skills and leadership skills," he said. "It's helped me be responsible with my time management, too. My most memorable experience at ISU so far is when I attended Destination Iowa State as a leader and got to make new friends and have fun before school started."
After graduating from Iowa State, Hernandez plans to attend a PREP NIH program, a post-baccalaureate research education program with the National Institutes of Health, so he can gain more research and shadowing experience to further develop his competitive application for graduate and professional school.
"Don't be afraid to take on challenges," he said. "They are always fun to complete and it will give you a new perspective about yourself."
Published: August 4, 2020