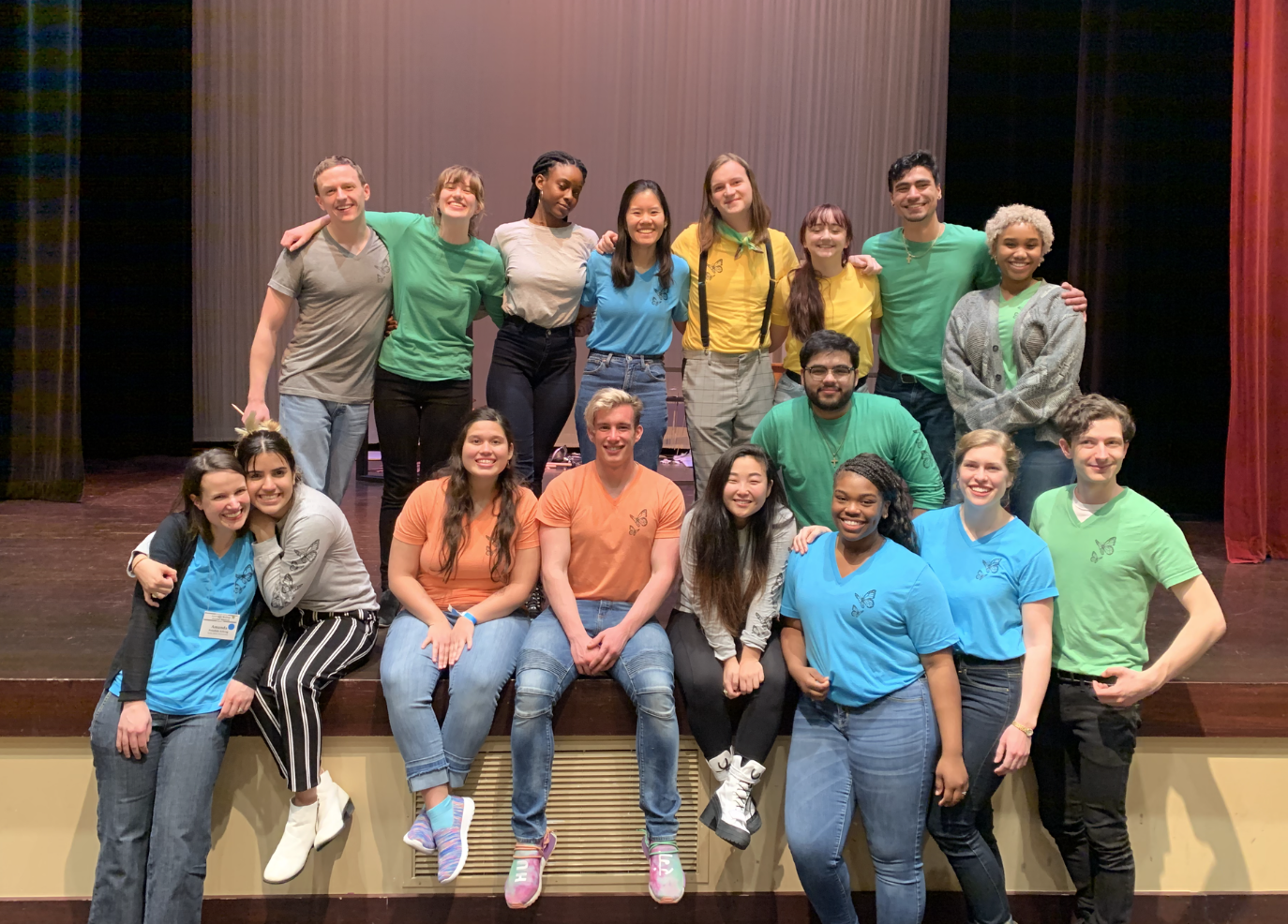 A collaborative, immigration-focused production devised by a company of ISU Theatre students and faculty has earned two major national awards.
The John F. Kennedy Center for the Performing Arts announced its national awardees of the Kennedy Center American College Theatre Festival (KCACTF) this week. ISU Theatre's production of "Iowa Odyssey or (How We Got to Here?)" was honored with the Citizen Artist Award and Distinguished Devised Production.
The Kennedy Center Citizen Artist Awards recognizes programs in higher education using theatrical production to promote long-term societal impact through the arts, to encourage empathetic exploration of the complex cultural and physical world, and to advocate for justice on campus and throughout the world.
"Iowa Odyssey," first performed at Iowa State in spring 2019, shared real-life stories that resulted from months of local research by Iowa State students. The production's student advance team interviewed Ames community members and ISU students, faculty and staff about their experiences of culture, identity and immigration. The team also conducted archival research on the history of immigration in Iowa.
It was the only production from the state of Iowa invited to perform at KCACTF's Region 5 festival, held in Sioux Falls, South Dakota, in January.
"We are so incredibly proud that this provocative, compelling and searingly resonant work has been recognized with such significant national honors," said Brad Dell, director of ISU Theatre. "'Iowa Odyssey,' with its intensely collaborative and decentralized creative process is a hallmark of the innovative, equitable and transformative work that ISU Theatre strives to produce!"
In a news release, KCACTF artistic director Gregg Henry emphasized the citizen artistry of this year's award winners.
"In this time of isolation, we are all examining the way forward as citizens, as friends, as loved ones, as both teachers and students, and as artistic collaborators who must face bigotry and racism's uncomfortable truths and, if nothing else, challenge our own professional ethics as artistic educators if we are to make our work with any semblance of integrity," Henry said. "It is in this context that I remember fondly the diverse range of work from these student artists that were showcased during the regional festivals. We are blessed by gifted students and teaching artists nationwide making a very real impact through the work, day in and day out, using the arts to amplify necessary conversations and encourage change."
KCACTF is a national organization affiliated with the Kennedy Center in Washington, D.C. The organization celebrates and encourages excellence in college and university theatre across the country. Region 5 includes colleges and universities in Iowa, Minnesota, North Dakota, South Dakota, Nebraska, Kansas and Missouri.
About ISU Theatre
As a part of the Iowa State University Department of Music and Theatre, ISU Theatre seeks to empower citizen artistry by engaging students and the community in transformative theatre and performing arts experiences which examine the human condition, encourage lifelong learning, teach artistic skills, prepare professionals, inspire empathy, explore creativity, build relationships and embrace diversity. ISU Theatre administers a major and minor in performing arts and produces multiple theatre and performing arts productions throughout the year featuring performers, designers and technicians from throughout the university.
The ISU Theatre CoLab Initiative seeks to foster collaboration and engagement between ISU Theatre and other groups both within ISU's campus and throughout the broader community to create citizen artistry, inspire and be inspired by meaningful public discourse and expand opportunities for ISU students, faculty and staff. The ISU Office of Diversity and Inclusion was the primary "Iowa Odyssey" CoLab partner.
Individuals with disabilities are encouraged to participate in ISU Theatre events. If you require a reasonable accommodation to do so, please contact ISU Theatre at least one week prior to the event at isutheatre@iastate.edu or 515.294.2624.
Published: July 8, 2020