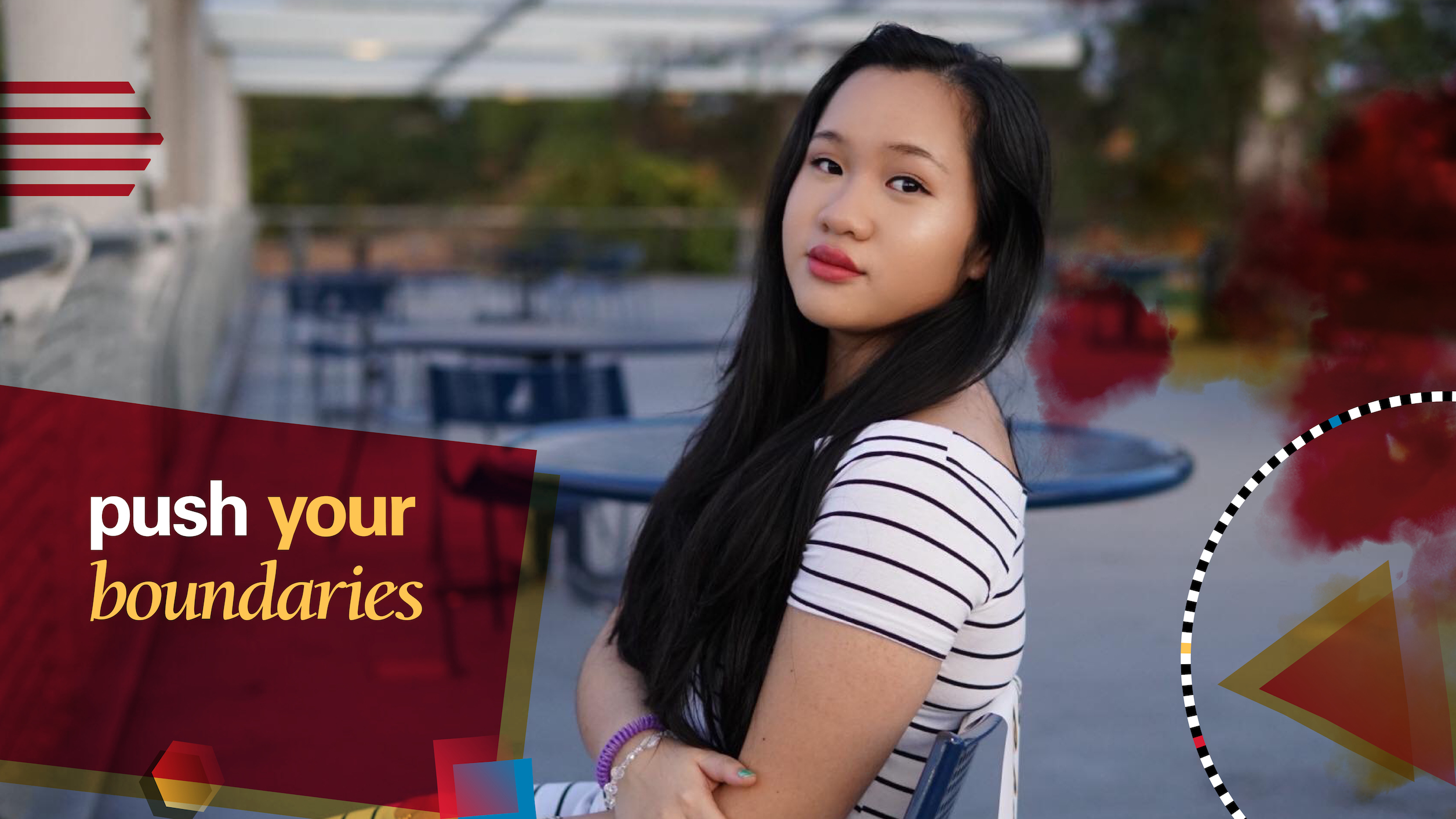 Not much intimidates Tracy Le. Her charismatic personality, vivacious laugh and broad smile exude confidence and determination. The junior computer science major from Altoona, Iowa, brought these traits with her to Iowa State University in the fall of 2018. And, like most freshmen about to embark on new adventures, Le experienced the typical first-year jitters. But those normal, anxious feelings were punctuated by the fact that Le was the first member of her immediate family to attend college.
"I was like a guinea pig because my parents didn't know what to expect, or what to do, or how campus life was," she said. "A lot of what they told me was cautionary–be safe, do your homework."
A brave new world
Armed with her spirited, can-do attitude, Le took a leap of faith and dove into her college career. But unlike other students, Le wasn't able to lean on her parents for guidance because these experiences were new for them, too.
"A lot of students can ask their parents, 'What are some crazy stories about being a student on campus?' They can get the low-down on what their parents did, or even advice about being a student on campus," Le said. "For me, my parents had never been on a university campus!"
Le knew if she was going to be successful at Iowa State, she needed to get involved with numerous clubs and organizations. After arriving on campus, she immediately became the social chair for Martin Hall and moved up to president her sophomore year. A naturally social person, Le also was the social chair for Freshmen Council. She joined numerous clubs, including the Computer Science and Engineering Club, Women in Science and Engineering (WiSE) and Digital Women. She also participated in the University Honors Program, where she worked in the computer language, Python, with Peng Wei, a former assistant professor of aerospace engineering, and his graduate assistant.
"Python was a language I wasn't super comfortable with but I wanted to push my boundaries as a student, and it involved interesting concepts like artificial intelligence, machine learning and search algorithms," she said. "As a freshman, I thought it was good to dip my hand in there and become exposed to it."
Called by computer science
Even as a young child, Le was fascinated by computers and technology. Around 8 years old, she recalls playing computer games on what would now be considered an archaic desktop computer with an operating system encased in a tall tower.
"I remember playing with those games as a kid and thinking wouldn't it be so cool to figure out how this works and how to program games," Le said.
Her knack for computers and technology continued to progress into high school. When she was a sophomore, Le asked her uncle, James Pham, a software engineer at Workiva in Ames, if she could job shadow him. He agreed, and the experience heightened Le's interest in potential computer science and data technology careers.
"It was really cool. I liked the vibe," she said. "As I got closer to senior year of high school, I started taking some programming classes for fun, and I really enjoyed those courses."
Support network
Through it all, Le's uncle James, an Iowa State alum who earned a bachelor's degree in computer science in 2001 and dual graduate degrees in information assurance and computer engineering in 2007, encouraged her to pursue a college degree.
"He really pushed me to pursue college and a comp sci degree, but I was super hesitant—What if this is too hard for me? What if I'm not meant for this? He said, 'You won't know until you try,'" Le said.
Pham is confident that Le's strong work ethic and determination will help her succeed at whatever career she chooses.
"I think she has a lot of potential and will go wherever her heart desires," Pham said. "She can do anything as long as she's content doing it."
Others have confidence in Le's abilities, too. Her numerous academic awards include Iowa State's prestigious George Washington Carver Scholarship and the Kingland Data Analytics Scholarship. She also recently received the Maria B. Thompson "Innovation Maven" Scholarship for Women in Computer Science. Le is honored to be recognized for these academic achievements.
"It's flattering because it makes me feel like my hard work has paid off and I'm not just bumming around doing homework for no reason," she said. "It's just nice to have my hard work and achievements be recognized and noticed."
Paying it forward
In addition to her many campus activities, Le also finds time to tutor students in the Computer Science Help Room, something she finds extremely rewarding. She especially enjoys mentoring women in computer science and other STEM majors, who regularly seek her advice about classes.
"I always tell girls who come in for advice to just believe in yourself. If computer science isn't your thing, listen to your gut," Le said. "That's why I wanted to be in the tutor room. It's been great."
Liese Vanderbroek, a secretary in the computer science department, is Le's supervisor in the tutor room. She said Le initially reached out to her because she was interested in helping others succeed. Vanderbroek is pleased with Le's ability to assist students.
"She excels in the classroom, is reliable, dependable, conscientious and communicates effectively," Vanderbroek said. "Her enthusiasm and energy shine, whether she is participating as a team member or providing one-on-one mentoring to clients."
Future plans
Le intends to complete her bachelor's degree in the spring of 2021, only three years after beginning her Iowa State adventure. This summer, she is interning as a software developer at Builder Trend, a construction software management company in Omaha, Nebraska. Graduate school is a real possibility for her as well. She has also considered tackling cybersecurity crooks for the FBI or becoming a game developer, a nod to her childhood fondness for computer games.
"In addition to her passion, energy, and drive to succeed, Tracy is unexpectedly modest about her abilities," Vanderbroek said. "There are times when she surprises herself with her achievements. Those of us who know her are never surprised."
This story was published in the 2020 issue of the Department of Computer Science magazine, Atanasoff Today.
Published: June 9, 2020