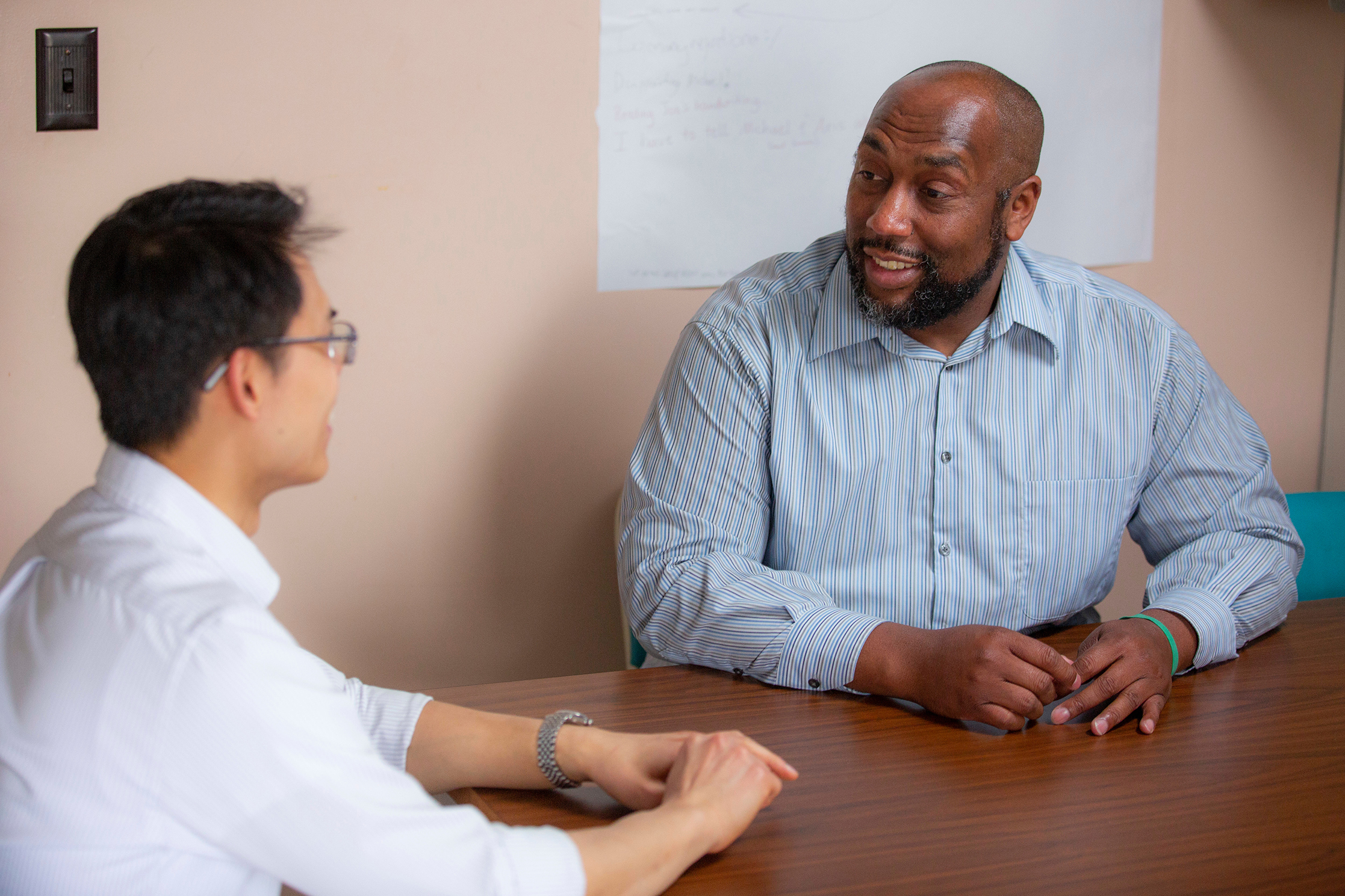 Michael Young, Scott Hanna Faculty Fellow and associate professor of mathematics, has been named to the Iowa Governor's STEM Advisory Council. Appointed by Governor Kim Reynolds, Young is one of 62 members who will work to advance STEM achievement throughout Iowa's schools and boost preK-12 engagement in science, technology, engineering and math.
The Council is comprised of Iowa industry leaders in higher education, business and nonprofit organizations, as well as officials from state and local government.
"Michael Young is a nationally recognized leader in mathematics advocacy for underrepresented collegians," said Jeff Weld, executive director of the Iowa Governor's STEM Advisory Council. "The Council is intent on broadening participation in STEM, especially when it comes to the foundationally critical, but too often restrictive, journey through mathematics. We're grateful that Michael accepted the Governor's appointment, and we look forward to his expertise informing our work."
"I have a lot of ideas," Young said. "I hope to take a lot of non-traditional, innovative and radical ideas to the state, so that we can be transformative and make an impact on as many students as possible."
This is Young's first year serving on the Council. In 2019, he advised the Council as a member of the North Central Regional STEM Advisory Board.
A logical fit
During his nine years in the Department of Mathematics, Young has carved out a legacy of achievement and success. He is an award-winning researcher and mathematician in the areas of combinatorics and graph theory. A thought leader and sought-after speaker on equity issues in math education—Young impacts a wide range of students—from the kindergarten classroom to Ph.D.-level programs.
"One of my goals in serving on the Governor's STEM Advisory Council is to use my experience as a math educator to ensure that teachers are put in a position to succeed with all students, no matter who the students are," said Young.
Young's expertise in discreet mathematics has resulted in three National Science Foundation (NSF) awards. He is also a co-principal investigator and key player in the math department's $1.5 million Research Training Group award.
In 2019, the NSF awarded him $1.5 million to research the experiences of women and minorities who are successful in Ph.D. mathematics programs. The findings could transform how graduate mathematics departments, across the United States, attract, retain and support underrepresented students.
In addition, Young has profoundly influenced the careers and lives of countless Iowa State students.
He co-developed a postbaccalaureate math program which has helped many undergraduate degree holders smoothly transition into the rigors of graduate mathematics. The majority of these students hail from underrepresented groups.
Young established an Iowa State Mathematics of Color Alliance (MOCA) chapter, which provides connection and support to students of color studying college mathematics. Every summer, Young teaches underserved populations at Carnegie Mellon's Summer Academy for Mathematics and Science.
"I'm honored to be appointed to the Governor's STEM Advisory Council and I look forward to serving and contributing," Young said. "It feels like a way that I can give back."
About the Iowa Governor's STEM Advisory Council
Established in July 2011 via Governor's Executive Order, the Iowa Governor's STEM Advisory Council is a public-private partnership of educators, companies and Iowa students and families addressing policies and programs designed to improve Iowa's educational system focused on science, technology, engineering and mathematics.
For more information on the Iowa Governor's STEM Advisory Council, visit https://iowastem.gov/
Published: February 12, 2020