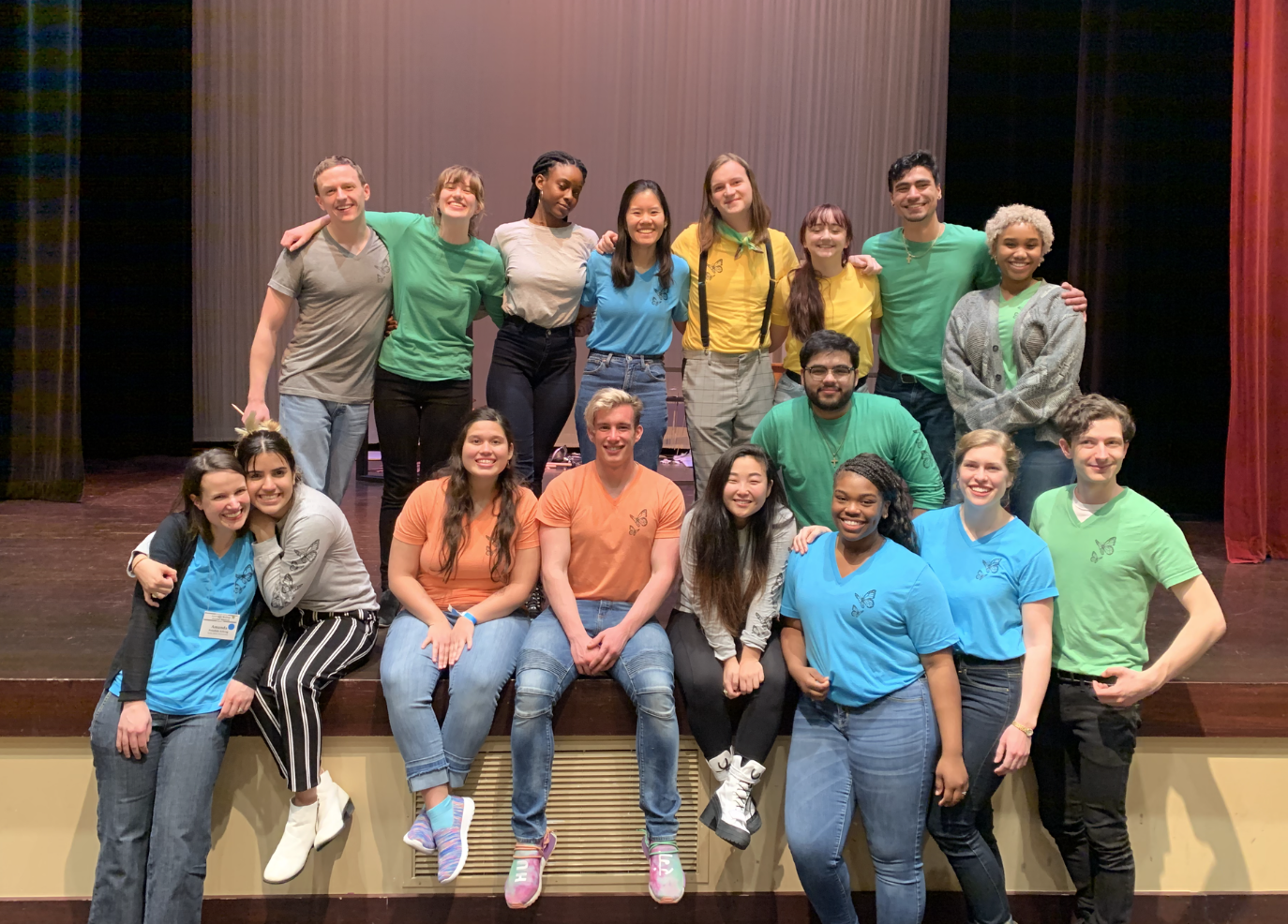 Bethmari Marquez Barreto ('20 performing arts) received first place in the Kennedy Center American College Theatre Festival (KCACTF) Region 5 ASPIRE Arts Leadership Fellowship awards. Marquez Barreto will represent Iowa State University this April as the top Region 5 student arts leader at the National Festival at the Kennedy Center in Washington, D.C.
Marquez Barreto was among more than 50 ISU students and faculty members who attended the Region 5 Festival, held in Sioux Falls, South Dakota, Jan. 19-25. More than 1,500 students and faculty from 89 colleges and universities in Iowa, Minnesota, Nebraska, North Dakota, South Dakota, Kansas and Missouri participated.
ISU Theatre also performed its originally devised production of "Iowa Odyssey (Or How We Got to Here)," one of only seven productions invited to be fully mounted at this year's festival.
ISU Theatre's other honors and highlights included:
Amanda Petefish-Schrag, assistant professor of theatre – 2020 Region 5 KCACTF/Association for Theatre in Higher Education Innovative Teaching Award
Sydni Lapsley ('21 performing arts) – semi-finalist for an original 10-minute play
Lapsley and Taylor Sklenar, an Iowa State graduate student in the MFA in Creative Writing and Environment program, were also awarded residencies at the prestigious William Inge Theatre Festival taking place this May in Independence, Kansas
Logan Benson, ('21 apparel merchandising and design) – Legacy Award for design in "Chasing George Washington: A White House Adventure" and costume feature in Region 5 Costume Parade
Lincoln Klopfenstein, ('21 music education) – Region 5 Musical Theatre Dance Intensive finalist
Marquez-Barreto and Roger Rivera ('21 advertising) – finalists in the Irene Ryan Acting Scholarship Auditions, one of the largest festival events with more than 600 participants
The following students and faculty also received KCACTF Certificates of Merit for their work on 2019 ISU Theatre productions:
Taylor Sklenar, dramaturgy, "Climate Change Theatre Action"
Alyson O'Hara, assistant director and choreography, "Climate Change Theatre Action"
Logan Benson, costume design, "Chasing George Washington: A White House Adventure"
Production team, ensemble storytelling, "Godspell"
Davis Vande Steeg, lighting design, "Godspell"
Brad Dell, direction, "Godspell"
Cast, crew and production team, overall production quality, "Sense and Sensibility"
Amanda Petefish-Schrag, facilitation of a devised work, "Iowa Odyssey"
Ensemble, "Iowa Odyssey," creation and performance of a devised work
KCACTF is a national organization of the Kennedy Center in Washington, D.C. The organization celebrates and encourages excellence in college and university theatre across the country.
KCACTF honors the excellence of overall productions and offers student artists individual recognition through awards and scholarships in playwriting, acting, criticism, directing and design.  Region 5's festival includes competitions, workshops and exhibitions in all areas of theatre, including acting, directing, playwriting, criticism, design, dramaturgy and technical theatre.
Brad Dell, associate professor of theatre and ISU Theatre director, is the immediate past chair of KCACTF Region 5 and the co-interim national vice-chair of KCACTF. Associate teaching professor Kelly Marie Schaefer serves as the Region 5 chair of design, technology and management.
ISU has hosted the festival four times previously, in 1999, 2007, 2011 and 2012.
Published: February 3, 2020