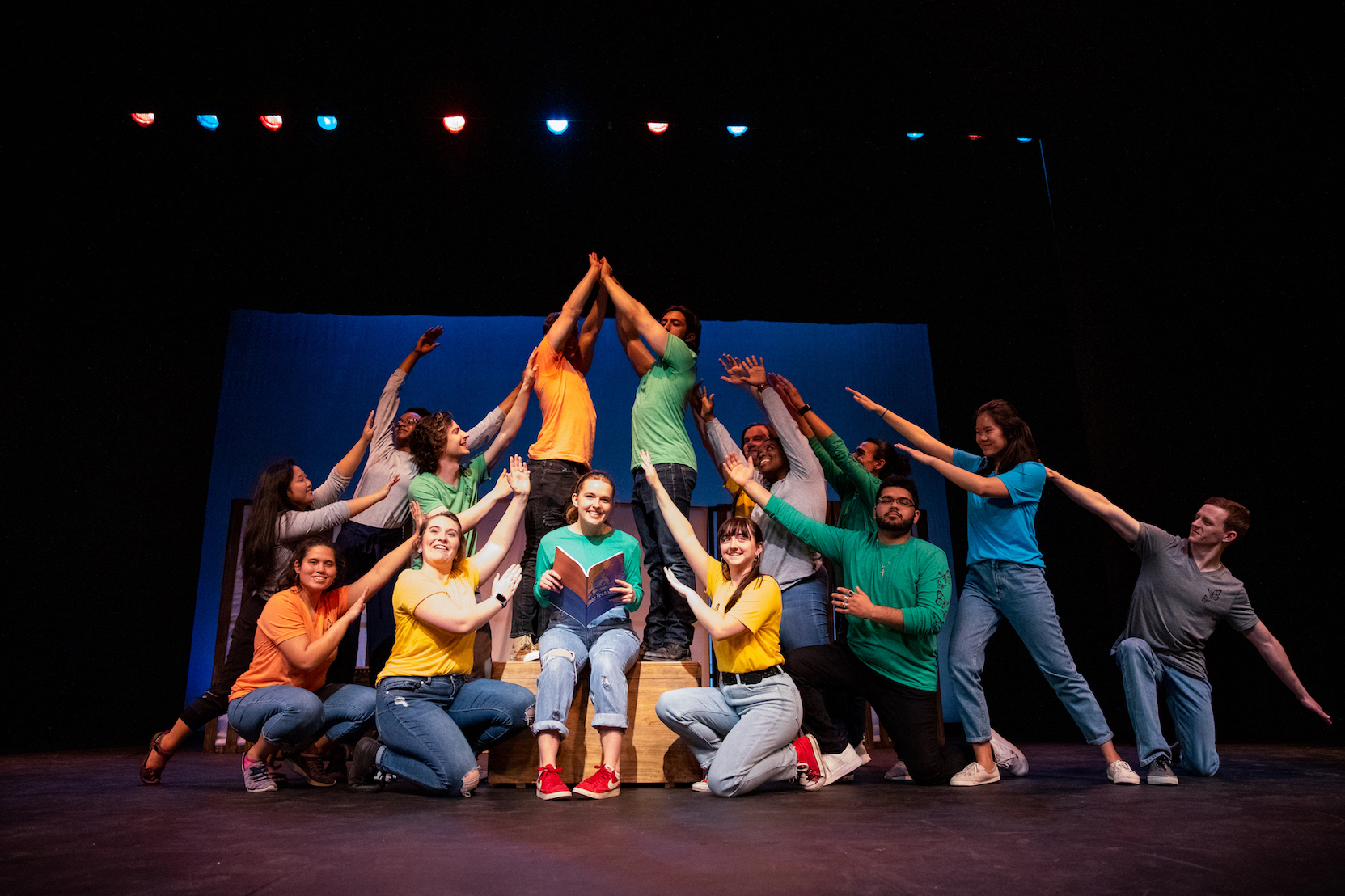 ISU Theatre's production of "Iowa Odyssey or (How We Got to Here?)" has been selected to perform at the Region 5 Kennedy Center American College Theatre Festival (KCACTF) in Sioux Falls, South Dakota on January 22. The show is the only production from the state of Iowa invited to perform at the regional festival.
A collaborative project devised by a company of ISU Theatre students and faculty, "Iowa Odyssey" explores local stories of immigration and the idea of what it means to create community.
"This is the story of 'us' – who we are as individuals, how our identities and histories shape not just ourselves, but the community we have been and will be," said Assistant Professor of Theatre Amanda Petefish-Schrag, the production's faculty coordinator. "Personally, this project has been transformational. It challenged me to rethink so much of the way I think and work as an artist and collaborator and what is possible with a group of committed community members who believe that they will be seen and heard."
The production will perform on Wednesday, January 22, at The Pavilion in downtown Sioux Falls for festival attendees and nationally recognized guest artists who will respond to all aspects of the production. "Iowa Odyssey" was first performed on Iowa State's campus in Spring 2019.
KCACTF is a national organization affiliated with the Kennedy Center in Washington, D.C. The organization celebrates and encourages excellence in college and university theatre across the country. Region 5 includes colleges and universities in Iowa, Minnesota, North Dakota, South Dakota, Nebraska, Kansas and Missouri.
"I am excited for everyone to see that this is more than just Iowa," said Roger Rivera, junior advertising major and a member of the production's advance team that helped coordinate the creation of the show. "This is our story, and 'our' means all of us on this planet."
Senior performing arts major Bethmari Marquez Barreto was also part of the show's advance team. She said the show's collaborators came together for many reasons.
"Everybody got to this odyssey by many different ways," she said. "Some of us were seeking answers, some others knowledge, and some others a sense of belonging. We wanted to know what 'here' meant, and how 'here' has shaped our different perspectives and helped create our unique stories."
As part of the preparation for the trip to KCACTF, an encore performance of "Iowa Odyssey" is scheduled at Fisher Theater on Saturday, January 18, at 7:00 pm.
"We are so excited to share 'Iowa Odyssey' with KCACTF," said Rob Delgado ('19 performing arts), an "Iowa Odyssey" advance team member. "When we started this project, we always knew that we wanted to make an impact and share our stories. This is a dream come true! I hope that anyone who may feel lost can find a piece of themselves represented in this show. You are never alone."
About ISU Theatre
As a part of the Iowa State University Department of Music and Theatre, ISU Theatre seeks to empower citizen artistry by engaging students and the community in transformative theatre and performing arts experiences which examine the human condition, encourage lifelong learning, teach artistic skills, prepare professionals, inspire empathy, explore creativity, build relationships and embrace diversity. ISU Theatre administers a major and minor in performing arts and produces multiple theatre and performing arts productions throughout the year featuring performers, designers and technicians from throughout the university.
The ISU Theatre CoLab Initiative seeks to foster collaboration and engagement between ISU Theatre and other groups both within ISU's campus and throughout the broader community to create citizen artistry, inspire and be inspired by meaningful public discourse and expand opportunities for ISU students, faculty and staff. The ISU Office of Diversity and Inclusion was the primary "Iowa Odyssey" CoLab partner.
Individuals with disabilities are encouraged to participate in ISU Theatre events. If you require a reasonable accommodation to do so, please contact ISU Theatre at least one week prior to the event at isutheatre@iastate.edu or 515.294.2624.
Published: January 6, 2020