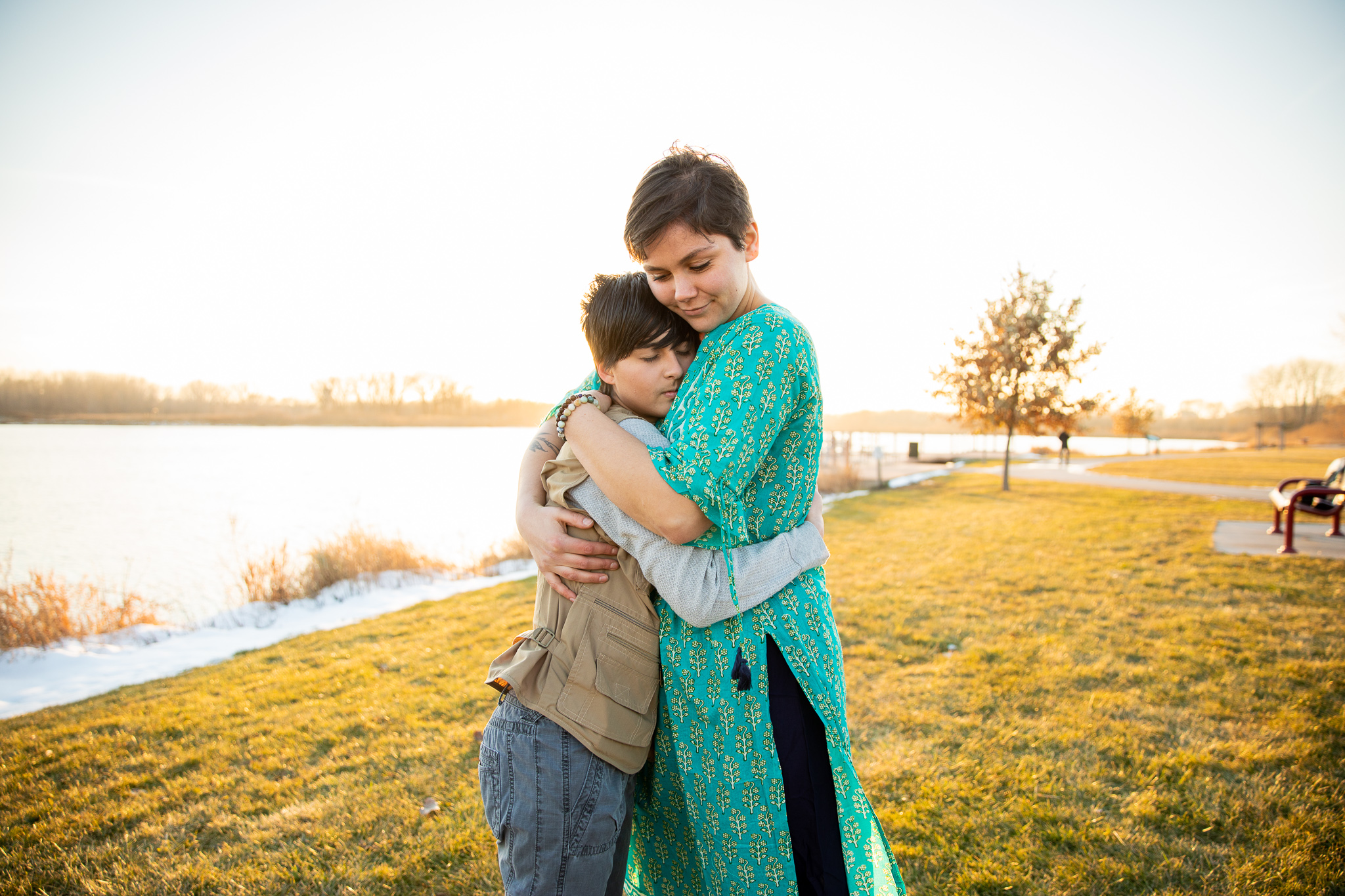 Refugees are the larger-than-life heroes in ISU Theatre's "Anon(ymous)"—a poetic and action-packed retelling of Homer's "The Odyssey." Opening on Dec. 6 at 7:30 p.m. in Fisher Theater, the classic Greek drama is reimagined as a young refugee's epic search for his family in the United States.
Arpita Mukherjee, artistic director of the New York-based Hypokrit Theatre Company, is guest directing the production as the College of Liberal Arts and Sciences (LAS) Dean's Artist-in-Residence.
"It's been a joy and privilege to be the LAS Dean's Artist-in-Residence," Mukherjee said. "ISU Theatre is cultivating the citizen artists of the future, with the key word being citizen. These young citizen artists are dynamic, fierce and bright. Collaborating with them, listening to them and learning from them has been an extraordinary experience and has fortified my belief that they are the answer to the great challenges we face today."
Written by playwright Naomi lizuka, "Anon(ymous)" follows the main character Anon on a desperate search for his mother, from vast oceans to urban realities. Along the way, he meets new friends and dangerous foes.
"In 2018, there were 70.8 million people that were forcefully displaced around the world—that's 37,000 people per day," Mukherjee said. "These stories are one of the most vital stories of the world and yet rarely seen on the American stage. Here, the refugees are the larger-than-life heroes, and we watch them not just survive, but thrive."
Olly Manning ('20 music, performing arts) has had to master physically demanding choreography of somersaults and fist fighting to play the role of Anon. Manning hopes that the show's exploration of refugee stories and xenophobia will ignite understanding and empathy.
"I hope audiences can see their experiences highlighted in this show, be it the refugee experiences, shared trauma, friendship or the sweet reminders of home," Manning said. "I hope that if the audience doesn't see a little bit of themselves in this show, they learn about what other people go through in America."
While "Anon(ymous)" represents the stories of immigrants, Manning emphasized that working with the production's diverse team has also been a powerful personal experience.
"Being cast as a lead as a transgender actor, especially as a trans actor of color, is something I never thought would happen to me," Manning said. "Representation is incredibly important for us, given that we're routinely erased, caricatured or replaced. I hope younger kids like us out in the community see that they can achieve their goals in the 'real' world."
Panel discussion with local educators, guest artists
ISU Theatre will present a panel discussion, "An Unending Odyssey: Immigration, Intersectionality, and the Arts," on Sunday, Dec. 8, at 3:00 p.m. in 004 Scheman Building. Community members are invited to enjoy refreshments and engage in a roundtable discussion with local, regional and national artists and scholars as part of ISU Theatre's year-long symposium series, "HERoic: Gender Equity in the Arts."
This event is co-sponsored by ISU's Women's and Gender Studies Program and the Center for Excellence in the Arts and Humanities.
Cast, creative team and performances
"Anon(ymous)" evening performances are Dec. 6, 7, 12, 13 and 14 at 7:30 p.m. A matinee performance will be held Dec. 8 at 1:00 p.m. All performances are in Fisher Theater.
Tickets ($20 for adults, $18 for seniors and $10 for students) are available through the Stephens Auditorium ticket office, Ticketmaster or the Fisher Theater box office prior to performances.
The cast includes:
Nemasani – Anika Slowing Romero
Anon – Olly Manning
Yuri Mackus/Barfly/Ensemble – Sam Huhn
Senator Laius/Mr. Zyclo/Nice American Father/Ensemble – Samuel Elliott-Rude
Helen Laius/Zyclo's Pet Bird/Nice American Mother/Ensemble – Morgan Mulford
Calista/Sewing Lady #3/Nice American Daughter/Ensemble – Jessica Fenton
Naja/Ensemble – Bethmari Marquez Barreto
Ali/Proteus/Ignacio/Ensemble – Jamal Johnson
Nasreen/Sewing Lady #2/Belen/Ensemble – Nicole Foldi Martinez
Ritu/Sewing Lady #1/Serza/Ensemble – Tiffany Liechty
Pascal/Ensemble – Al Moore
Strygal/Barfly/Ensemble – Kai Cravens
The creative team includes:
Director – Arpita Mukherjee
Scenic Designer – Rob Sunderman
Costume Designer – Doris Nash
Stage Manager – Sydni Lapsley
Assistant Stage Manager – Andy Funke
Lighting Designer – Will Coeur
Assistant to the Scenic Designer – Courtney Sabotta
Sound Designer – Will Coeur
Fight Choreographer – Brandon Brockshus
Individuals with disabilities are encouraged to participate in all ISU Theatre events. If you require a reasonable accommodation to do so, please contact ISU Theatre at least one week prior to the event. 
For more information, visit www.theatre.iastate.edu, email isutheatre@iastate.edu or call 515-294-2624. ISU Theatre is funded by ISU Student Government and supported by the Transforming Liberal Arts and Sciences Endowment.
About ISU Theatre
As a part of the Iowa State University Department of Music and Theatre, ISU Theatre seeks to empower citizen artistry by engaging students and the community in transformative theatre and performing arts experiences which examine the human condition, encourage lifelong learning, teach artistic skills, prepare professionals, inspire empathy, explore creativity, build relationships and embrace diversity. ISU Theatre administers a major and minor in performing arts and produces multiple theatre and performing arts productions throughout the year featuring performers, designers and technicians from throughout the university.
The ISU Theatre CoLab Initiative seeks to foster collaboration and engagement between ISU Theatre and other groups both within ISU's campus and throughout the broader community to create citizen artistry, inspire and be inspired by meaningful public discourse and expand opportunities for ISU students, faculty and staff.
For more information, visit www.music.iastate.edu/how-get-involved-theatre-and-performing-arts.
Published: November 21, 2019