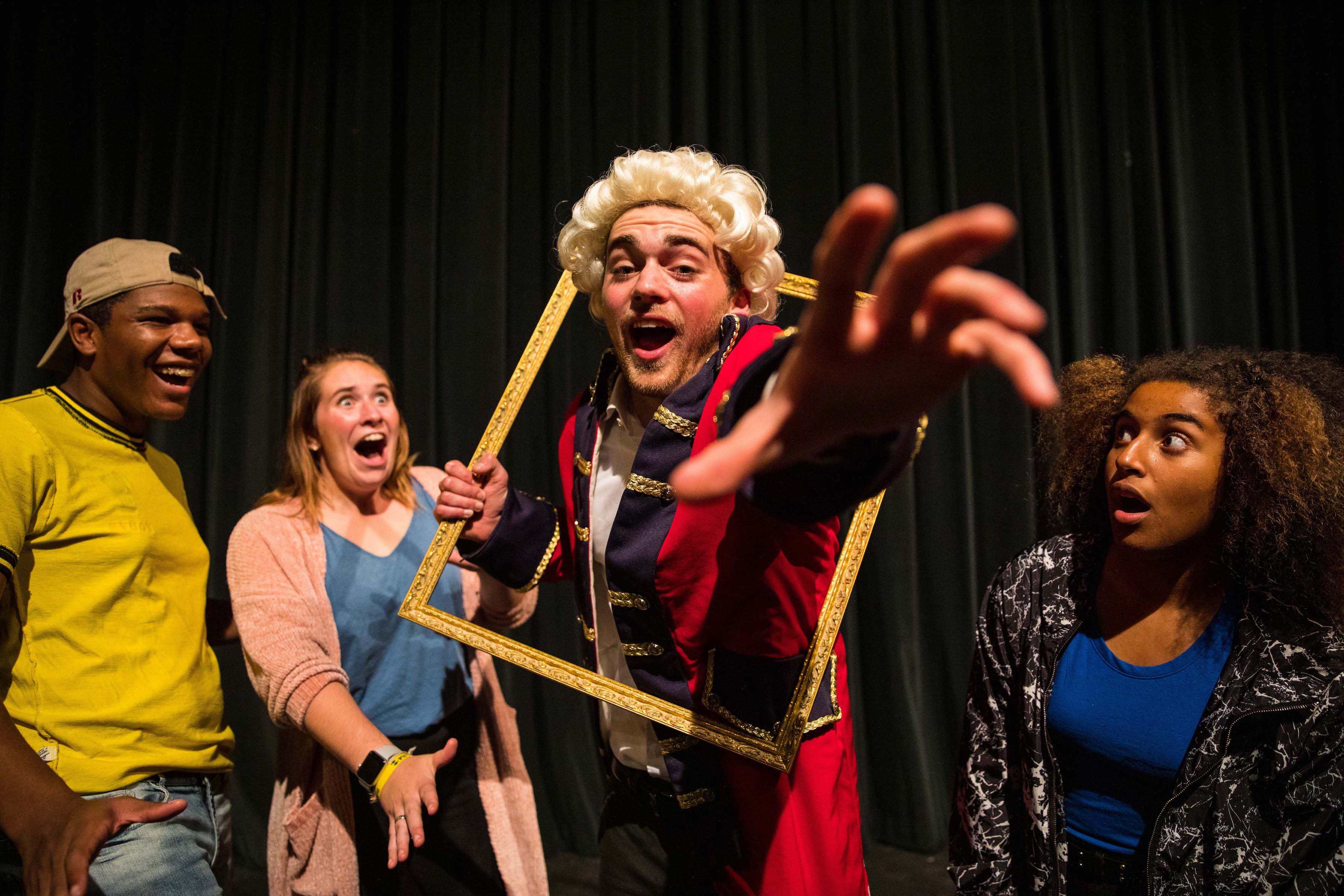 When ISU Theatre's zany, family-friendly musical "Chasing George Washington: A White House Adventure" opens on Friday, Oct. 25 at Fisher Theater, expect a madcap trip through American history.
"Think of it as a mash-up of 'Hamilton,' 'Bill and Ted's Excellent Adventure' and 'Night at the Museum,'" said Brad Dell, director of ISU Theatre and the production's director. "This musical shares an inspiring message with a side of utter silliness."
Based on the children's book "Chasing George Washington," the musical opens with a group of diverse students on a White House field trip. When they bump into George Washington's portrait, America's most famous founding father falls out of his frame. He then takes the students on a wild-paced trip back through time to discover who belongs in the real portrait of America.
"The musical is about finding out if you belong here," Dell said. "It's about discovering, celebrating and embracing the beautiful diversity of America in places it hasn't always been recognized. It puts a spotlight on the power of the individual, and particularly young people, to make a difference."
With contemporary music styles—including a Hamilton-esque hip-hop number—a deconstructed White House and bright, eye-catching costumes, Dell said the production will provide fun intergenerational entertainment.
"In this show, you can expect to meet figures such as President Abraham Lincoln and first lady Jackie Kennedy Onassis," Dell said. "This will be great entertainment for your whole family, especially those with students in elementary school, middle school or high school."
The production's creative team also includes two alumnae guest artists—Kiah Kayser ('14 performing arts) as set designer and Olivia Griffith ('19 performing arts, music) as music director. Libby Peterson ('20 performing arts) is the show's choreographer.
Panel discussion with local educators, guest artists
"Chasing George Washington: A White House Adventure" is part of ISU Theatre's 2019-20 "HERoic" season, featuring plays and musicals written by women. A full list of events is available at theatre.iastate.edu.
ISU Theatre will present a panel discussion, "All Created Equal: Teaching Equity, Diversity and Inclusion" on Sunday, Oct. 27, at 2:30 p.m. in the Scheman Building, Room 004. Community members are invited to engage with scholars and educators on issues of youth and diversity.
This event is co-sponsored by ISU's Women's and Gender Studies Program and the Center for Excellence in the Arts and Humanities.
Cast, creative team and performances
"Chasing George Washington" evening performances are Oct. 25, 26 and 31, and Nov. 1 and 2 at 7:30 p.m. A matinee performance will be held Oct. 27 at 1:00 p.m. All performances are in Fisher Theatre.
Tickets ($20 for adults, $18 for seniors, $10 for students and $5 for youth 17 and under) are available through the Stephens Auditorium ticket office, Ticketmaster or the Fisher Theater box office prior to performances.
The cast includes:
Dee – E'mma Camara
Annie – Abbigail Markus
José – Keith Norman
George Washington – Nicolas Ronkar
Ms. Letter – Morgan Reetz
Guard – Calvin Clark
Jackie Kennedy/Ensemble – Morgan Wolfe
Dolley Madison/Ensemble – Jill Riker
Mary Todd Lincoln/Ensemble – Jaclyn Stiller
Lincoln/Ensemble – Liam McDermott
Van Buren/Ensemble – Mayfield Coenen
The creative team includes:
Director – Brad Dell
Scenic Designer – Kiah Kayser
Costume Designer – Logan Benson
Musical Director – Olivia Griffith
Choreographer – Libby Peterson
Sound Engineer – Josh Jepson
Stage Manager – Margaret Smith
Lighting Designer – Thomas Mack
Assistant Stage Manager – Logan Roling
Assistant Director – Libby Peterson
Props Designer – Amy Taylor
Individuals with disabilities are encouraged to participate in all ISU Theatre events. If you require a reasonable accommodation to do so, please contact ISU Theatre at least one week prior to the event.
For more information, visit www.theatre.iastate.edu, email isutheatre@iastate.edu or call 515-294-2624. ISU Theatre is funded by ISU Student Government and supported by the Transforming Liberal Arts and Sciences Endowment.
About ISU Theatre 
As a part of the Iowa State University Department of Music and Theatre, ISU Theatre seeks to empower citizen artistry by engaging students and the community in transformative theatre and performing arts experiences which examine the human condition, encourage lifelong learning, teach artistic skills, prepare professionals, inspire empathy, explore creativity, build relationships and embrace diversity. ISU Theatre administers a major and minor in performing arts and produces multiple theatre and performing arts productions throughout the year featuring performers, designers and technicians from throughout the university.
The ISU Theatre CoLab Initiative seeks to foster collaboration and engagement between ISU Theatre and other groups both within ISU's campus and throughout the broader community to create citizen artistry, inspire and be inspired by meaningful public discourse and expand opportunities for ISU students, faculty and staff.
Published: October 16, 2019