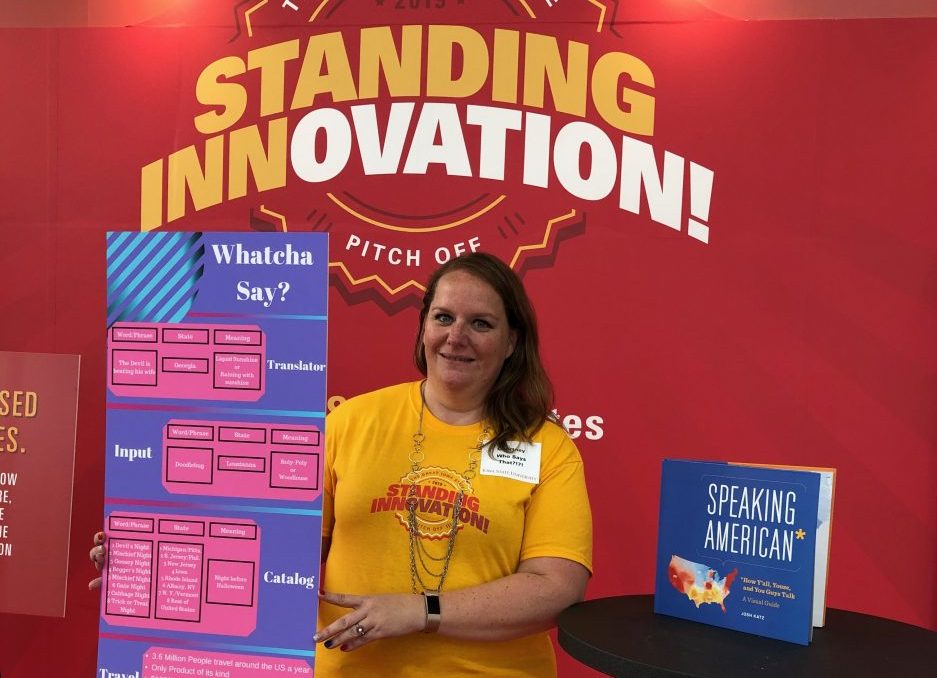 Students in the College of Liberal Arts and Sciences flexed their innovative and entrepreneurial muscles during Iowa State University's Standing Innovation pitch competition at the Iowa State Fair on Aug. 10 and Aug. 12, 2019.
Saturday, Aug. 10 was designated "LAS Day" at the fair, and twelve LAS students delivered a pitch, 90 seconds to five minutes long, to fairgoers, about an innovative and entrepreneurial idea. Students competed for an opportunity to advance to the semi-finals and a chance to ultimately win a $5,000 prize.
The pitches ran the gamut in subject, from using artificial intelligence to automate data and processing in the pharmaceuticals industry to a mental health screening tool for young children. LAS students who participated in the pitch competition and a summary of their topic include:
Andrew Fogelis, political science – A delivery method for solar energy.
Anthony Catinella, public relations and marketing – Mental health education for children.
Anthony Chavez, political science – Technology-based method of analyzing moral dilemmas in the legislative system.
Courtney Reeves, English – An app to help people understand local dialects.
Dillon Jensen, computer science – Cloud technology to help craft brewers monitor and enhance operations.
Massoud Nosrati, computer science – Database system to accommodate machine learning.
Rangeet Pan, computer science – Data analytics visualization tool for data repositories.
Sabrina Ash, psychology – Training program to combat desensitization to violence.
Taea Bonner, criminal justice, sociology – Evaluation of young children for signs of abuse.
Vivian Cook, performing arts, French – Collaborative performance model to help science communication.
Denis Tamiev, biochemistry – Artificial intelligence tools to automate counting and quality assurance.
Hamid Bagheri, computer science – Data quality assurance through machine learning.
Olivia Hanson, journalism and apparel, merchandising and design; and Philippe Meister, English, competed on Aug. 12. Hanson's pitch entailed a show on campus that would promote entrepreneurship and Meister pitched a professional development platform.
Seven LAS students advanced to the semi-final round and one student, Dillon Jensen, secured a $1,000 honorable mention award.
Published: August 26, 2019