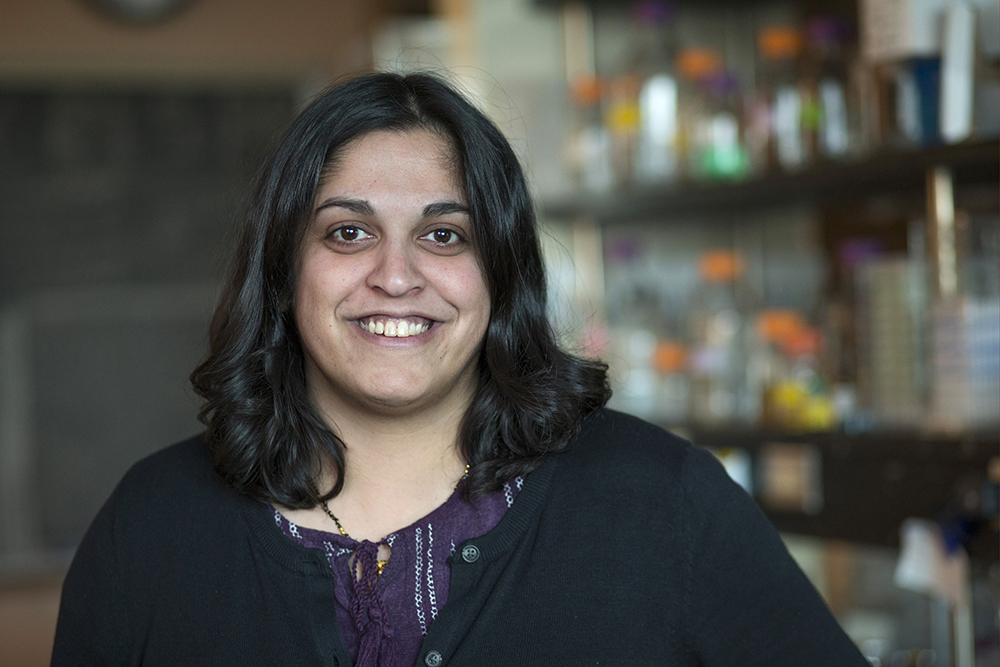 Dipali Sashital is passionate about her research uncovering the molecular makeup of bacterial immune systems. She also thrives on instilling a love of biochemistry in undergraduate and graduate students. Her dedication to both recently paid off.
Sashital, assistant professor in the Roy J. Carver Department of Biochemistry, Biophysics and Molecular Biology in the College of Liberal Arts and Sciences at Iowa State University, is a recipient of the 2019 Camille Dreyfus Teacher-Scholar Award. She is one of 13 teacher-scholars nationwide selected to receive this prestigious honor.
The Camille Dreyfus Teacher-Scholar Awards Program supports the research and teaching careers of outstanding young faculty in the chemical sciences, providing them with discretionary funds in the early stages of their careers. A panel of distinguished chemical scientists, under the direction of The Camille and Henry Dreyfus Foundation, selected this year's recipients for their early scholarship achievements and commitment to teaching. The program provides each awardee with a $100,000 unrestricted research grant.
"It is really wonderful to be recognized for both research and teaching, which are certainly the two parts of my job that I love the most," Sashital said.
Researching bacterial immunity
The Dreyfus Foundation honored Sashital for defining the chemical components of memory formation in CRISPR-Cas immune systems. CRISPR-Cas systems have been adapted as a powerful technology that allow scientists to alter the genes of any organism. These tools were originally derived from highly sophisticated immune systems, which have the ability to record memories of harmful bacteria in their DNA, providing defenses against a future attack of the same bacteria.
"Our lab has made important contributions to deciphering the mechanisms of this memory formation during the past few years," Sashital said. "In particular, we discovered the Cas4-Cas1-Cas2 protein complex, which is required for selecting short pieces of DNA from invading pathogens and inserting them into the bacterial genome to create the memory. The grant money provided by the Dreyfus Foundation will allow us to define the chemistry of how this process works."
Teaching with enthusiasm
Sashital's love of biochemistry goes well beyond her research accomplishments. She also is passionate about teaching and mentoring students.
"My main teaching philosophy is that enthusiasm is infectious," Sashital said. "I love biochemistry, and my hope is that students will come away from my course also loving biochemistry."
She excels at teaching in the laboratory as well, mentoring students on becoming excellent scientists – from formulating hypotheses, to interpreting data, to critically evaluating literature.
"As a mentor, there is nothing more satisfying than watching a new student blossom into a full-fledged scientist," Sashital said
The Camille Dreyfus Teacher-Scholar Award will allow Sashital to continue inspiring future biochemists while she works to uncover more molecular mysteries.
Published: July 19, 2019