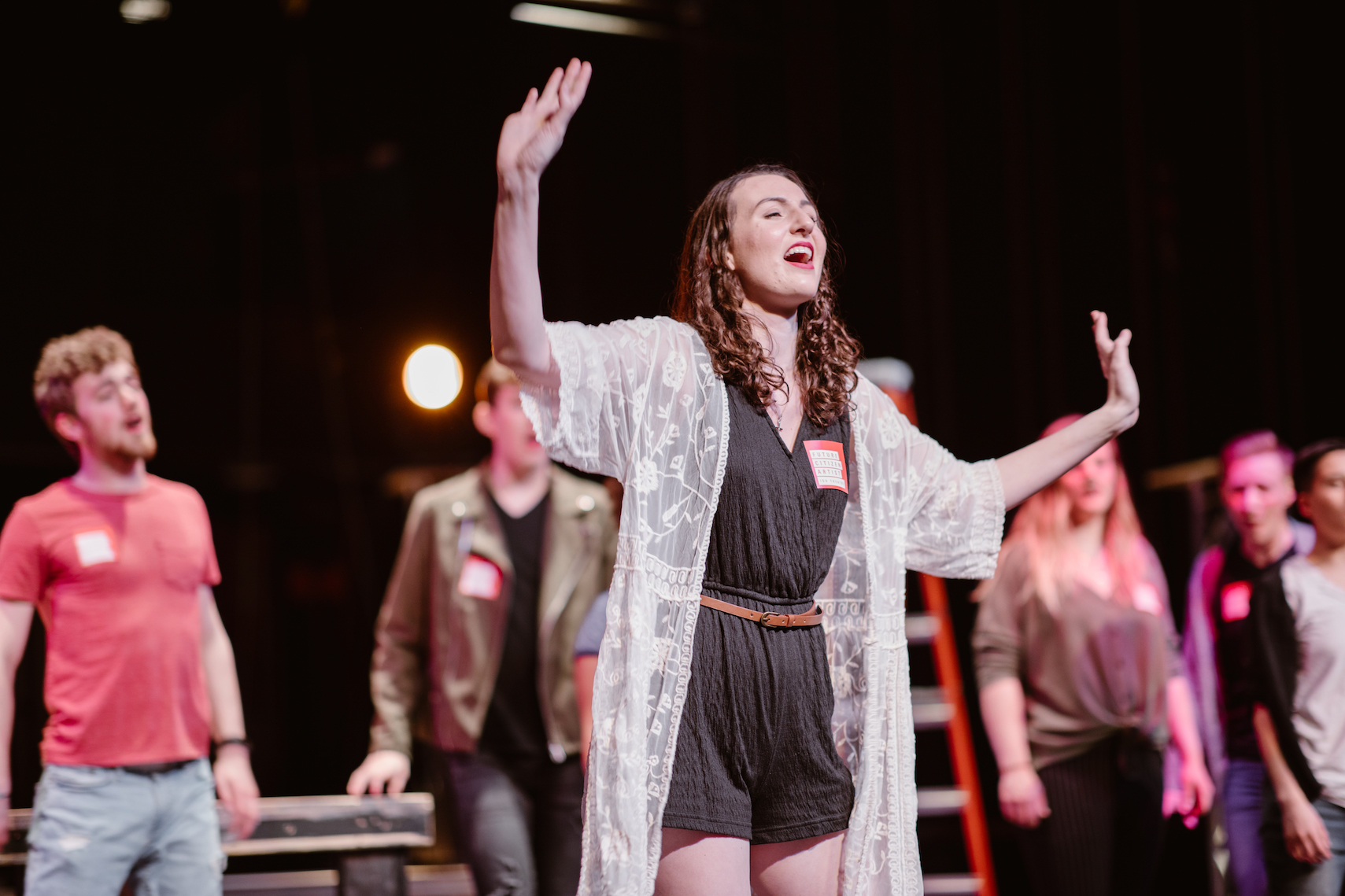 ISU Extension and Outreach 4-H will host its first theatre camp for students grades 8 – 12 from June 9 – 14. The Performing Arts Passport camp, created in collaboration with ISU Theatre, will immerse students in storytelling and devised theatre.
ISU Theatre alumna Abby Luchsinger ('19 interdisciplinary design), an AmeriCorps service member with Extension, is leading the new camp. Both Extension and ISU Theatre were interested in responding to requests for more theatre programming, Luchsinger said.
"This camp has so many different areas where people can connect," Luchsinger said. "Maybe it will be in a playwriting analysis or musical theatre dance class. I'm excited to see the students realize that they each have something unique to contribute."
"ISU Theatre is thrilled to partner on Performing Arts Passport," Brad Dell, director of ISU Theatre, said. "Abby Luchsinger is a tremendously motivated and ambitious leader who has assembled an all-star group of talented and compassionate students and alumni. It is exciting to see these inspiring citizen artists synthesize what they have learned from ISU Theatre and share their passions and talents with the youth of Iowa."
During the week-long summer camp, high schoolers will be mentored by eight workshop leaders who are all Iowa State students or alumni from the performing arts, music and design programs. The workshops include musical theatre, dance, stage management, character work, script analysis and more.
On Friday, June 14, the campers will conclude their week by performing devised theatre pieces on the campus lawn outside Parks Library. Devised theatre is a collaborative experience that uses performers' unique skills and interests to create one-of-a-kind performances.
"The cool thing about devised theatre is the campers get to decide what the show is, based on the stories they want to tell," Luchsinger said. "It's exciting because they will be coming from different areas around Iowa with different interests."
While at Iowa State, Luchsinger found ways to blend her own unique interests through an interdisciplinary design degree focused on project management, building strong design teams and designing digital and print content that engages communities. ISU Theatre gave her practical ways to apply those skills through directing and stage management.
"The arts have always been important to me," she said. "Combining theatre and design and 4-H was an incredible way to connect the dots."
Luchsinger hopes the camp inspires high school students with a new perspective on theatre.
"The point of the camp is to teach them that theatre can be done anywhere and with any resources," Luchsinger said. "They may not have an established school theatre program, but the goal is for them to have the confidence to go back to their communities and say, 'This is a collaborative, fun way to tell people's stories, and we can lead it.'"
Registration is open at https://www.extension.iastate.edu/4h/. Participants do not have to be in 4-H to attend. Questions may be directed to Clark Colby, arts, communication and design program specialist with Extension and lecturer in the art and visual culture department.
Published: May 31, 2019