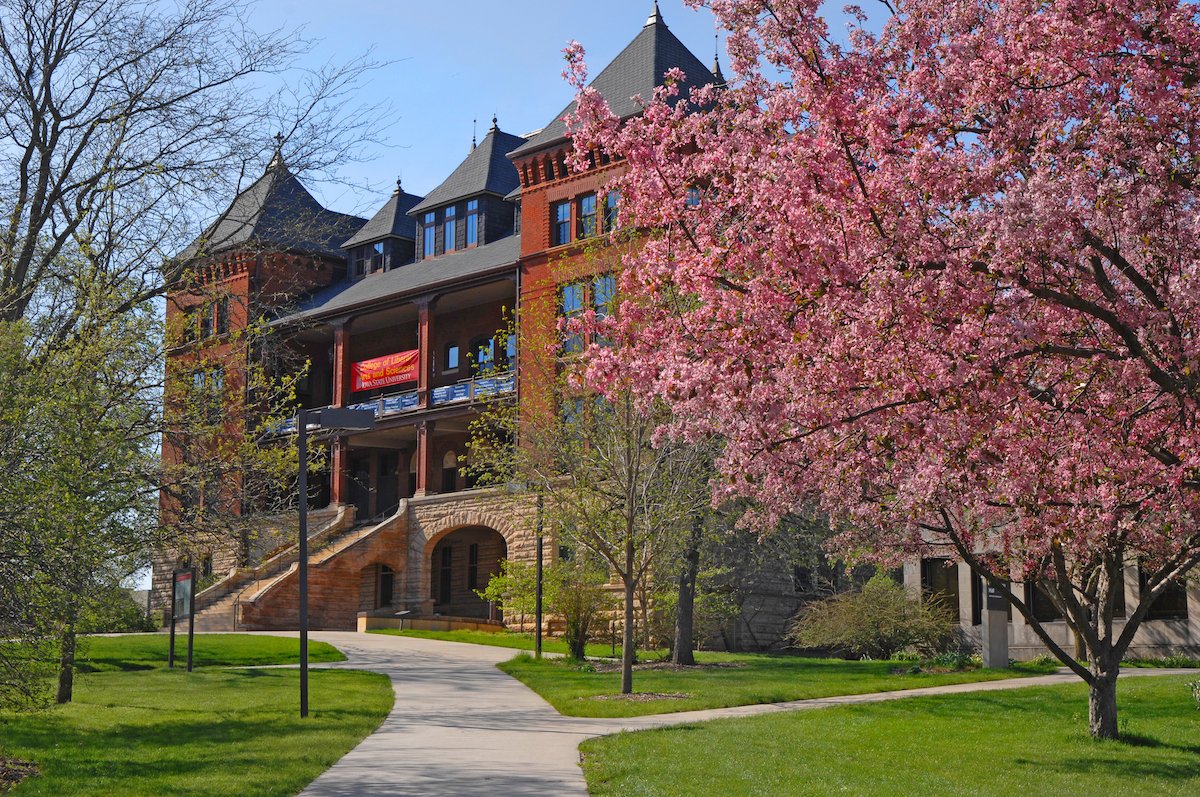 Four faculty members in the College of Liberal Arts and Sciences (LAS) have been honored with an LAS Dean's Professorship, one of the college's newest and most prestigious opportunities to recognize faculty excellence.
Brent Kreider, professor of economics; Matthew Sivils, professor of English; Amy Erica Smith, associate professor of political science and Zhengyuan Zhu, professor of statistics were selected for the honor. Each professorship is a multi-year award.
Brent Kreider
Kreider's primary research areas are public economics, applied econometrics, health economics, and labor economics. He works on complex problems related to inference from imperfect or "noisy" data. This expertise is particularly valuable when analyzing data from participants in government programs such as disability services or food stamp assistance.
"The LAS Dean's Professorship is a great honor, and I am so pleased to integrate my passion and the donor's passion for data science," said Kreider. "I'll do my best to use the generous funds in ways that benefit our graduate program as a whole. For starters, these resources will allow the department to recruit an additional Ph.D. student next year."
Kreider and his co-authors have developed statistical techniques that allow researchers to more precisely detect errors in data, allowing for sharper estimates of the effects of policies and improving the quality of inference.
Matthew Sivils
Sivils is a nationally recognized authority in American literature, American Gothic literature, and how they relate to environmental studies. In the last seven years, Sivils has published five books: a monograph, American Environmental Fiction, 1782–1847; an edited collection, Ecogothic in Nineteenth-Century American Literature; editions of Paul Errington's Of Men and Marshes, a seminal work of modern environmentalism; Of Wilderness and Wolves; and an edition of The Autobiography of a Pocket Handkerchief, by James Fenimore Cooper, one of the most influential American authors of the nineteenth century.
"The considerable financial support that comes with this LAS Dean's Professorship will be transformative," said Sivils. "It will help me to conduct my research in ways that simultaneously broaden its depth and extend its reach. This honor marks the beginning of an exciting new phase of my professional life, and I am deeply grateful to the donors for this opportunity."
Sivils' research and teaching connects literature with environmental stewardship, awareness and conservation.
Amy Erica Smith
Smith has been recognized for her accomplishments in several subfields – women and politics, religion and politics, public opinion and Latin America. Her research explores how citizens around the world interact with and shape their democratic and authoritarian regimes, mobilized by civic and religious groups and ideas. Regionally, her primary expertise is in Latin America, and particularly Brazil.
"I'm both deeply honored and excited to receive this professorship," said Smith. "The funding will go to great use in my new project, which relates to how religious groups in different places in the world interpret and respond to climate change. Among other things, the money will help fund research conducted in Brazil, Kenya, and other countries. The professorship is a vote of confidence in this work, which is gratifying."
In addition to publishing two books and extensive articles, she lends her expertise via blog in Vox Mischiefs of Faction and Religion in Public, which often gets picked up by media outlets such as "The New York Times."
Zhengyuan Zhu
Zhu is the director of the Center for Survey Statistics and Methodology. His expertise is extremely broad, including spatial statistics, survey statistics, time series analysis, and multivariate analysis. He is also involved in optimal design for correlated observations, anomaly detection for correlated observations, spatio-temporal models, long range dependent processes, applications in environmental statistics, natural resource survey, agricultural statistics, biostatistics, astrostatistics, transportation statistics and Internet traffic modeling.
"The Dean's Professorship award gives me more freedom and resources to pursue high-risk, high-reward research — which has large potential impact," said Zhu.
The professorships are the result of Transforming LAS, an endowment fund created when two generous donors gifted proceeds from the sale of a company to the college. Honorees will be recognized during a formal ceremony at a later date.
Published: May 7, 2019