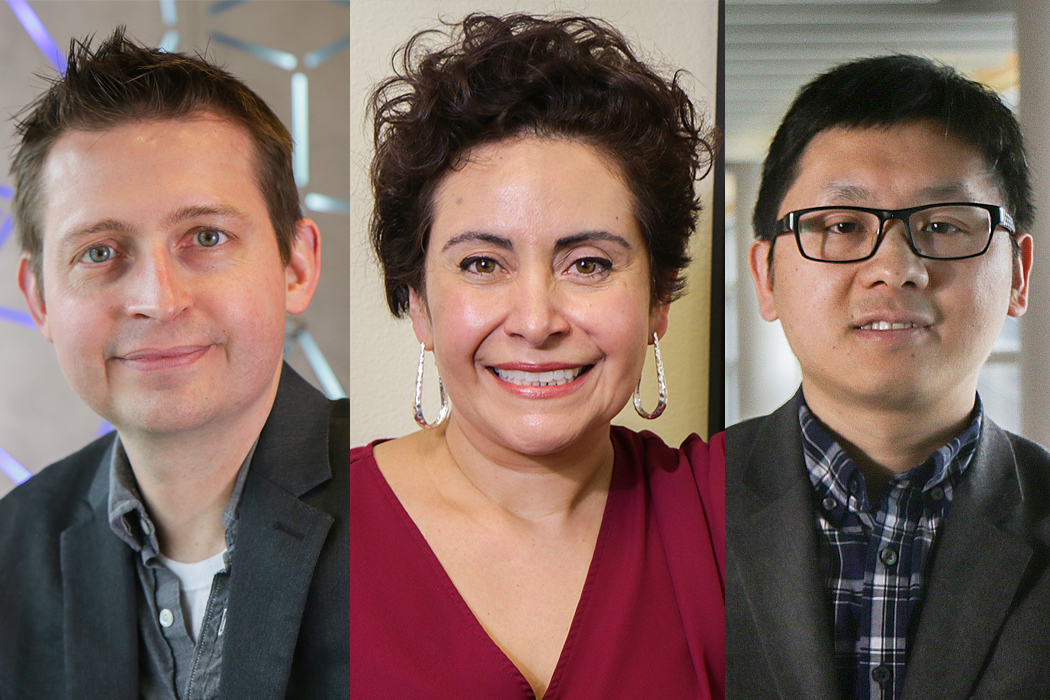 Jared Anderson, professor of chemistry, Elisa Rizo, associate professor of Spanish, and Yuyu Zhou, assistant professor of geological and atmospheric sciences, were selected as the 2019 recipients of the College of Liberal Arts and Science's (LAS) Dean's Emerging Faculty Leaders award.
The awards are funded by generous donations from members of the LAS Dean's Advisory Council and other friends of the college. The awards support faculty who are standouts in their fields who will shape policy, define future research directions for the nation, serve in prominent leadership roles, and mentor the next generation of talented students.
Jared Anderson is one of most visible young leaders in the area of analytical and bioanalytical chemistry. Research within the Anderson Lab focuses on areas of separation science and sample preparation. He is specifically interested in employing and understanding the role that ionic liquids (salts in the liquid state), and specifically polymeric ionic liquids play in chromatographic separations and sample preparation. Research from the lab can be applied to pharmaceuticals, food safety, health and other areas.
Anderson was a recipient of an NSF CAREER Award, LCGC Magazine's Emerging Leader in Chromatography Award, and the American Chemical Society Young Investigator in Separation Science Award. In 2014, he was included in the "Top 40 under 40" Power List by Analytical Scientist Magazine. In 2016, he was awarded the Pittsburgh Conference Achievement Award.
Elisa Rizo, recipient of the Cassling Outstanding Achievement in Teaching Award in 2016, is arguably the world's leading expert on contemporary literature in Equatorial Guinea, the only Spanish-speaking country in Africa, and governed by authoritarian regimes that have ruled the nation since its independence from Spain in 1968.
Rizo has demonstrated that playwrights, theater directors, and actors have emerged as forces as they stage works meant to provide commentary on the social, political, and economic state of their homeland. Her work shows that these dramatists have used their unique position to facilitate dialogue and to give voice to a large sector of the population.
Yuyu Zhou's research interests lie in the applications of geospatial technologies including remote sensing, GIS, geovisualization, spatial analytic tools, and integrated assessment modeling to understanding the problems of global environmental change (due to factors such as urbanization, urban heat island, ecosystem phenology, energy supply and demand, and greenhouse gas emissions) and their potential solutions.
His research focus continues in quantifying spatiotemporal patterns of environmental change and developing modeling mechanisms to bridge the driving forces and consequences of environmental change so that the impacts of human activities on environment can be effectively measured, modeled, and evaluated. His research is supported by several NASA awards, the US Department of Energy, and the National Science Foundation.
The awards help fund resources that are not typically covered by research grants or other traditional funding.
Published: April 17, 2019