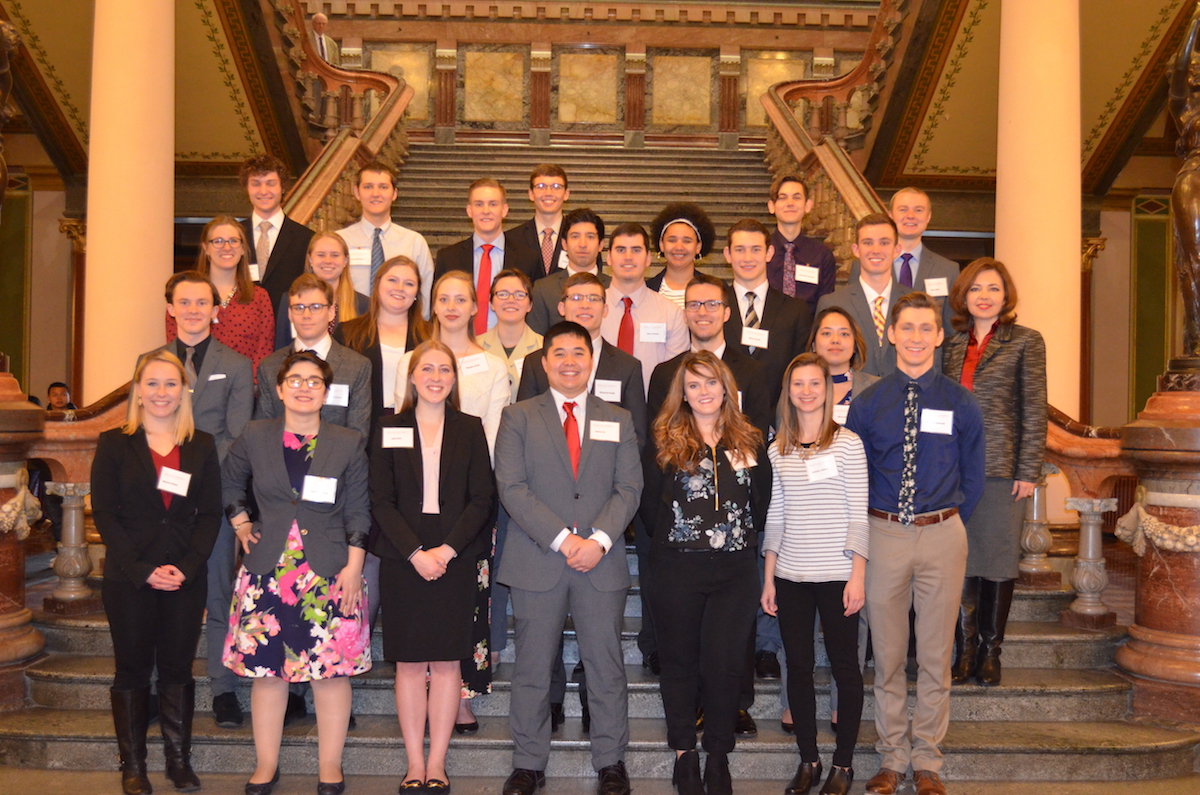 Eleven Iowa State undergraduate students from the College of Liberal Arts and Sciences College (LAS) showcased their research at the Iowa State Capitol on Monday, March 14.
Held in the State Capitol rotunda in Des Moines, Research in the Capitol celebrated and spotlighted outstanding undergraduate research from across the state of Iowa.
Sixty projects (20 from each Regent university), were selected for this event in which students explained their research, outlined their methodologies and shared data-driven insights that were gleaned from their work.
Elected officials, reporters, university administrators and members of the public listened as students discussed the impacts that their research could have on Iowa, the nation and the world.
"Presenting my research during Research in the Capitol was a terrific experience," said Sabrina Ash ('19 psychology). "This was a spectacular opportunity to inform legislators and others about our work."
Ash presented her research, "Exploring Relations Between Dark Personality Traits, Media Violence Exposure and Finding Humor in Media Violence," which analyzes the relationship between six dark personality traits and the likelihood that a person will find humor in violence that is depicted in television, feature films and video games.
Her research team measured six traits: Narcissism, psychopathy, sadism, Machiavellianism, Schadenfreude and spite. Data for the project was gathered from 185 Iowa State students who volunteered for the project.
Ash described Research in the Capital as "definitely worthwhile" and an experience that she would recommend to other students.
"People were intrigued by our research," said Ash. "One legislator remarked that our findings were 'eye opening' and that he 'hopes that we continue the research.' The experience made me feel proud of the hard work that our team has accomplished," she said.
"I was glad that I had a chance to talk to legislators and others, because it's important to help people understand how the media can affect us," said Ash.
Research that improves traffic safety
Phillip Cordova ('19 computer science) and his research partner Jacob Shedenhelm ('20 software engineering), presented their research project, "TIMELI: Using Data Analysis to Improve Traffic Safety."
TIMELI is an acronym for Traffic Incident Management Enabled by Large Data Innovations.
"Being selected to demonstrate our research is a source of pride," said Cordova. "It means that others understand the value of our research, and also that someday our work could be used to help people."
TIMELI uses self-learning algorithms to convert traffic-camera footage into vibrant graphics that appear on a web-based map of Iowa. The application allows traffic managers to quickly spot and react to real-time traffic events, such as accidents or weather-related slowdowns, among others.
"Most traffic managers rely on drivers calling in to report accidents; or often live traffic-camera footage is monitored, and this can be tedious," said Cordova. "TIMELI makes life easier for these traffic managers by freeing up their time to call in first responders or law enforcement who can get the traffic moving again."
Cordova remarked that every second counts when there is an accident on Iowa's roadways. "Lives are at risk when traffic is disrupted, and our application works to quickly return traffic patterns to normal," he said.
Shedenhelm notes that their project's fusion of computer science and software engineering expertise, illustrates Iowa State's commitment to interdisciplinary research.
"Iowa State does a great job of encouraging collaboration between disciplines, and I was very proud to represent Iowa State at Research in the Capital," said Shedenhelm.
The following Iowa State students presented their research at the event (hometowns, majors and research titles are noted):
*Indicates student has a major within the College of Liberal Arts and Sciences
Sabrina Ash*, psychology, Des Moines: "Exploring Relations between Dark Personality Traits, Media Violence Exposure, and Finding Humor in Media Violence"
Brandon Beecham, accounting and finance, Ankeny: "Analysis of Iowa Public Universities' Financials' Impact on Tuition Prices from 1990-2017"
Stuart Burzette*, community and regional planning and environmental science, Des Moines: "Examination of Economic Resilience and Regional Capacity in the Midwest"
Philip Cordova*, computer science, Overland Park, Kansas; and Jacob Shedenhelm*, software engineering, Grimes: "TIMELI: Using Data Analysis to Improve Traffic Safety"
Bre Dykstra, biological systems engineering, Cedar Rapids; and Alyssa Iverson, biological systems engineering, Springfield, Nebraska: "Emerging Markets for Switchgrass in the Midwest: Challenges and Opportunities"
Scarlett Eagle, genetics, Johnston: "Examining the Functional Role of microRNAs Implicated in Hypermobile Ehlers-Danlos Syndrome in Maintaining Connective Tissue Morphology"
Sydney Ellis*, Spanish and psychology, Pleasant Hill; and Nicole Miller*, communication studies, Springville: "Helping Health Care Professionals Understand Social Support Communication Needs for Parents of Children Living With Complex Chronic Conditions"
Lucas Goodman*, animal ecology and environmental studies, Montezuma: "Balancing Conservation and Economics to Improve Water Quality in Iowa and Beyond"
Ruben Hernandez Jr., community and regional planning, Creston; and Emily Vanek, community and regional planning, Dubuque: "Damage, Dislocation, and Displacement of Renter and Immigrant Households after Low Attention Disasters"
Zoey Mauck, landscape architecture and community and regional planning, Des Moines: "The Case for Car-Free Communities"
Brennan McBride*, chemistry, Altoona: "Synthesis and Structure of Ternary Rare Earth Silicon Pnictides"
Christina Meadows*, environmental science and geology, Bettendorf: "Investigation of Discrepancies between Methods of Quantifying Soil Nitrogen in Agricultural Fields"
Ellen Meis, biology and environmental science, Le Mars: "Optimizing CRISPR interference for Conditional Gene Regulation in Malaria Parasites"
Jenna Oftedal, industrial engineering, Dubuque; and Shibani Raje, industrial engineering, Naperville, Illinois: "Developing a TRIZ-based Design for Flexibility Tool for Manufacturing Facilities"
Delaney Ridgway, animal science, Eldon: "The Effects of Glyphosate Exposure on Liver Protein Abundance"
Marissa Roghair*, genetics and microbiology, Ankeny: "Investigation of Cell-Seeded Gelatin Implants as a Novel Cell Transplantation Strategy Using Zebrafish as a Model System"
Allyse Shoeman, nutritional science, Johnston: "The Impact of Ethanol Consumption on Gut and Brain Neurochemicals"
Megan Slattery, nutritional science, Calamus: "Monocyte Response to Influenza A Virus is Altered in Pre-diabetics"
Madison Thomas*, chemistry, Cedar Rapids: "Use of Image Quality Scores to Determine Fingerprint Age in MALDI imaging"
Brandon Vance, chemical engineering, Des Moines: "Fueling Space Exploration: Engineering Materials to Produce Rocket Fuel on Mars"
Published: April 4, 2019